Ready for a fun night? The Tel Aviv Municipality is hosting the multi-arts event One Moment (Rega Ehad): Art in Unexpected Spaces #3 on Thursday, November 5, 2015, with music, theatre, art, discussions, workshops and exhibitions – on all floors of the Municipal building, and expanding out to the Einav Cultural Center and Gvirol Arts Center at 108 Ibn Gvirol Street. It all starts at 19:30, admission is free – come early, and stay late.
Not to be missed:
Rona Kenan in a solo performance at 23:00 in the upper lobby. She'll be performing original songs from her albums, covers, and a taste of things to come from the album in the works. Rona Kenan – vocals, acoustic guitar, electric guitar, harmonica, melodica.

A hilarious historical tour with those two dedicated military guides (not) Jenny and Jana – tours start in the upper lobby at 19:30 and 21:30. Not for the faint-hearted or the humorless.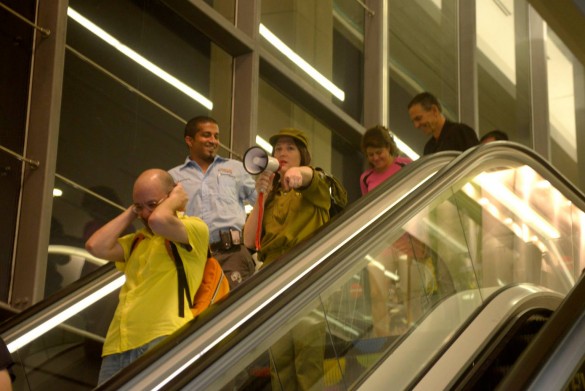 Opera soloists from the Israeli Opera Meitar Studio will entertain with an aria and a wink – enjoy some marvelous singing from 19:30 on in the halls and offices of the 1st floor…
On the 10th floor, find Man With a Camera by Dziga Vertov (1896 – 1954) . The filmmaker and theorist influenced the cinéma vérité style of documentary filmmaking. The 1928 silent film documents everyday life in the urban settings of Moscow, Kiev, and Odessa. The 65 minute film will be shown continuously from 19:30 onwards in the corridor.
Einav Cultural Center – Performing one  after the other in the rehearsal studio: Adi Ulmansky, Garden City Movement, & Gilad Kahana.
.
The Gvirol Arts Center will be hosting a wedding.
Don't forget: we're in Israel, anything and everything is subject to change. & most important – have fun!
*Talks and workshops will be in Hebrew. All events are free and open to the public, from my experience at past events, there was queuing for free tickets at the information desk in the upper lobby. The one  exception is Noam Rotem's concert on the roof, which is open only to those who have the Tel Aviv digital card.