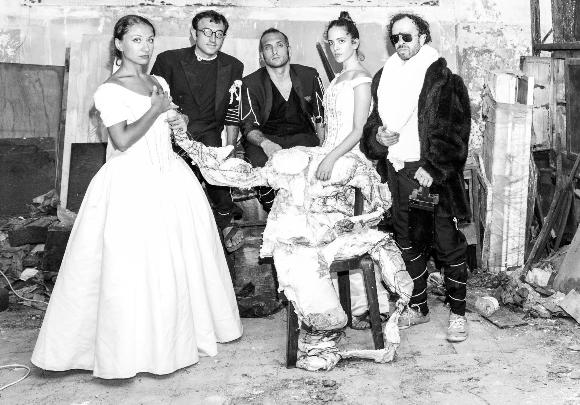 Lear without Lear, introduced by a bastard. It works splendidly. Lear. Puppets and People, directed by Michael Teplitsky, is theatre as it can be and should be: imaginative, entertaining, and unafraid to take risks. A free-form variation on William Shakespeare's The Tragedy of King Lear, a play in which sight is such a dominant metaphor, this production reflects a deeply thought out and well realized vision. It's provocative, funny, cynical, violent, moving, and harrowingly relevant.
Assuming, correctly, that most contemporary audiences know (or think they know) the story, the production does not leave neophytes in the lurch, and no prior knowledge is required to thoroughly enjoy the play.
Malenki Theatre resides in Gan Meir, a sanctuary of green and tolerance in the midst of the city, where they have a gem of a black box well suited for intimate and innovative productions. Practical and provocative, this production cuts the cast down to five: Goneril (Kseniya Moroz), Regan (Hadas Eyal), the Duke of Gloucester (Dima Ross) and his two sons Edgar (Ori Levanon) and Edmund (Leon Moroz). One tends to think of King Lear and Cordelia as the pivotal pair in this play, with Regan and Goneril coming in a close second in this story of fathers and daughters, however that other father, the Duke of Gloucester, actually appears first. Secondary plots are dear to the Bard and the relationship of Gloucester to his older, legitimate son Edgar, and his younger bastard (or natural) son Edmund, are as essential to the central themes of the play's reflections on nature, power, identity, and perception.
Nothing is altered in the essence of Shakespeare's play. Eliminating the characters of King Lear and Cordelia is a bold move, yet it is one that enables the audience to experience the play without the reassuring (and perhaps lulling) comfort of familiarity. It forces one to ask and think: what is this play about? Moreover, I find this interpretation quite relevant to our times: there is no king in this kingdom, only a puppet.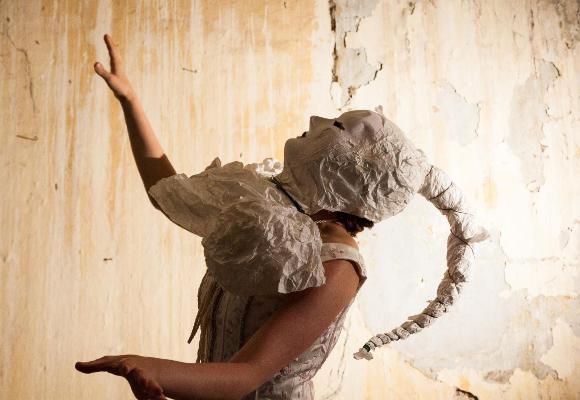 Visually, this play is pure pleasure, conceptual and sensual, with set and costume design by Vadim Keshersky. The medium of choice for set and puppets is paper, which lends itself to endless inventiveness, augments the soundscape and realm of associations. Lear, who wishes to divest himself of the responsibilities of rule, while retaining the appearance and retinue of a king, is represented here by a huge, headless paper puppet, stuffed with paper. There is, literally, no head of state here.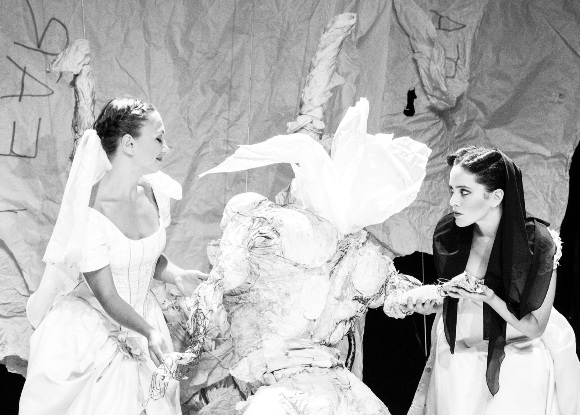 Goneril and Regan are represented both by speaking actors and puppets, which are more or less doll-sized; while Edmund has a tiny, voodoo doll size puppet in his suit pocket. The puppets are featureless, yet each has a distinct look. This merging of an excellent cast of actors with puppets, emphasizes the issues of identity, duality, manipulation and duplicity in the play, while expanding the possibilities of staging. The use of strings in the costumes further underscores the puppet motif, while the many possibilities of paper are explored in ways that further the plot and emphasize its themes. The kingdom is literally torn asunder, the visual chaos onstage expressing the inner lack of meaning and integrity.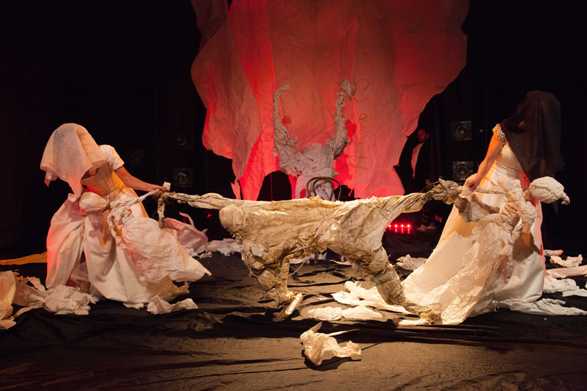 Astute and inventive, the play lets the audience experience the lure of deception by opening the play with Edmund, who is ever so charming, inviting one's empathy by showing how this bastard son of Gloucester is abused. Yet as the plot thickens, one's eyes are opened. Wait for the lovely moment when Edmund holds brother Edgar's head in one hand, and his hand in the other, manipulating him like an expert puppeteer. In the absence of guidance, order, and moral integrity, the characters in the play are ruled by lust, greed, and aggression. There are no mature adults here, as Gloucester makes clear, prancing around and thrusting his sword here, there and everywhere. Goneril and Regan's professed love for their father is infantile and vacuous, visually so well expressed with lipstick graffitti and a big, red, heart.
Tragic as it is, there are so many wonderful comic moments in the play, with great timing and extravagant physicality, as in Edgar's transformation to Tom O'Bedlam. Dori Parnes' translation is witty and elegant as ever. Dima Ross is simply radiant. He's an actor who knows how to be utterly wild and free, embodying all the lusty foolishness of Gloucester, then, in a heartbeat, convey his suffering, knowledge, and shame, with quiet words spoken in painful simplicity.
Lear. People and Puppets
Translation by Dori Parnes; Idea: Boris Yentin; Adapted and directed by Michael Teplitsky; Set and Costume Design: Vadim Keshersky; Music: Evgeny Levitas; Cast: Leon Moroz, Dima Ross, Ori Levanon, Hadas Eyal, Kseniya Moroz.
Links: Malenki Theatre facebook page
Future performances: December 4th & 5th, 2015.