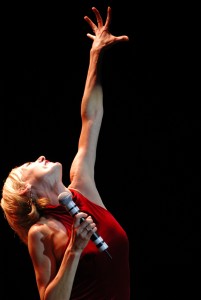 Ute Lemper will arrive in Israel to perform "Last Tango in Berlin" at the Mann Auditorium (Heichal Hatarbut) in Tel Aviv. The German chanteuse, named Billboard's Crossover Artist of the Year for 1993/94, is known for the diversity of her roles and expressive voice.  Comfortable in a range of styles, from performing the songs of Edith Piaf and Marlene Dietrich on her CD Illusions, to dubbing the voice of Ariel in German in Disney's The Little Mermaid, she is also a songwriter and has recorded her own material in recent years.
Lemper has performed in several key roles in musicals, including: the Viennese cast of Cats, the title role in Peter Pan, Lola – the role created by Marlene Dietrich in The Blue Angel, Sally Bowles in a Paris production of Cabaret, and Velma Kelly in Chicago. Performing in both the London and New York productions of Chicago, she won the Laurence Olivier Award for her London performance.
Best known for her interpretations of Kurt Weill's compositions, Lemper has recorded a in a wide variety of musical styles, appearing in concerts such as Roger Water's The Wall in 1990. Musicians such as Scott Walker, Nick Cave, Tom Waits, Elvis Costello, Philip Glass and Neil Hannon have written songs for her, recorded on the album Punishing Kiss. A world traveler, the German expatriate currently resides in New York. This is Lemper's second visit to Israel.
Last Tango in Berlin
Tuesday, February 23
Mann Auditorium, 1 Huberman St, Tel Aviv
Information: 03-5289163, www.hatarbut.co.il
Tickets: Hadran 03-5215200