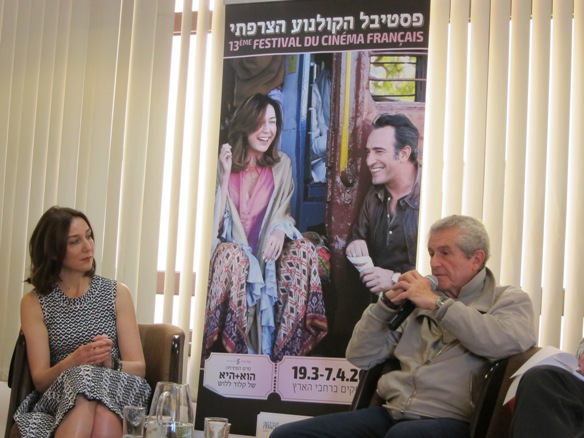 Un Plus Une, the latest film of French director Claude Lelouch, opened the 13th French Film Festival at the Tel Aviv Cinematheque last night. This morning, the director and actor Elsa Zylberstein met with the press at the French Institute in Tel Aviv.
Zylberstein plays Anna, wife to the French Ambassador in Delhi, a warm, spiritual woman in love with her husband, who only lacks a child to complete her happiness. That is where Antoine (Jean Dujardin) comes in. A handsome, flirty, arrogant, composer, he is in India to score a new local version of Shakespeare's ultimate love story, called "Juliette and Romeo." A complicated love blossoms amid witty banter, meaningful gazes, a pilgrimage to spiritual leader Amma, and the vibrant colors of India.
Lelouch said that he is "very happy to be in Tel Aviv, and to be in Israel. I feel very close to this country. I have visited 10 times in last 50 years, I always feel at home here," adding that Israel "speaks to the present, when there is tension, you appreciate life. I lived through WWII and the war in Algeria, in times of danger, you appreciate the present."
On the spirituality in his new film, he stated: "There is no meaning to life without love, all the rest is a consolation prize. I have been fortunate to live love stories, each time falling in love anew. With Amma I met la femme de ma vie (the woman of my life). She lives in love more than any other woman. Women have taught me love and given me love. Love is Amma's religion."
When asked how she came to participate in this project, Zylberstein recounted, "I knew Jean Dujardin through a mutual friend, and by chance – but I don't believe in chance – we found ourselves together on a flight to Los Angeles. We talked and dreamed about film… making a film with Claud Lelouch that would be a tribute to Un homme qui me plaît (1969), a film that would be for two people."
How did Elsa's character Anna succeed in attracting a player like the composer Antoine? Zylberstein said, "I think that purity and truth always conquer cynicism. I think that Antoine is a bit defensive, people use humor as a defense. He is afraid to love, afraid of feeling. He represents everything she hates, he's macho, arrogant… but sometimes women want that kind of man to press us up against the wall. She is attracted to him because he is free. She is a married woman who loves her husband, but when you meet a man who is larger than life, there is always a risk."
About her character who is at once strong and fragile, she said, "I need to be a bit of everything. There are many women within me, different hues. It was interesting to play a very spiritual woman who is expecting to have a child with her husband, and suddenly meets a man who turns her world upside down."
In terms of religion, Lelouch has an interesting background, which he commented on: "I am a lucky man. My father was an Algerian Jew, my mother was from Normandy and converted to Judaism. So I became acquainted with the synogogue and the church, rabbis and priests. It was a wonderful contradiction, I grew up in tolerance. It was amusing to go from one to the other. I feel comfortable with contradictions, I've never suffered for being Jewish. Anything that you are has advantages and disadvantages. I believe there is a director of life more talented than I."
As it turns out, a trip to Russia played a pivotal role in Lelouch's film career. He recalled, "My first professional film job was in Soviet Russia in 1957. I became a member of the Communist Party because that was the only way to get into the country. I was there for two weeks with a small camera hidden under my raincoat. I was fortunate because a taxi driver knew someone at the film studios and I was able to get in. Michael Kalatozov was then shooting The Cranes Are Flying. Watching him work on his film – that was when I decided to become a film director. I was 19 years old, and until then I had thought I would become a journalist, or a photographer."
This year marks the 50th anniversary of A Man and a Woman, the film that established Lelouch's reputation. What has changed between that film and Un Plus Une? Lelouch said, "I wanted to tell love stories. Relationships have changed a great deal since then. Women have taken control because men were resting on their laurels. Women are disappointed in men because we lied and cheated. Women show that they can live without us. When Anna in the film has a child, she does not say anything about it. Women understand that they cannot rely on men, because men are not brave, they are liars. There is a lot of suspicion and men are afraid of women."
The director discussed filming on location in India, saying, "When you go to India you must not fear. They don't say yes or no. We took a small crew of twenty people and also hired some local people. Each day we needed to achieve [permission for] what we wanted to do. Love opened the doors."
Zylberstein also discussed the contribution of on-location shooting, saying, "The people in the scenes were not extras, they were just people who were there. That also made it more difficult because they did not care that we were filming. In the scene when the train breaks down there were people behind us talking and eating, and it is difficult not to be distracted. It's not a set, it's the place itself. India brought something to the film, as when we filmed the scenes with Amma. I like it when there is just a very thin line between life and the role. Lelouch had three cameras on us when we filmed that scene and when I stood in line [to see Amma] I did not know when the camera was on me. I was in the role, but I was also there as myself."
The French Film Festival will continue through April 7, 2016. The complete list of films, with dates and screening times may be found on the cinematheque websites.
Tel Aviv Cinematheque
Jerusalem Cinemtheque
Haifa Cinematheque
Holon Mediatheque
Herzliya Cinematheque
Sderot Cinematheque