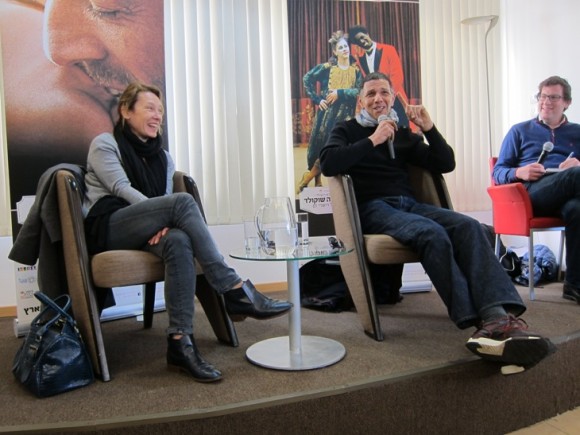 Emmanuelle Bercot and Roshdy Zem met with the press this morning at the French Institute in Tel Aviv, speaking with warmth and candor of the pleasures and challenges of filmmaking. The two share the distinction of being actors as well as film directors, Roschdy Zem is the writer and director of Chocolat, the closing film of the 13th French Film Festival. Emmanuelle Bercot has a dual role in the festival, representing her own film La Tête Haute (Standing Tall – Midinight East review), and Mon Roi, directed by Maïwenn, for which Bercot won Best Actress at Cannes 2015.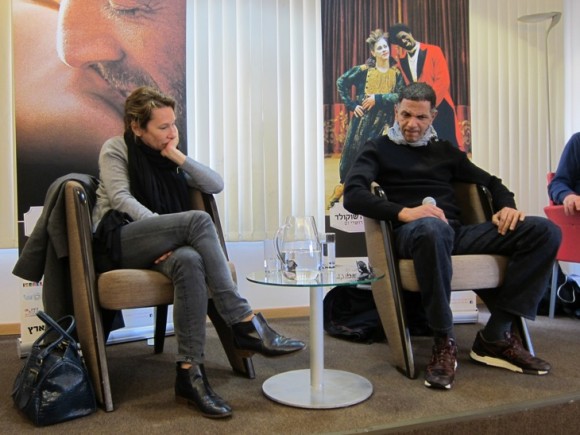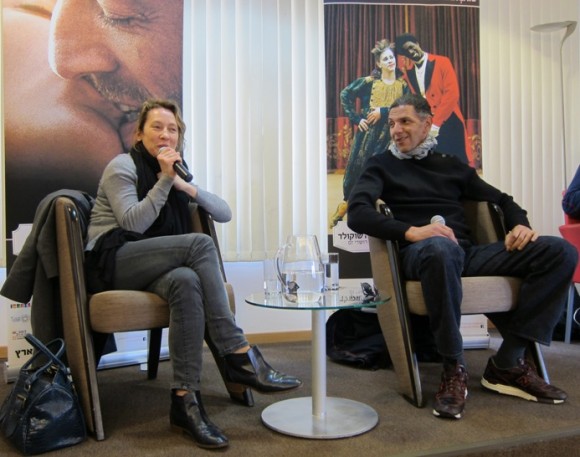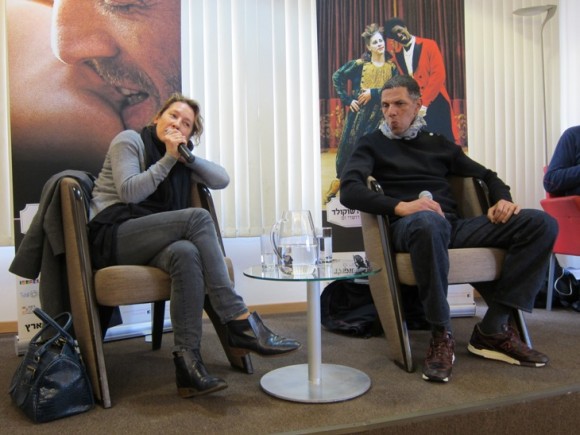 Although very different in style, genre, and period, Chocolat and La Tête Haute are both films that focus on individuals who are outsiders. Chocolat stars Omar Sy, and is based on the real life figure of Rafael Padilla (1865 – 1917), who was born a slave in Cuba, and immigrated illegally to France to become the first black man in a successful comedy act on the Paris stage. La Tête Haute is a fictional story, set in present day France, and follows young Malony (Rod Paradot), born to a drug addicted single mother, from age six to eighteen, returning time and again to the juvenile court system, where a sympathetic judge (Catherine Deneuve) tries to help this troubled adolescent find a better path through life.
Roschdy Zem said that the idea for making the film Chocolat originated with his producer, "I saw the story and was fascinated – the first black star in France. Some say Omar Sy is the first black star in France, but Rafael Padilla was first. He had a fascinating life story, born in slavery in Cuba, and becoming a great star in France during La Belle Epoque, popular with French high society. His status interested me I wanted to bring him back to the public's awareness. This film is a tribute to artists who have been forgotten. As artists we wonder, what will remain when we are gone? I wanted to bring him back into the spotlight."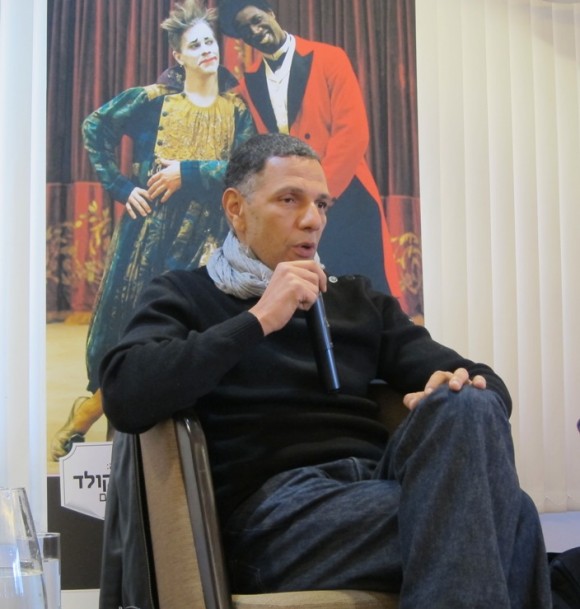 Although Padilla is an historic figure, Zem noted that there is not much documentary material available to reconstruct his life story: "Gérard Noiriel's book relies on newspaper articles from that time, now available in digital format at the National Library. The book analyzes the material but there does not exist a written narrative of Padilla's life. We tried to be as faithful to his character and the facts of his life as possible, so it's about 80% faithful, 20% fiction. His birth as a slave, his career as an actor and decline, his terrible suffering and death in Bordeaux and his relationship with a white woman, all these are true to life.  We created two scenes: his first meeting with Marie, the woman he loves, and the prison scene."
Omar Sy, who in winning the César Award for Best Actor for his work in the Untouchables (2012) became the first French person of African descent to win the award, has become an internationally famous actor. When asked whether France has lost Omar Sy to fame and Hollywood, Zem replied, "We have not lost him. The best roles he will be offered will be in France. Actors dream of Hollywood, but they come back to France for the roles. Like Marion Cotillard."
"This film was written for him. There was a rather large budget and in order to be certain of funding, I had to work with a well-known actor. In France there is only one well known black actor," Zem noted, adding humorously, "It is lucky that I like him."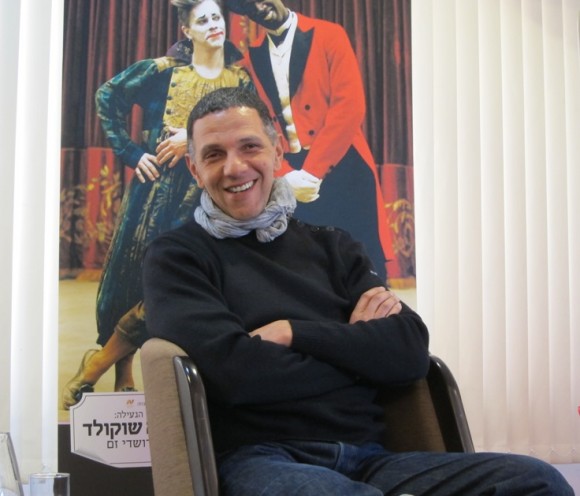 As for James Théirrée, who plays the comedian George Footit, Zem said, "I had complete freedom in casting Footit. It was very quickly decided to work with Théirrée. He comes from the world of circus, it's in his DNA. I asked him to do the choreography for Chocolat and Footit's act. He and Omar Sy spent five weeks together and he taught Omar. Omar's humor usually works through words, and here he had to convey the humor through his body. It was very intensive work, very physical, through touch, very intriguing and interesting. James was rather strict and even perhaps a bit of a tyrant, but I did not intervene. I visited and observed them, and saw a real duet develop between the two. When they arrived for filming with the enormous emotional weight they had acquired during this time, it was something that I had not thought about previously, but it served the needs of the film very well."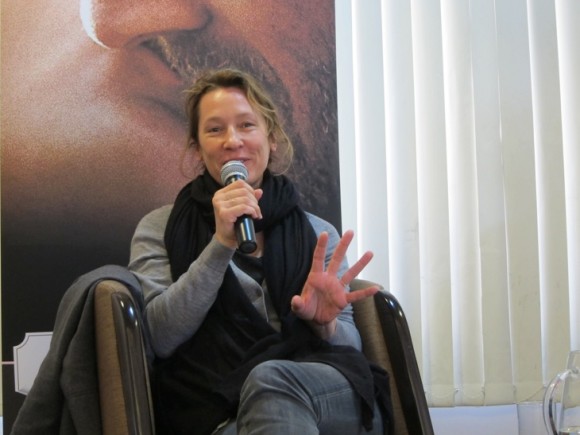 On the dual roles of acting and directing, Emmanuelle Bercot said, "The two pursuits demand different energies: directing is the art of control, while acting requires giving yourself over to the character. If someone held a knife to my throat and I had to choose, I'd choose directing, because that is my profession. I'm a director who sometimes acts."
Most recently, her performance in Maïwenn's Mon Roi, where she plays a woman recovering from a skiing accident who reflects on past love and betrayal, won the Best Actress at Cannes 2015. Bercot  discussed working with Maïwenn: "The director's way of working changed radically from Polisse (2011) to Mon Roi. In Polisse the dialogue was mostly written while Mon Roi was largely improvised. Not that we did not know the story trajectory and direction, but she insisted that we not say the dialogue as written. Sometimes she would even whisper dialogues to us as we were shooting a scene."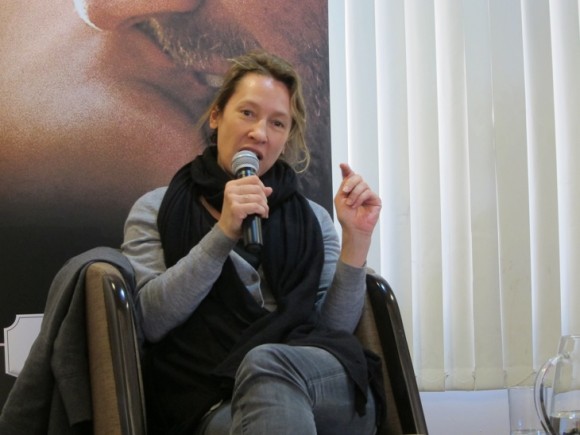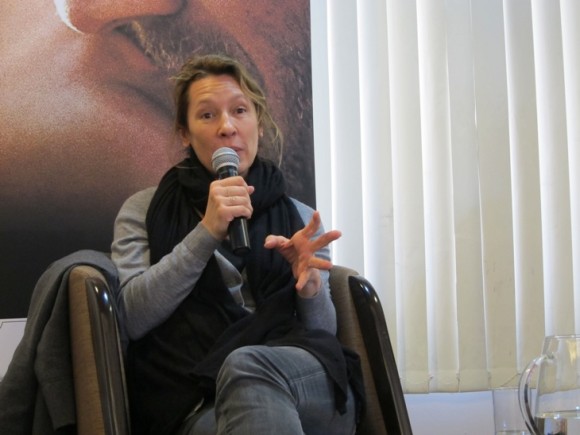 As a director, Bercot works very differently. When asked about improvisation, she responded, " it is not something that I [as a film director] dislike, but I use it only rarely. Sometimes when working with adolescents in a group situation, I give them a structure and let them improvise. In this situation with Rod, if he would have improvised he would not be in character, he would be himself, and they would have eaten him alive. It would have been impossible."
Rod Paradot gives a very strong and moving performance in La Tête Haute, and it was interesting to learn from Bercot the process that led to this performance. The role of Malony was cast through what Bercot called "casting sauvage" or 'wild' casting, which involved, as she explained, "sending an army of casting people everywhere, to schools, into the streets, looking for the right adolescent boy. Rod Paradot was found at a trade school in Paris, where he studied carpentry. He had never thought of acting. I am accustomed to working with adolescents who are close to the character that they play, but in this case, I did not find someone [who was similar to Malony]. I had to choose between giving up on the film, or working with Rod."
"But he had to do the real work of acting because he was the opposite of the character. In terms of the way I worked with him, it was then the opposite of the way one usually works with non-actors who have never performed. This brought about a struggle between us, it was very hard. It was hard on me and hard on him. I didn't want to bring the character to him, I wanted him to come into the character.  Well, I didn't torture him physically, but I pushed him a great deal to release the violence inside the character [of Malony]."
Following the French Film Festival, both Chocolat and Mon Roi are scheduled for theatrical release in Israel, and hopefully La Tête Haute will be taken up as well. During the press meeting, the directors were asked how they thought non-French audiences would relate to these films, whether the films can communicate cross-culturally.
Emmanuelle Bercot commented that although La Tête Haute deals with something very specifically French, the juvenile judicial system, which is, in her words (and as one can see in the film) "unusual and unique," she also feels that " the film touches many people because it talks about education and the importance of love in the formation of a child's identity."
Roschdy Zem said, "The question [whether a film can communicate to a different culture] is a bit difficult for me to relate to – fortunately, I live in a city [Paris] where between 600 – 700 films are shown each year, films from all over the world, and they always speak to me. My film is first and foremost a love story, these are always universal subjects and if you have curiosity… I am a curious person. I see a film every day, sometimes two films a day."