Sally Field is an immensely talented actress, with a sweet countenance that enables her to remain endearing, while bringing tensile strength, sensitivity, and subversive pizzazz to roles that venture beyond the mainstream. Hello My Name is Doris is an unusual movie, a coming of age comic drama directed by Michael Showalter, in which Field portrays Doris, a sixty-something data entry office worker who has always lived with her mother on Staten Island, in a house full of the accumulated detritus of a collector/hoarder's life. As one might expect, just two and a half minutes into the film, a beautiful white cat completes the family picture. But that is where the stereotypical expectations end.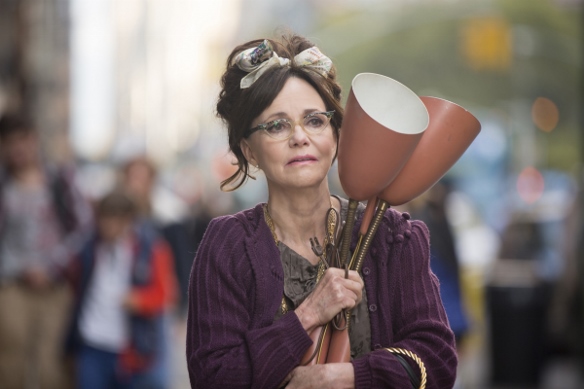 Doris has her own, rather flamboyant, sense of style, and her sense of adventure, although dormant for many years, is wild and deep and just waking up. The film opens with her mother's funeral, a catalyst for change in Doris' life. Having devoted her entire adult live to caring for her mother, Doris is now free to pursue anything she chooses. Yet she is as inexperienced as a teenager, possibly less experienced than many teens. Like anyone taking their first steps in the great, wide world, she makes mistakes, and some of them are huge.
Doris is attracted to John Freemont (Max Greefield), the new young art director at work, and despite a difference in ages that certainly spans several decades, decides to go for it. In this pursuit, she is aided (or hindered, depending on your perspective) by a lifetime consumption of romantic movies and novels, a lively imagination, and her best friend's thirteen-year-old granddaughter Vivian (Isabella Acres). A lot of wacky stuff happens, some of it very funny, some of it poignant, some of it inspiring, and some of it cringe-worthy. Had she not led such a sheltered life, Doris would probably know, as the viewer surely must, that one does not take relationship advice from a thirteen-year-old girl. But apparently, you have to do a lot of really stupid, wild things on the way to acquiring wisdom.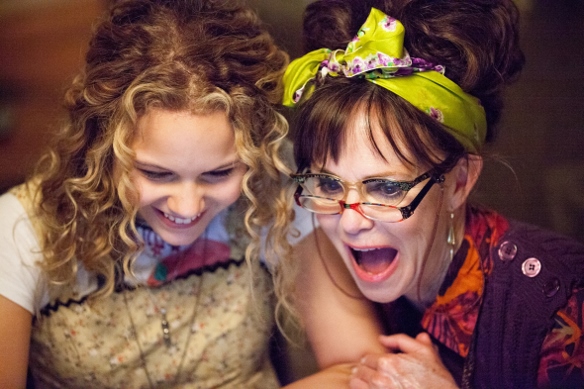 Doris is certainly naïve and clueless about relationships, and more than somewhat deluded, and the idea of a romance with someone thirty or so years younger, is unrealistic at best. Yet there is enough about her character to make her appealing. Yes, she is old – and there are plenty of close-ups that show the physical signs of age, but she's certainly a lot of fun. The film goes into some very risky territory, and in less able hands, Doris might be reduced to a cardboard mockery, a mere object of ridicule. Yet Fields conveys so much with just a shift of a glance, a light that flickers and sometimes burns bright in her eyes, a slight downward turn of her lips, or a brilliant, eager, hopeful, smile. One sees her pain, her turbulent desires, and even when she misgauges horribly, one cannot help but admire her courage.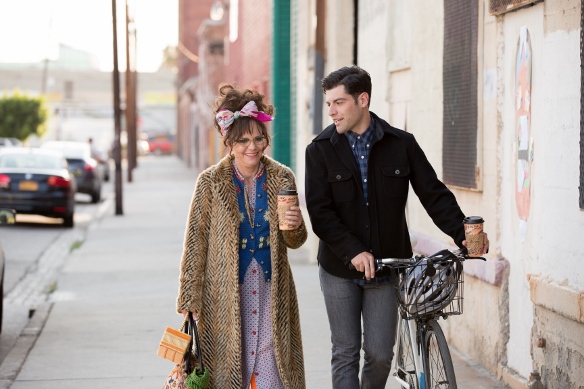 On the home front, her younger brother and his wife urge her to literally clean house and move on. While their pleas appear to be three parts greed to one part genuine concern, there is a sense that Doris is on a slippery slope. Yet at the same time, the film invites one to reflect on the way society deems it acceptable to assign sentimental value to items that have a high monetary value, such as a diamond ring or a vintage car, but if one is attached to a simple object because it belonged to a friend – that is weird. Who gets to decide what is weird?
A brief, witty peek at hipster culture livens up the film, as do Doris' co-workers – notably Natasha Lyonne and Kumail Nanjiani. Tyne Daly gives a robust, compassionate, performance as Doris's outspoken, lefty friend Roz. Their scenes together are some of the best, and most moving, in the film.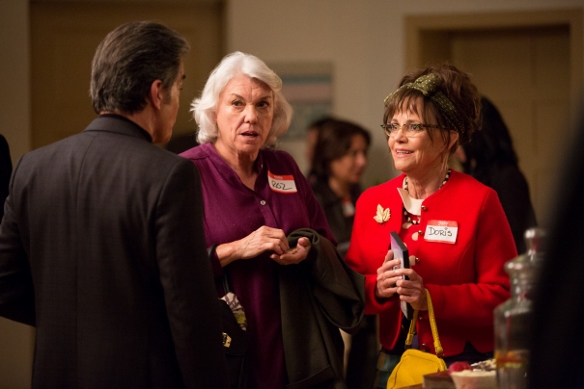 Hello My Name is Doris
Directed by Michael Showalter; Screenplay: Showalter, Laura Terruso (based on the short film by Terruso); Cinematography: Brian Burgoyne; Editor: Robert Nassau; Music: Brian H. Kim; Cast: Sally Field, Max Greenfield, Beth Behrs, Wendi McLendon-Covey, Stephen Root, Elizabeth Reaser, Isabella Acres, Natasha Lyonne, Tyne Daly, Peter Gallagher