Mark Eliyahu's premiere of his new album Roads at the Piano Festival was an immersive experience of extraordinary beauty. The composer and Kamanche player was joined onstage by his father, composer and Tar master Peretz (Piris) Eliyahu, composer and pianist Eldad Zitrin, and percussionist par excellence Ron Iwrin. The concert took place on Friday, November 11, 2016 at the Tel Aviv Museum of Art.
The Kamanche is a string instrument that somewhat resembles the violin, yet is played held upright. The neck is long, often with ornate tuning knobs, with a round resonating chamber at the base. It is a beautiful instrument, with a sound that feels like it comes from the depths of the soul. The concert began with a solo by Mark, alone onstage surrounded by floating glowing globes, the music emerged like a solitary voice in the darkness, a plaintive song calling out to the universe. Coming from the depths, as the song emerges into the light, it begins to dance.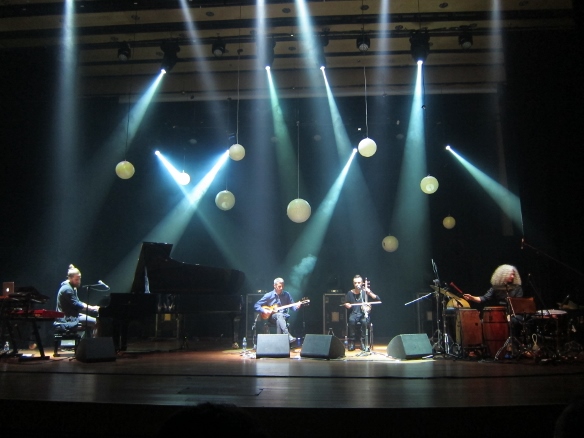 Joined onstage by Eldad Zitrin on piano, the music flowed into a wide river of eternity, a vista opening onto somewhere serene, rushing waters, green fields under an infinite sky. Together with Peretz Eliyahu and Ron Iwryn, the music opens up into a rich tapestry of textures and colors dancing on the air.
There is something very tactile about their performance, one is aware of the physicality of their playing: fingers soft and swift on the keys, on drums and strings, the body that becomes an instrument of sound. Iwryn is a sorcerer, conjuring sound out of almost any and every object. His use of the water drum is mesmerizing, creating sound by filling the bowl and pouring the water back into the drum, drumming on the bowl with the water below deepening the sound, and drumming on the surface of the water itself.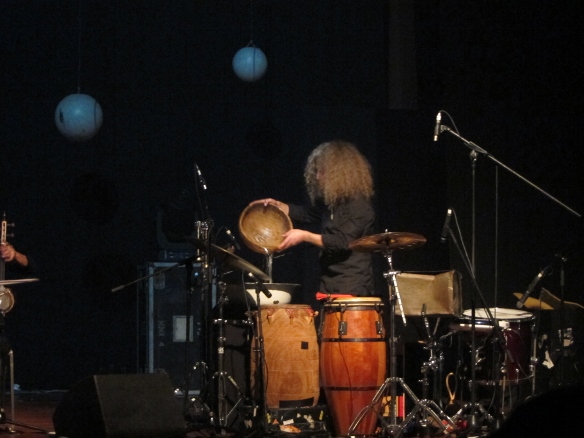 The music is a journey, ever-changing. Moving through a landscape where at each turn, the view is altered – a lake emerges that once was hidden by a mountain, a cave reveals its treasures, a crescendo of bright waves on the sunlit shore – suddenly you see things differently, you feel differently, changed by the experience. Mark Eliyahu's Roads is a song without words, the chronicle of a traveler who has walked far, seen many lands, and ventured as far inward as he has out into the world.