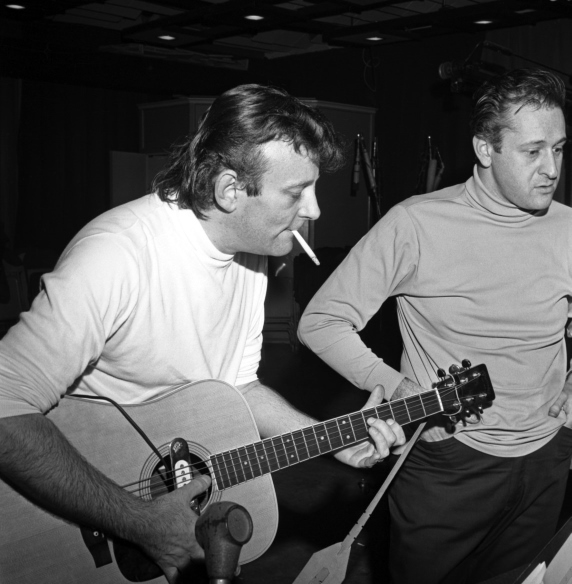 Piece of my Heart is one of those songs that hits you hard and deep, for me, and for a multitude of music fans (fanatics?) it will always be connected with Janis Joplin, but after seeing Bang! The Bert Berns Story, I will never again hear the song in the same way. It still cuts deep, maybe even deeper, after learning more about the man who, with Jerry Ragovoy, wrote the song which was originally recorded by Erma Franklin in 1967. It's the rare songwriter or producer who reaches the consciousness of the general public, unless she or he is also a performer. So it may come as a surprise to many that Bert Berns was behind so many songs in the rock, pop, and R & B canon: Twist and Shout, Brown-Eyed Girl (as producer), Cry Baby (originally recorded by Garnet Mimms and the Enchanters in 1963 before skyrocketing as a cover by Janis Joplin), Under the Boardwalk, I Want Candy, Hang on Sloopy, and many more…
Bang! The Bert Berns Story is a fascinating documentary, with insight not only into the brief, vivid, life of Bert Berns, but the inner workings of the music industry in that era, and the mysterious process of making a song come to life. Directed by Brett Berns (son of) and Bob Sarles, the fast-paced film is narrated by Steven Van Zandt (E Street Band), with narration written by Joel Selvin, who published a biography of Bert Berns in 2014. Fast-paced, the film is studded with music industry interviews, both the hugely famous – Sir Paul McCartney, Keith Richards, Van Morrison, and those whose names are perhaps less known, but whose impact still resonates – Solomon Burke, Cissy Houston, Jerry Ragovoy. No less fascinating are the rare glimpses (primarily audio with stills) into recording sessions old school style, where any time that one person made a mistake, everyone had to take it from the top, one more time.
Born in 1929 to Jewish Russian immigrant parents, Berns fell ill with rheumatic fever as a child, which at that time (pre-penicillin), even if one recovered initially, was more or less a death sentence. Since by doctor's instructions, his activities were limited and much time was spent at home, his parents bought him a piano. The rest, as they say, is history, and quite thrilling. Berns  became very interested in Afro-Cuban music, even travelling to Cuba. Success did not come easily or soon, yet despite his father's invective – "you bum, you'll never get a job" – Berns persisted. So, take heart, musicians, and just ignore all the nay-sayers. Although directed by his son, with Ilene Berns (his widow, a formidable and charming presence) and other family members involved in the film, there is no attempt to glorify the man, blur the details of his close ties to members the Mafia, or his own sometimes less than savory business practices (listen to Van Morrison).
Yet most compelling is the story of Bern's striking talent and influence on the music industry, despite his early death at the age of 38, on December 30, 1967. Just one example is the development of Twist and Shout, co-written by Phil Medley and Bert Berns (sometimes credited as Bert Russell or Russell Byrd) in 1961. The song was originally recorded by The Top Notes, and produced by Phil Spector (just 19 years old at the time!), but Berns did not like what Spector did with the song, and this spurred his determination to become a producer.
Have a listen to The Top Notes:

Berns later produced and recorded the song with The Isley Brothers, his way, and this is the version that The Beatles heard and covered:

Bang! The Bert Berns Story will be shown at the Jerusalem Jewish Film Festival as part of the Great Jewish Minds program, on December 29, 2016 (a day before the anniversary of Bern's death), at 20:30. Tickets may be ordered via the Jerusalem Cinemathque website.
The Great Jewish Minds program includes: Bang! The Bert Berns Story; The Dreamed Ones (on the relationship between poets Ingeborg Bachmann and Paul Celan); Jerry Lewis: The Man Behind the Clown; Moritz Daniel Oppenheim – The First Jewish Painter; Norman Lear – Just Another Version of You.
Read more about the Jerusalem Jewish Film Festival on Midnight East.
Erma Franklin's original recording of Piece of My Heart: