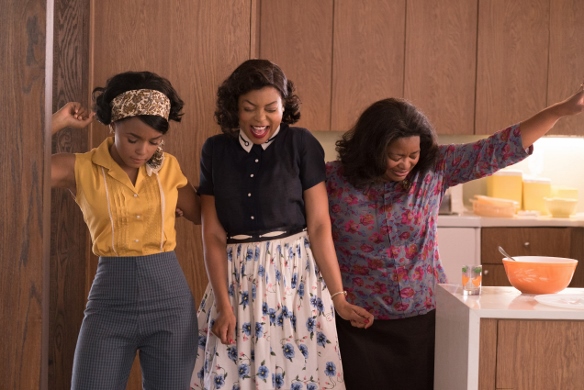 Hidden Figures is a wonderfully feel-good film that surges with the excitement of the race to space, and the nascent Civil Rights Movement. It's a riveting story that follows Katherine Goble, Dorothy Vaughn, and Mary Jackson, three African-American women, as they struggle with the tensions of racial discrimination and sexism of early 1960s America, while their mathematical and engineering talents play a crucial role in advancing space travel. A story all the more amazing as it is based on fact, perhaps the most surprising aspect of the film is that these women, like so many others, have not long since become part of our cultural canon, as famous as the astronauts they helped send to space.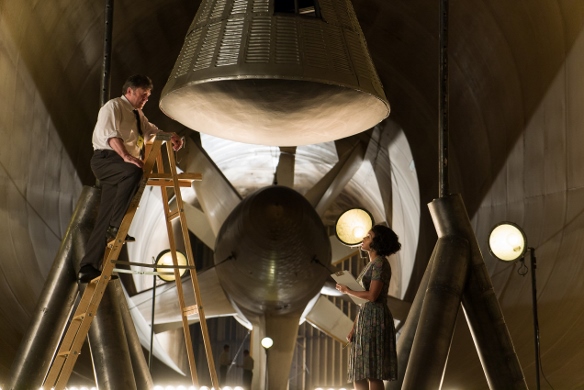 Taraji P. Henson (Katherine Goble), Octavia Spencer (Dorothy Vaughn), and Janelle Monáe (Mary Jackson) imbue their characters with vibrant life. Their different personalities shine out from the start in the first scene, as the three are stuck on the road trying to get their Chevy started. Dorothy, practical and capable, is under the car, working mechanical magic, when the two others realize that a police car is approaching. Their reaction is immediate, and the fear is real. Mary bristles with anger and Katherine counsels caution, yet all three stand to meet the police officer's interrogation with subservient politeness, because doubly marked as women and as African-Americans, they were in real danger. Revealing grace under pressure, brandishing their NASA tags, they eventually win him over, playing the patriotic card, but not before he says, "I didn't know they hired…"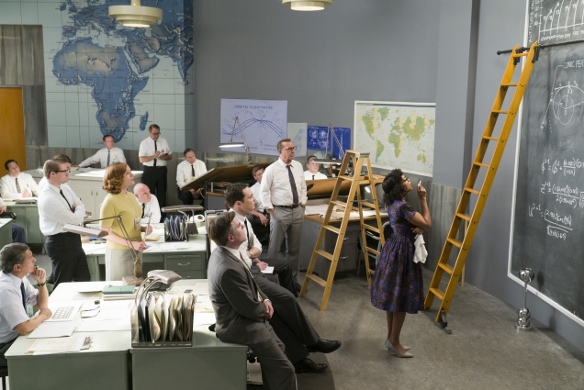 As it turns out, hiring African Americans at NASA was not all that obvious. Despite the dire need for workers during WWII, discrimination existed to the extent that Civil Rights leader Asa Philip Randolph organized a march on Washington, the threat of which led President Roosevelt to issue Executive Order 8802, which prohibited discrimination in the defense industries. Yet, as the film depicts, getting hired was merely the first hurdle. Katherine, Dorothy, and Mary were living in an era when African Americans were literally 'kept in their place' by the rules of segregation. The many women who worked in West Computers were expected to keep to their own room, marked by a 'colored computers' sign, use only the 'colored women' toilets there, and eat in the 'colored' cafeteria. The daily indignities endured by these women were accepted as the natural order of things, not to be challenged. When Katherine Goble is given the opportunity to join the space task group, her white supervisor, Mrs. Mitchell (Kirsten Dunst), informs her: "They've never had a colored in here before, don't embarrass me."
Dunst, cast against type here as cold, rigid, rule-adherer, blind to her own racism, delivers a very convincing, chilling portrayal of subconscious racism. Mrs. Mitchell is unswervingly harsh, using precedent and regulations as a shield to prevent her from perceiving the injustices endured by the women in West Computers, complacently spouting comments such as "Y'all are lucky to have jobs at all." These small moments between people, in Dorothy's encounters with Mrs. Mitchell and Katherine's experiences in the all-male space task team, convey the experience of discrimination even more powerfully than some of the more broadly depicted scenes in the film, as when Katherine runs on her obligatory high heels to use the colored women's toilet in the West building.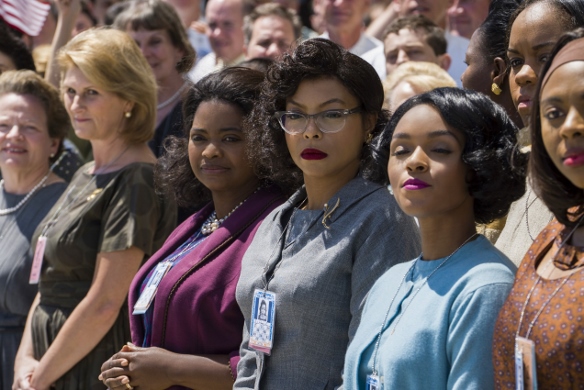 The period details and costumes have the glow of nostalgia – the turquoise and white Chevy is dreamy, softening the harsher, lived reality of the times, which is fine. Celebrating the intelligence and courage of these women within the context of a lively, entertaining film, Theodore Melfi has done a terrific job of bringing the story to life. The movie is based on Margot Lee Shetterly's eponymous non-fiction book, Hidden Figures, and will hopefully inspire viewers to read on and discover more about these and other figures hidden from history.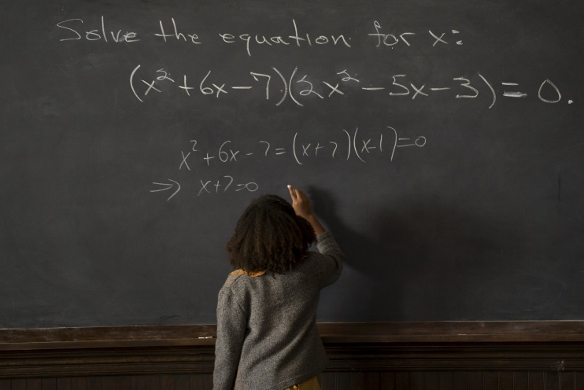 Depicting events that took place more than 50 years ago, this film could not be more timely as a wake-up call to the injustice of discrimination. In addition to its explicit message of equal rights, the film also champions a hidden theme – the importance of intellectual inquiry, scientific research and analytic thinking. As the opening scenes show, much of this story was made possible, not only because of Katherine Goble's intelligence and impressive aptitude for math, but because her parents encouraged and supported her intellectual prowess, even moving to a different county so that she and her siblings could attend a good high school. In the rising anti-intellectual climate of our contemporary culture, Hidden Figures is a timely reminder that freedom of inquiry, and the pursuit of knowledge are the stuff heroes – of every gender and ethnicity – are made of.
Hidden Figures
Director: Theodore Melfi; Screenplay: Allison Schroeder, Theodore Melfi, based on the book by Margot Lee Shetterly; Cinematography: Mandy Walker; Editor: Peter Teschner; Cast: Taraji P. Henson, Octavia Spencer, Janelle Monáe, Kevin Costner, Mahershala Ali, Kirsten Dunst, Jim Parsons, Kimberly Quinn.