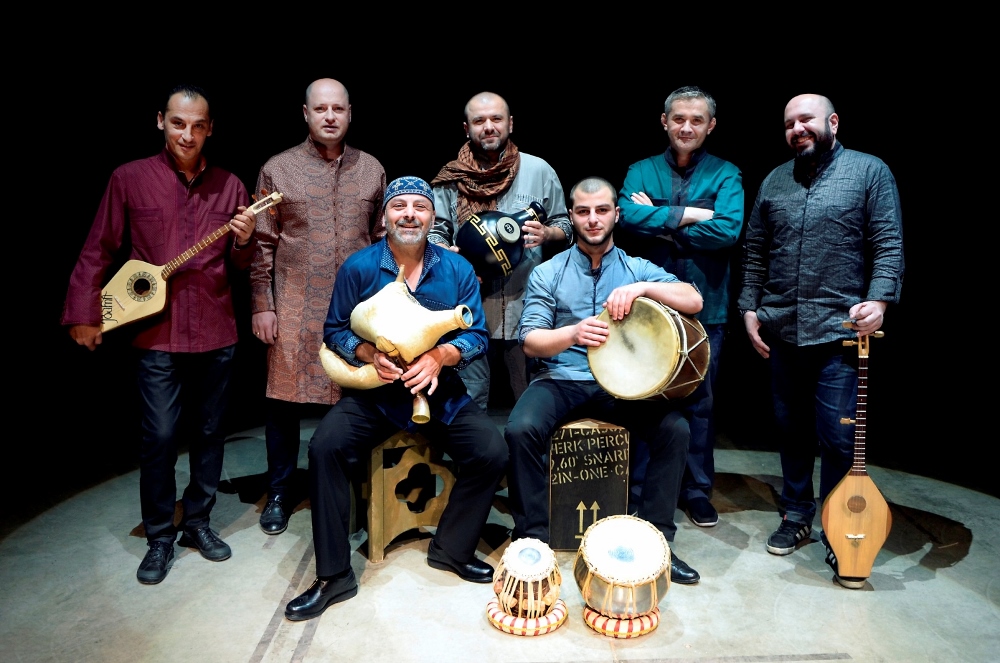 Celebrating a meeting of cultures, the Jerusalem International Oud Festival will take place from November 2 – 9, 2017. Now in its 18th edition, the festival is under the artistic direction of Effie Benaya, General and Artistic Director of the Confederation House. The festival reflects the presence and influence of Arabic music in Middle Eastern and Mediterranean cultures, and gives audiences the opportunity to become acquainted with the musical traditions and instruments of other cultures. Performances will take place in several Jerusalem venues: The Jerusalem Theatre, Beit Shmuel, and the Confederation House.
The full festival program*
Opening the festival will be Egari: Music and Song from Georgia. Egari (meaning: "that's it" in Georgian) is an ethno-jazz ensemble from Tbilisi, Georgia that renews and refreshes ancient Georgian musical traditions, including Georgian polyphonic song, folk song and traditional folk dances, combining them with jazz and blues improvisation. This musical mosaic includes traditional Georgian instruments such as the panduri, chonguri, duduki and Georgian bagpipes along with western instruments. The dialogue of give and take between East and West, and "ours" and "theirs" on the part of Egari's musicians is one that has typified Georgian culture for centuries. The members of Egari played in the past in the successful Georgian combo Shin. Since 2009 they have worked as an independent ensemble performing in the US and throughout Europe. They have released two albums.
Alexander Khizanishvili, chonguri, duduki, chiboni, salamuri; Goderdzi Khvtisiashvili, panduri; Mikhail Totiauri, duduki, dholi); Saba Khizanishvili, cajon, dholi, udu, darbouka); Jaba Margvelani, vocals, Piano; Bondo Tskvediani, vocals; Zaza Kechakmadze, bass; Fridon Sulaberidze, dancer; Nino Totiauri, dancer
Thursday, 2.11.17, 21:00, Henry Crown Auditorium, Jerusalem Theater

Young Oud Players: recitals for solo oud, Host: Yair Dalal
The Oud Festival and Yair Dalal, pioneers of the ethnic music scene in Israel and abroad, provide an showcase for young oud players at the start of their creative careers. Dalal will host five oud players in six intimate recitals for solo oud, each according to his individual style. The recitals will be held for four hours, from morning to afternoon.
Dalal, a beloved guest of the Oud Festival and Confederation House, will present Elias Hadov, a student of the Jerusalem Academy of Music and Dance and member of the Peace Choir of the Arab-Jewish Center in Jaffa; Liav Baruch, member of the Mosaic Ensemble; Eyal Litwin, who only began to play oud at age 23; Itzik Gan, graduate of the Jerusalem Academy of Music and Dance and a student of Turkish oud players Yurdal Tokcan, Necati Çelik and Zafer Öztürk; and Said Abbasi, member of a family of musicians, student at the Jerusalem Academy of Music and Dance, and a member of the Academy and Andalusian musical ensembles.
Free entrance on the basis of available space
Friday, 3 November 2017, 10:30–15:00, Confederation House

Neighbors in the East: Nizar Elkhater, Maria Jubran and the Bertini Choir
 An original project that brings together Western and Arabic classical music, initiated by Hagai Goren, founder of the Gary Bertini Israeli Choir, one of the most outstanding Israel choirs today.  Joining Goren are composer-pianist-conductor Nizar Elkhater, composer-arranger Sarah Shoham, Arab operatic and classical vocalist Maria Jubran, and the Bertini Choir, under the direction of Ronen Borshevsky, which will be celebrating the release of the project's first album at the Oud Festival. The program includes new arrangements of beloved Arabic classics, songs of Fairuz, Abdul Wahab and Asmahan, Yemenite songs and Hebrew songs.
Nizar Elkhater, piano, arrangements; Maria Jubran, vocals; Bar Siloni, flute; Ahmad Darausheh, oud; Coby Rubenstein, violin; Rali Margalit, cello; Elias Habib, percussion; the Bertini Choir under the direction of Ronen Borshevsky
Saturday, 4.11.17, 20:30, Beit Shmuel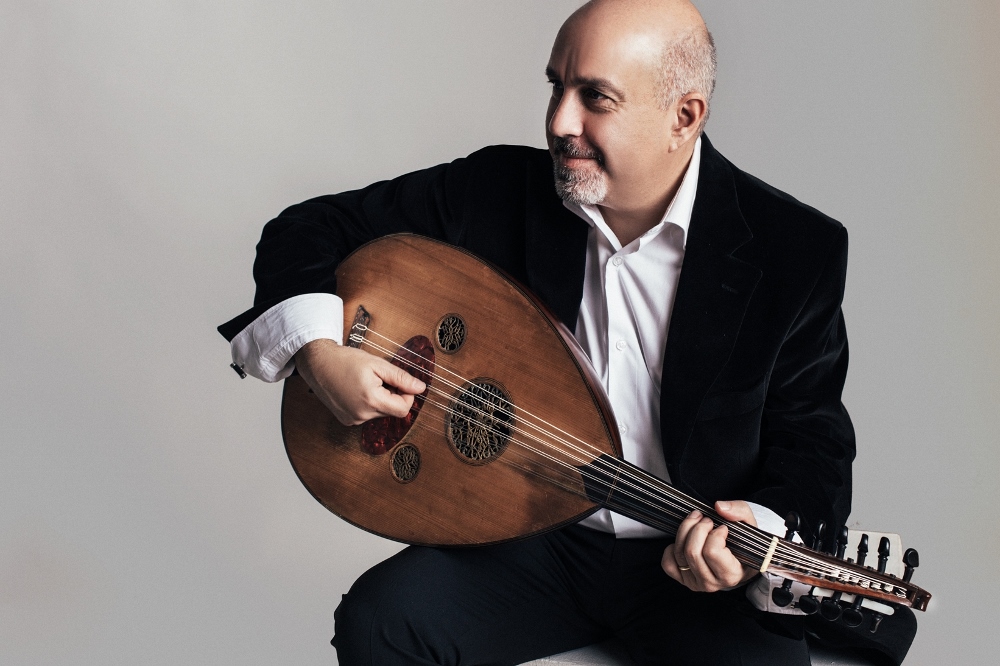 Ara Dinkjian Trio (USA / Greece)
American-Armenian Ara Dinkjian is among the world's most popular oud players. Dinkjian led Night Ark, which in the 80s and 90s heralded the wave of East–West fusion. This is Dinkjian's sixth appearance at the Oud Festival. In the past, he presented various programs based upon his unique approach combining his original compositions with Middle Eastern music. He reunited Night Ark for a special performance at the 2010 Oud Festival (read more about this performance on Midnight East) Dinkjian now brings us his new trio, which unites two of his longtime associates, Turkish-American qanun player Tamer Pinarbaşi and Greek lyra player Sokratis Sinopoulos, who is currently represented by the prestigious German ECM label. Dinkjian explains that the trio highlights his works, focusing on harmony and rhythm: "Music proves, time and again, that uniting and bringing cultures together is the most reliable way to remain human."
Ara Dinkjian cümbüş; Tamer Pinarbaşi, qanun; Sokratis Sinopoulos, lyra
Saturday, 4.11.17, 21:00, Rebecca Crown Hall, Jerusalem Theater
Klezmer in Maqam Hijaz: Hanan Bar-Sela and Imad Dalal
A premier presenting a surprising link between klezmer musician and clarinetist Hanan Bar-Sela and oud player Imad Dalal. One point of intersection between them is the maqam that typifies many of the Mt. Meron melodies, the Frigish mode, which is like Maqam Hijaz in Arabic music. The encounter will include one of the best known Meron melodies, Mihatzer beit abu,which is played while lighting of the torches at Meron.
Bar-Sela was the artistic director of the Safed International Klezmer Festival from 1997 to 2013 and has directed the Jerusalem Klezmer Festival since 2013. Dalal is conductor of the Almaghribia Andalusian Orchestra in Ma`alot-Tarshiha.
Hanan Bar-Sela, clarinet; Imad Dalal, oud; Gilad Katz, electric piano; Eitan Mendelsohn, percussion
Sunday, 5.11.17, 19:00, Confederation House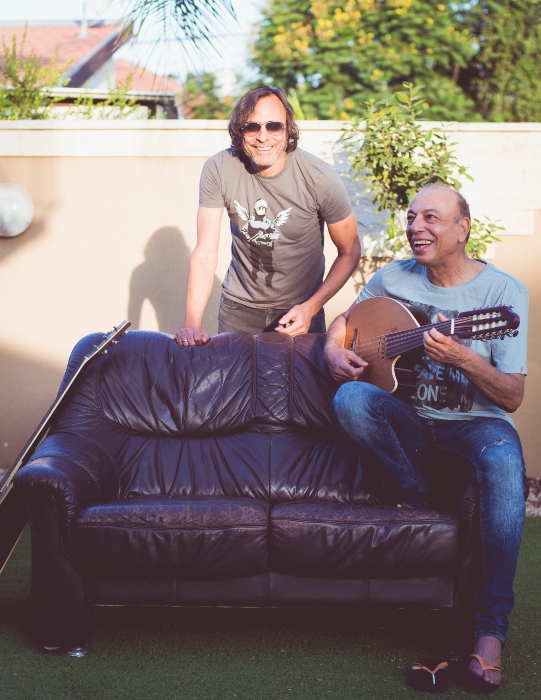 Men Cry at Night: Avner Gedassi and Chemi Rudner in one-time Mediterranean Rock-n-roll performance
Avner Gedassi, an innovative artist in Mediterranean music, and Chemi Rudner, head of the Eifo HaYeled band, in a once-only performance. The program will present Gedassi and Rudner's greatest hits: Hagvarim bokhim balayla, Nifradnu kakh, Menagen veshar, Nafalta hazak, Lavan behalom shahor. "Gedassi organically combines rock-n-roll with Mediterranean music" says Rudner. Gedassi's first big hit, Nifradnu kakh, redefined the connection between rock and American soul and Middle Eastern music.
Gil Idan, drums; Shimi Habib, bass; Lior Talmor, keyboard; Sagi Ahiel, guitar; Guy Tiram, oud; Chemi Rudner, vocals, guitar, musical production; Avner Gedassi, vocals, oud, musical production
Sunday, 5.11.17, 21:00, Beit Shmuel
Al iqvotayikh baruah: Esti Keinan Ofri
Composer-vocalist Esti Keinan Ofri in an Oud Festival premier, presenting a selection of her melodies that reveal her unique familiarity with Judaeo-Spanish musical traditions. Ofri was a student of Salim Al Nour, one of the great Jewish composers of Iraq. Her instrumental melodies are based on Arab classical music and she creates vocal melodies for ancient and contemporary texts. Her partners this evening are unique performers and artists in their own right. The performance will host actor-writer-director Akram Tillawi, who appeared in the film Life According to Agfa, directed the film The Pink Subaru and directed the Piazza de Akram theater in Toscana.
Esti Keinan Ofri, vocals; Yarden Erez, oud, violin, sax, vocals; Yaniv Meisel, oud, rebab afghani, saz, vocals; Zeev Yaniv, percussion; Guest artist: Akram Tillawi, acting, composition, translation
Monday, 6.11.17, 19:00, Confederation House
Women's Song: Violet Salameh, Rakefet Amsalem, Yael Horowitz
Paytanit and vocalist Rakefet Amsalem, vocalist Violet Salameh, and flamenco vocalist Yael Horowitz join together in a Jerusalem International Oud Festival premier. Their songs range from sacred to secular, from Jewish piyut to Arab classical culture and Spanish-Andalusian heritage, from past to present. In the performance the vocalists weave a rich tapestry emphasizing the power of female expression. Amsalem is an innovative paytanit. Salameh specializes in interpretations of Um Kalthoum. Horowitz, spent a considerable amount of time in southern Spain, where she also recorded her first album.
Rakefet Amsalem, vocals Violet Salameh, vocals; Yael Horowitz, vocals; Imad Dalal, conductor, arrangements; Ourian Shukron, conducting, arrangements; musical production: Rakefet Amsalem and the Almaghribia Andalusian Orchestra in Ma`alot-Tarshiha
Monday, 6.11.17, 21:00, Beit Shmuel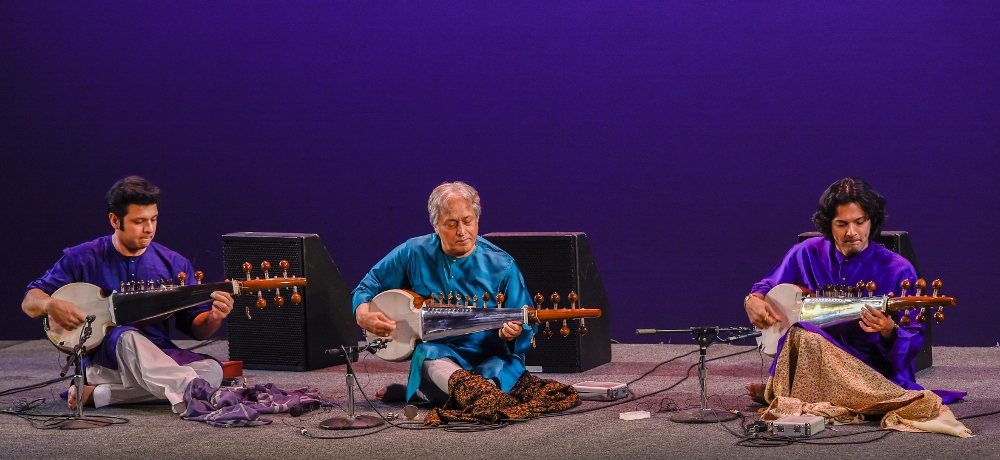 The Great Sarod Player: Amjad Ali Khan (India)
The outstanding sarod player of our generation, Ustad Amjad Ali Khan, in a unique premier performance at the Oud Festival. Ali Khan is the sixth generation of a dynasty of Bangash musicians. He studied the sarod with his father, Sarod virtuoso Hafez Ali Khan, and gave his first solo recital at age 6. Ali Khan is known for his innovative style, which connects Indian classical music with Western music, jazz and folk. Ali Khan has appeared regularly around the world since 1960, when he worked together with numerous Western musicians. He has received numerous awards in India and abroad for his unique contribution to Indian classical music. Ali Khan will be hosting his sons, Amaan Ali Bangash and Ayaan Ali Bangash, who continue the family tradition.
Amjad Ali Khan, sarod; Amaan Ali Bangash, sarod; Ayaan Ali Bangash, sarod; Tanmoy Bose, tabla; Satyajit Talwalkar, table
Tuesday, 7.11.17, 21:00, Rebecca Crown, Jerusalem Theater
Floating City: Michel Sajrawy Trio
The trio of guitarist Michel Sajrawy presents an unconventional encounter between Arabic music, jazz and rock. Sajrawy brings together quarter tones, the maqamat and songs of the great vocalists Fairuz, Um Kalthoum and Farid al-Atrash, and the power and intensity of a Western progressive-jazz fusion ensemble with its Western instruments—electric guitar, keyboard and drums. He says that his trio celebrates with Arab maqamat, dreams of the stories of 1001 Nights, and plays swing with virtuosity. The performance is based upon Sajrawy's fourth album, Floating City, which was released last year.
Michel Sajrawy, guitar; Loai Abu Sinnni, keyboard; Stas Zilberman, drums; Rana Warwar, guest vocalist
Tuesday, 7.11.17, 21:00, Confederation House
Divan-e-Hafez: Amir Shahsar
Divan-e-Hafez assembles many of the poems of the 14th century Persian Sufi Shams ad-Din Muhamad Ibn Muhamad Hafez Shirazi. His picturesque works elevate the pleasures of love and wine and mock religious hypocrisy. To this day, they are regarded as the glory of Persian poetry. The poems in the Divan-e-Hafez are poems of love and longing for the city of his birth, Shiraz. Flute and nai player and vocalist Amir Shahsar is one of the most fascinating artists in Israel's world music scene. Shahsar became acquainted with Divan-e-Hafez from an early age, and in this special performance will present his melodies to the poems of Hafez, will tell about his colorful life and will read selections from the poems.
Amir Shahsar, poetry, flute, nai, clarinet; Eyal Mani, tar, keyboard; Yaakov Lev Sameah, percussion; Eliasaf Bashari, bass, oud
Wednesday, 8.11.17, Beit Shmuel
Contemporary Classic—The Oriental Music Division of the Jerusalem Academy of Music and Dance
The Jerusalem Academy of Music and Dance offers a glimpse of the future generation of Middle Eastern art music in Israel. This evening outstanding students from the Oriental Music Division will present classics of Arabic music by great Egyptian composers such as Muhammad Abdul Wahab and Mohamed el-Qasabgi, Turkish composers such as Tanburi Cemil Bey, Sebuh Effendi, and Göksel Baktagir, and finally contemporary local masters such as Nassim Dakwar, and the division's alummi such as Firas Esami. Along with these are works by students. In the 18 years of its existence the Oriental Music Division has produced generations of the finest artists in the field of Arab art music in Israel.
Verdi Harab, violin; Raian Aismy, qanun; Eyal Khoury, oud; Dror Tubul, bass; Special guest: Lev El'man, percussion
Free entrance on the basis of available space
Wednesday, 8.11.17, 19:00, Exedra, Jerusalem Theater
The King and the Nightingale—a tribute to Muhammad Abdul Wahab and Abd al-Halim Hafez with Professor Taiseer Elias and his ensemble
A tribute to the finest canonic works of two of the great 20th century musicians from the land of the Nile—Muhammad Abdul Wahab, the "Singer of Kings" and "King of the Singers" (1910–1991) and Abd al-Halim Hafez, the "Nightingale"—both of whom shaped the face of Arab music. Abdul Wahab composed over 1,800 songs for the finest vocalists, including Hafez, and was regarded as the most respected vocalist in the Arab World during the 20th century. Hafez devoted his life to Egyptian Arab music, and was noted for his delicate, human and precise voice, which gave a personal quality to every song.
Professor Taiseer Elias, one of the great musicians and oud players in the world today, created a special ensemble of top-ranking artists in Israel, including vocalists Ziv Yehezkel and Elias Atallah, and will host the al-Karawan Choir.
Professor Taiseer Elias, oud, violin, musical direction, editin; Ziv Yehezkel, vocals; Elias Atallah, vocals; Firas Isami, violin; Elias Elias, violin; Charlie Safi, violin; Isa Awwad, qanun; Jamil Bishtawi, nai; Ad'ham Darwish, bass; Ashraf Farah, darbuka; Nab`i Abu Nicola, riq; Special guests: Sireen Elias, piano; the al-Karawan Choir from I`bilin (musical director: Nabeeh Awwad)
Wednesday, 8.11.17, 21:00, Sherover Hall, Jerusalem Theater
Oral Tradition—A Tribute to Nino Biton
The Andalusian Musical Ensemble of the Jerusalem Academy of Music and Dance presents a tribute to oud player, vocalist, and composer Nino Biton. The performance includes a range of North African classical and folk genres. Nino Biton is one of the pillars of Andalusian music in Israel and a master of Algerian classical music in particular. In addition, Nino is a respected teacher whose students fill the ranks of the Andalusian Orchestra in Israel and include international stars of jazz and world music. In this one-time performance the Jerusalem Academy of Music and Dance salutes Nino Biton, in tribute to his activity and great influence upon many artists of a variety of musical genres.
Hagai Bilitzky, musical direction, oud; Shikma Givan, flute; Hanani Zait, nai; Sara Neveen, trumpet; Idan Salomon, soparano sax; Nir Armon, alto sax, Michael Rossler, bassoon; Orian Shukrun, piano; Yishay Ben Adar, qanun; Johanna Reitmueller, Arab violin; Ido Kadosh, guitar; Eliran Yosef, guitar, vocals; Noam Tabib, vocals; Balkis Halaby, oud, vocals; Uria Harush, oud, vocals; Shir Wechsler, oud; Sharon Avivi, oud; Elad Breska, oud; Dror Tubul, bass; special guest: Hillel Amsallem, percussion
Free entrance on the basis of available space
Thursday, 9.11.17, 19:00, Exedra, Jerusalem Theater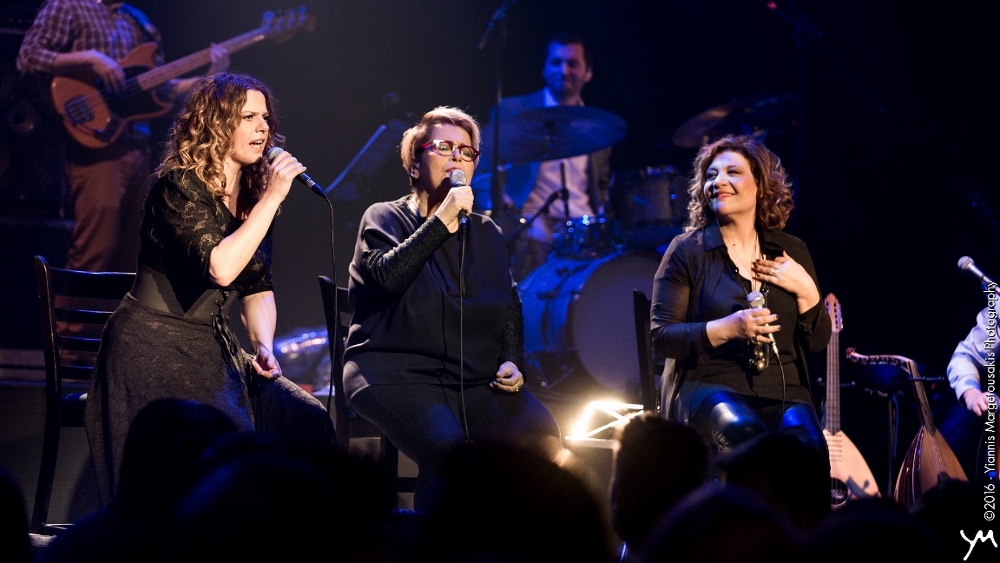 Three Great Greek Voices: Dimitra Galani, Eleni Tsaligopoulou and Yota Nega
The three great Greek female vocalists Dimitra Galani, Eleni Tsaligopoulou and Yota Nega appeared together in 2016 in a program based upon Greek folk music. This led to a series of successful performances throughout Greece and in London. Now, they arrive in Israel for the first time for a premier in the Oud Festival. The program will be rich and varied—songs that have become part of Greek collective memory, that overcame time and Greek political turmoil during the 20th century, and that were written and composed by some of the greatest and most original Greek artists: Manos Hadjidakis, Mikis Theodorakis, Vasilis Tsitsanis, Yannis Papaioannou, Stavros Xarhakos, Manos Loizos, Giorgos Zambetas, Apostolos Kaldaras, Giorgos Mitsakis, Dimos Moutsis and Christos Nikolopoulos. In addition, the vocalists will interpret songs from Smyrna, traditional folk songs and even modern songs that relate to classics by great artists. They will be accompanied by a band that demonstrates the merging of Eastern and Western cultures from which the songs emerged.
Dimitra Galani, vocals; Eleni Tsaligopoulou, vocals; Yota Nega, vocals; Serafim Giannakopoulos, drums; Argyris Diamantis, percussion; Nikos Katsikis, bouzouki, cura-mandolin; Thomas Konstantinou, oud, kathros, bouzouki; Spiros Manesis, piano; Stelios Provis, bass; Apostolos Tsardakas, qanun, baglama; Spiros Hadjikonstantinos, guitars, baglama; Aristeides Hadjistavrou, guitars. Artistic representation: Bracha Cohen Greek Productions in Israel, Management: Prospero Management, Zuma Communications Chara Zouma PR and communications consultant for the artists
Thursday, 9.11.17, 21:00, Sherover Hall, Jerusalem Theater
The full program and ticket information may be found on the Confederation House website.  Tickets may be purchase via the website, or call: 02-6245206, ext. 4; or through Bimot *6226.
*All program information and texts by the Jerusalem Oud Festival