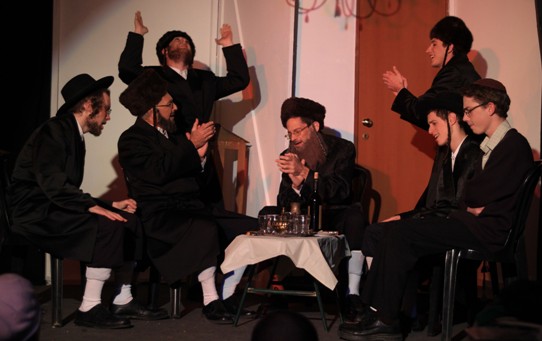 If you have not yet ventured into the exotic world of English-language Theater in Israel, make a pilgrimage to Jerusalem during Chol Hamoed Passover for a holiday feast of theatre, music and comedy. Beit Avi Chai in collaboration with Merkaz Hamagshimim Hadassah present the Stage One Amateur English Theater Festival, bringing together theatre companies JEST, ENCORE, Center Stage Theater, and HaHafuch, in one venue for three days of performances at Beit Avi Chai, March 31 – April 2.
Performances will include: "Address Unknown", "Keys to the City", "The Chosen", "13", and the world premiere of "Silence Not, A Love Story". In addition to the theatrical shows, there will be musical performances by Ben Draiman, Kela Sappir and Omer Stoler, Dr. Jazz Band, and special concert by MYCALE including "Pharaoh's Daughter," as well as stand up comedy by Benji Lovitt.
Within a wide range of styles – from drama to musicals, through characters of all ages, the plays explore issues of identity and culture. From the unlikely friendship between a Hasidic savant and a Modern Orthodox math whiz in The Chosen (directed by Rafi Poch and Jeremy Man Saltan), to the effects of politics and the rise of the Nazi Party in Germany on the friendship of Max and Martin in Address Unknown (directed by Leah Stoller), to the final days of Ottoman Jerusalem in The Keys to the City (directed by the play's writer Robert Binder and composer Paul Salter) and the teen angst of 13 (directed by Liel Zahavi-Asa, dramaturge Jacob Hellman) – the plays reflect the diverse talents and concerns of the English speaking community in Israel.
Full details on each performance and the schedule are available on the Beit Avi Chai site.
Stage One will take place at Beit Avi Chai, 44 King George Street, 02-6215900.