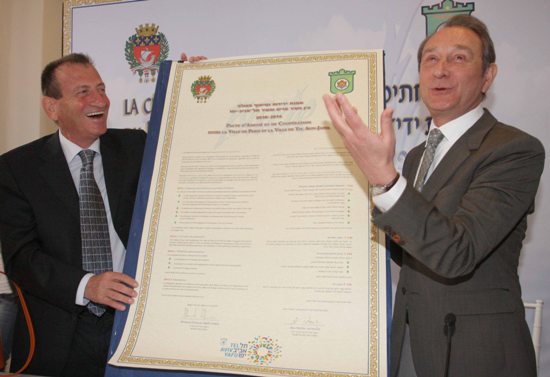 Tel Aviv-Yafo Mayor Ron Huldai and Paris Mayor Bertrand Delanoë signed an accord of friendship and cooperation between their two cities on April 7 at the original Tel Aviv Municipality building in Bialik Square.
"This is an historic day," said Huldai, "this is the first ceremony to be held in this building since its renovation in honor of Tel Aviv's 100th anniversary. Currently the Museum of the History of Tel Aviv, this is where I received the keys to the city from my predecessor, and today, we are signing a pact of friendship and cooperation with Paris, the city of culture, art, aesthetics, love and lights. There is no finer gift with which to begin the next 100 years."
Huldai noted that Tel Aviv can learn much from Paris, which has an excellent reputation for the services it offers its residents, yet noted that Tel Aviv also has much to contribute to future cooperation, "we have always been an urban center of pluralism, freedom, and culture, chosen as a World Heritage Site by UNESCO.
Delanoë said, "This is a very natural moment, a familial gathering – simply a very pleasurable moment. I came for you, Ron. We began as colleagues, working together and exchanging ideas, united in our love for our cities, Paris and Tel Aviv. Over time, the working relationship became a deep personal friendship." Delanoë noted Israel's creativity and achievements in technology and bio-technology and expressed the hope that French entrepreneurs would look to Israel to create new connections here adding, "I look forward to our future collaboration in the areas of culture, urban development, art and design founded on the desire to enjoy the life and adventures of our cities."
The cooperation between the two cities will focus on areas of: communication, transportation, technology (in particular development of clean-tech), social issues, health, design, architecture, and of course – cinema.
On April 6th, the two mayors were present at the opening of "Portrait de Paris à Tel Aviv" a festival of French films that will be shown at the Tel Aviv and Jerusalem cinematheques through April 16th.