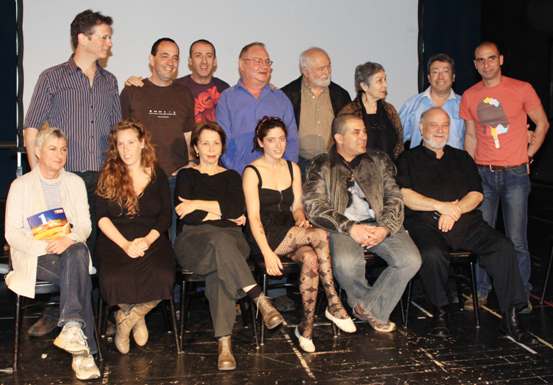 There's a lot to look forward to in the coming season at the Cameri Theatre! Director Noam Semel and Artistic Director Omri Nitzan presented the program for the coming months, with several new Israeli plays, classics, musicals and contemporary theatre. All plays are translated into English; performance dates with English superscripts are noted in the Cameri Theatre program online.
The forthcoming season will include several new plays by Israeli writers, many still at the writing stage.  Ichsh Fisher, a play by Hanoch Levin, will premiere at the Cameri in August. The prolific Levin left a legacy of plays that were not produced in his lifetime, leaving much to be discovered about this darkly comic writer. Directed by Roni Pinkovitch, the play opens as the male protagonist stands in a familiar position, contemplating the universe, when IT falls into the toilet. He embarks on a world search for his lost manhood, in a bizarre comedy of pursuit. Edna Mazya and Anat Gov are deep in the writing process, and new plays by Hanan Peled and Shlomo Mashiah are also forthcoming.
Joshua Sobol, who will be awarded a prize for lifetime achievement at the upcoming Theatre Prize Ceremony on May 14th, has written a play based on Oscar Wilde's An Ideal Husband. Directed by Aya Kaplan, Sobol created a tale of political corruption, centered on an environmentally conscious politician who is pressured by a woman from his past to give in to the establishment of a nuclear power plant. Moshe Naor will direct an adaptation by the author of A. B. Yehoshua's novel The Woman From Jerusalem that will premiere in January 2011.
Shai Lahav and Yoni Zicholts, creators of Gaza 17 (nominated for a Theatre Prize in the Best Original Play category), have written a musical, Srul. Directed by Moshe Kaftan, it follows a young man between the first and second Lebanon wars, through the Israeli rites of passage: a tour of duty in Gaza, travels in the Far East, the hi-tech fast track experience, leaving Israel and coming back, always trying to "have it all".
In addition to new plays, the Cameri will present new productions of Israeli plays that Nitzan says, "can be considered classics," such as Kiddush, written and directed by Shmuel Hasfari. A family triangle consisting of father, mother and son, Holocaust survivors who are religious Zionists, bound together and torn apart by their common past. Kiddush is the first play in a trilogy; there are plans to produce Hametz and Shiva'a at a future date.
The Cameri will co-produce Hillel Mittelpunkt's Shop (1982) with the Beit Lessin Theatre. Mittelpunkt will direct the play that takes a compassionate look at a Mom & Pop grocery in Jaffa of the 1970s, teetering on the brink of losing the little that they have. Joshua Sobol's Weininger's Last Night: The Soul of a Jew is about Otto Weininger, author of Sex and Character, the Jewish philosopher who hated women and Jews and shot himself in the heart at the age of 23. The play, which premiered in 1982, will be directed by Maoz Zaguri. Y. H. Brenner's Me'ever LaGobelin (Beyond the Tapestry) is set in England of 1908, where a family of Russian Jews, arrive after the failed revolution and encounter a new world.
Hebrew literature provides the inspiration for another series of plays. Ido Riklin will adapt and direct Meir Shalev's Esau, a story of love and longing that takes place in post-WWI Jerusalem. Haim Nahman Bialik's poignant story of forbidden love, Behind the Fence, will be adapted and directed by Moshe Kaftan. Original musical arrangements of Bialik's poems will be composed for this production. Kaftan said, "I have just begun to dive into the beautiful world of Bialik. I hope to succeed in preserving his unique language."
Two productions take their inspiration from Scholem Aleichem's work: the novella Stempenyu, adapted and directed by Edna Mazya and the short story The Treasure, which serves as a point of reference for Hanan Peled's Turkish Gold, which is expected to premiere towards December 2010.
Looking outward, world classics will also take their place on the Cameri stage. Udi Ben Moshe, who directed Bertold Brecht's The Good Person of Szechwan at the Cameri, has begun to rehearse The Caucasian Chalk Circle, which will premiere on July 23, with original music composed by Keren Peles. Ibsen's The Master Builder, a co-production with Habima Theatre, will premiere towards December 2010.
More contemporary imports are the internationally successful Enron which will be produced at the Cameri in the coming season, as well as www.com, directed by Ori Egoz.
Rina Yerushalmi and the Itim Ensemble are an artistically independent entity within the Cameri family. The Herzl Project – a temporary name, has already been well-received by audiences in previews. Yerushalmi announced that the name is no longer temporary, and the play is currently showing at the Nahmani Theatre. Yerushalmi describes Herzl as "a play in which dream and reality merge together." Employing Herzl's writings as a basis for the play, the focus is very much on Herzl the writer, and more specifically playwright, who, according to Yerushalmi, "managed politics as theatre." Omri Nitzan added humorously, "And we are all performing in his play to this very day."
Shakespeare is a favorite at the Cameri, and this season will be no exception with an edgy new production of Romeo and Juliet directed by Noam Shmuel. Shmuel, director of Gaza 17 and Games in the Backyard, said that Eli Bijaoui is working on a new translation of the play. Shmuel said that in his approach to Romeo and Juliet he is "connecting to the disease which has infiltrated contemporary culture – the violence between rival groups which makes the play all too relevant. Focusing on the conflict between the two families this production will take a slightly more violent direction which relates to today's reality." The play will premiere on November 25, 2010.
Another tradition is the collaboration of the Cameri with the residents of Sderot. Director Moshe Kaftan has begun rehearsals for Zohar, a musical based on the life of singer Zohar Argov, which will include Sderot residents performing alongside actors from the Cameri.
Music is at the heart of Layla Lo Shaket (An Unquiet Night) a musical created from the songs of Shlomo Artzi. Director Yael Ronen said that songs about relationships form the basis for the five stories in the production she describes as a combination of theatre and dance with music. Similar to many of Ronen's productions – such as Plonter,  the texts were written in collaboration with the actors. This will be a first theatrical performance for the popular Israeli singer Efrat Gosh, who said, "I'm very excited. This is the first time in my life that I have to get up every morning." Layla Lo Shaket will usher in the new season with song, premiering on June 10th.
AYELET DEKEL