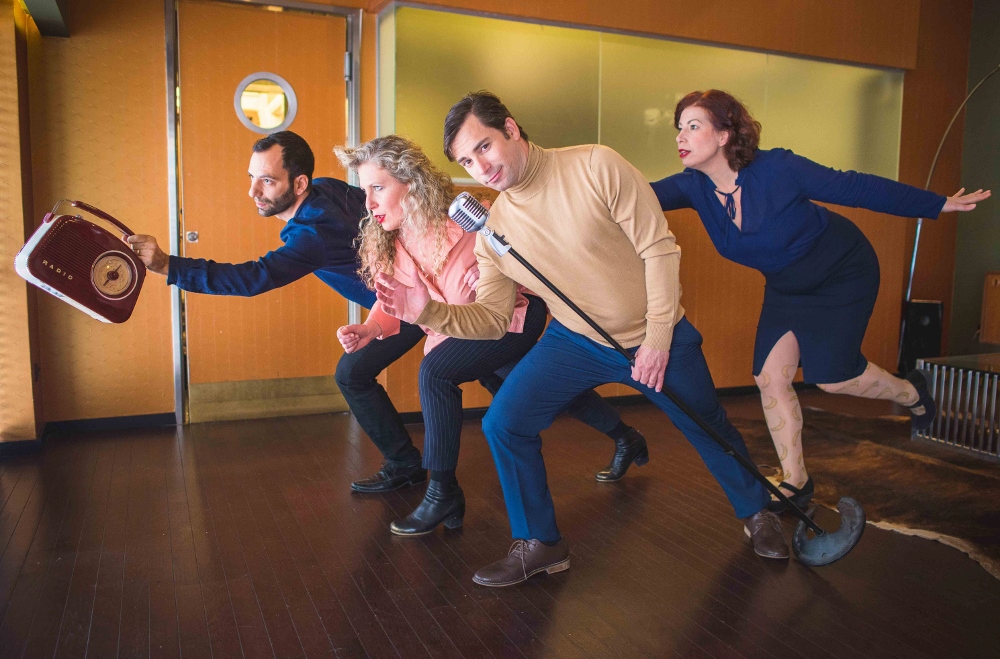 A brilliant balancing act of parody and homage, Radio Play is as creative and clever as it is hilarious, marked by outstanding performances. Inspired by the Patrick Kim series of genre fiction and directed by Shahar Marom, the show is a staged radio skit, with the talented four-person crew making the magic of the airwaves visible as they take on different roles with dramatic flair and comic panache. Fast-paced and incredibly funny, Radio Play had me (and everyone else) on the edge of my seat and laughing out loud.
Who is Patrick Kim? The karate expert with the 'sexy hands' is the protagonist of a series of paperback adventure novels in Hebrew, replete with dramatic descriptions of their hyper-masculine protagonist and his romantic interludes, as well as thrilling action. Chronicling the adventures of the 2-meter-tall Korean-American secret agent with muscles of steel, the books were very popular in Israel throughout the 1960s, 70s and 80s; becoming a cult hit. Although written over the years by a bevy of different writers (all writing under pseudonyms), the distinctive style is consistent throughout, with phrases like "sexy hands" (ידיו המסוקסות) becoming an instant nostalgia trigger for those in the know.
The stage set is simple yet provocative, with its array of odd objects and contraptions, all eventually coming into use for Foley effects. The artistry of radio shines in this production, with its use of voice to create character, and sound to convey mood and action. Watching the shaping of character and making of sound live onstage makes it uproariously funny. Radio Play really has it all – even a feminist click to remind the audience of the pervasive negative cultural tropes perpetuated by these fictional worlds.
The versatile Nadia Kucher portrays the raspy-voiced Col. Hardy, moments later she's utterly transformed (with no costume change) as the sultry French agent Dominique, all through the power of her voice and vivacious comic agility. Noa Becker (who also wrote the snappy script) brings a subversive kick to her portrayal of the secretary, and the things she can do with celery are inspirational. Noam Rubinstein is over-the-top macho as the man with muscles of steel, his features contorted in maniacal laughter as he takes on the character of the evil villain. Last but certainly not least is Sharon Gabay, who performs all the sound live onstage, sometimes with a little help from his friends (wait for the celery, it's wild). The sound design is immensely creative, with a strong visual and comic component, as well as impeccable timing and performance.
Performances: Friday, June 8, 2018 at Tmuna Theatre (8 Soncino). Afternoon performance at 14:00, evening performance at 21:30. Links: Radio Play facebook page , event page, tickets may be ordered online from Tmuna Theatre.
Performers & co-creators: Noam Rubinstein, Nadia Kucher, Noa Becker, Sharon Gabay; Director: Shahar Marom; Written by Noa Becker; Music and Sound: Sharon Gabay; Lighting and Set Design: Shahar Marom; Costume Design: Rona Plotek; Production: Daniela Shenhav.