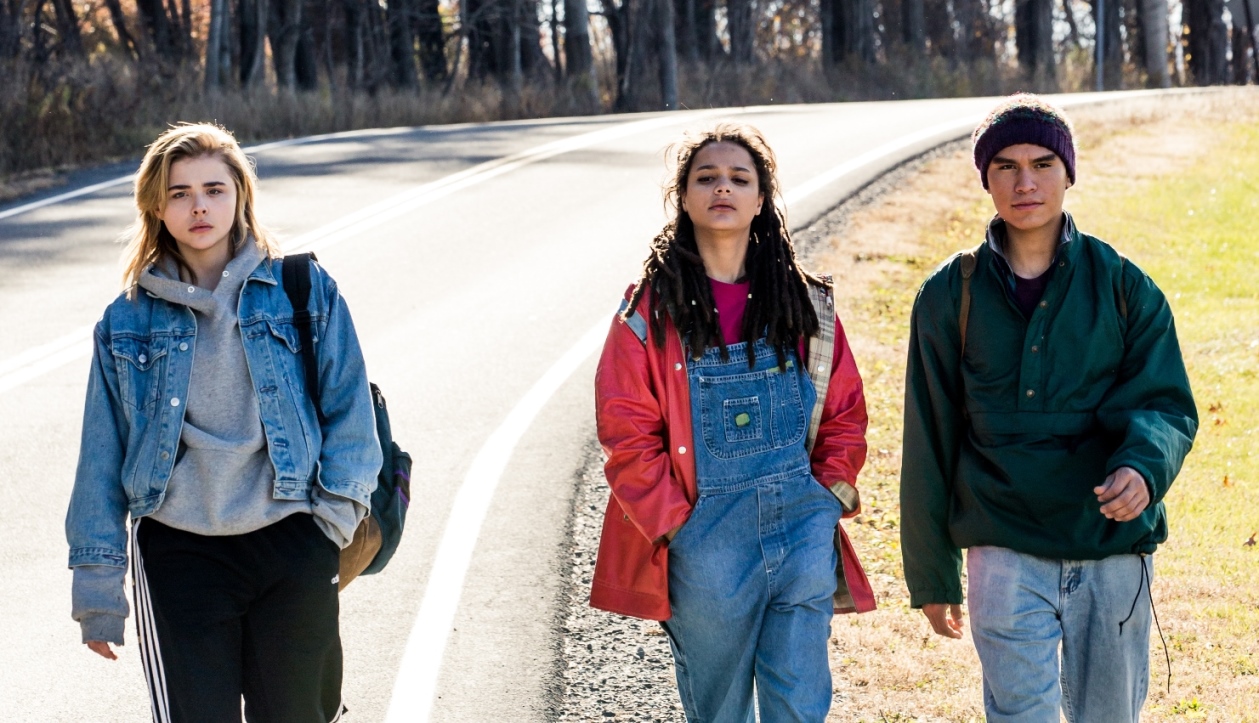 "What feels like fun is actually the enemy" – a Sunday school teacher tells his captive audience in the opening scene of Desiree Akhaban's feature The Miseducation of Cameron Post, based on the eponymous novel by Emily Danforth. Teenagers do not get to make many decisions for themselves. Legally, financially, and to differing extents emotionally, they are still dependent on their parents or guardians. From the moment they were born, the adults in their lives have been their guides to the world, telling them what to think and believe, what it means to be human, how to be a good person. What is a girl to do when her inner feelings go against everything she has been taught? When something "forbidden" feels good? Does she trust her feelings, her instincts, or does she follow the wisdom of her elders, and believing herself to be in the wrong, try to eradicate that behavior, that sin?
Set in the 90s (at one point a car boasts a "Vote Clinton/Gore" sticker) in a conservative Christian community, the film stars Chloë Grace Moretz as Cameron, who is caught making out in the backseat of her boyfriend's car on prom night. The catch is, she is not making out with him, but with her best friend, Coley. Her aunt Ruth, who has been her guardian since the death of Cameron's parents, only wants what is best for the girl, and immediately sends her off to "God's Promise" a conversion center for those afflicted with what they call SSA (same sex attraction). A serenely sinister Jennifer Ehle plays Lydia Marsh who regards sexual orientation as a mental illness and psychoanalyzes the teens to uncover their traumas. Reverend Rick (John Gallagher Jr) who helps her run the center, is one of her success stories.
The film is reminiscent of a twisted Short Term 12, in which the counselors (an amusing note – John Gallagher Jr. also played Mason, a counselor in Short Term 12), rather than supporting, guiding, and affirming, are trying to mess with the kids' minds and convince them that they are flawed and sinful. Its sounds grim, and it is a fictional depiction of what is a horrifying reality for too many teens to this day, yet, teenagers being teenagers, and Desiree Akhavan being the same person who created The Slope and Appropriate Behavior, the film is also very clever and funny.
Cameron navigates carefully through the program, remaining fairly quiet and reluctantly acquiescent, yet her eyes are full of questions, confusion, and criticism. Moretz offers a nuanced performance that reflects the depth and complexity of the character's inner struggle and process. The relationships between the different teenagers in the center provide the energy of this film, as Cameron tries to find her path. There's her roommate Erin (Emily Skeggs) who enthusiastically embraces the belief system of God's Promise, eager to leave SSA behind. Cameron bonds with Jane (Sasha Lane) and Adam (Forrest Goodluck), who like her, are outwardly compliant, because really, what choice do they have?
The Miseducation of Cameron Post is insightful in a subtle way. It's a very different film from Jamie Babbit's satiric But I'm A Cheerleader, starring the flamboyant Natasha Lyonne. Yet where the latter film, made in 2000, is outrageous and hilarious, this one is saying – hey people, this is serious. And given that the year is 2018, and gay conversation is still a legal, ongoing practice in too many places, it is very serious. Thankfully, the center depicted does not resort to some of the extreme methods employed by real life conversion centers (In the U.S. bans on conversion therapy exist in 11 states – as well as several cities, with Maryland and New Hampshire joining the growing list in October 2018 and January 2019, respectively). Yet although they are not physically abused by Lydia and Rick, their private lives and emotions are relentlessly probed and prodded, and they are made to feel guilty and ashamed.
Note on casting (taking up the conversation from my review of Lukas Dhont's Girl): Sasha Lane, the actor who plays Jane, has been out for several years, and Forrest Goodluck, like his character Adam, has Native American roots. Moretz, on the other hand, convincingly plays a lesbian without necessarily being one. The film took the Grand Jury Prize for US Drama at Sundance 2018, so apparently being open enough to cast someone similar to the character works well, and casting someone who differs from the character that she plays works well too.
The Miseducation of Cameron Post will participate in the International Competition at the Jerusalem Film Festival 2018.
Screenings:
Friday, July 27th at 20:15 – Yes Planet 8
Tuesday, July 31st at 12:00 – Cinematheque 3
Thursday, August 2nd at 17:30 – Yes Planet 8
Tickets may be ordered from the Jerusalem Film Festival website.
The Miseducation of Cameron Post
USA 2018, 90 min, English with Hebrew subtitles
Directed by Desiree Akhavan; Screenplay by Akhavan and Cecilia Frugiuele, based on the novel by Emily M. Danforth; Cinematography: Ashley Connor; Editor: Sara Shaw; Music: Julian Wass; Cast: Chloë Grace Moretz, Sasha Lane, Forrest Goodluck, John Gallagher Jr., Jennifer Ehle, Emily Skeggs, Owen Campbell, Quinn Shephard.