If you find yourself at a roadside hotel with a quirky assortment of strangers and it starts to rain, you might want to head back out to the parking lot and make your escape, because some bad stuff is sure to go down. On the other hand, if you're in a movie theatre, you like mysteries and have a fairly good tolerance for violence, then sit back and enjoy, because some bad stuff is sure to go down. An elegant homage to noir with a twist, Bad Times at the El Royale has fun with the genre, augmented by luxuriantly kitsch 60s nostalgia in the design, a great soundtrack, and excellent performances from a strong cast.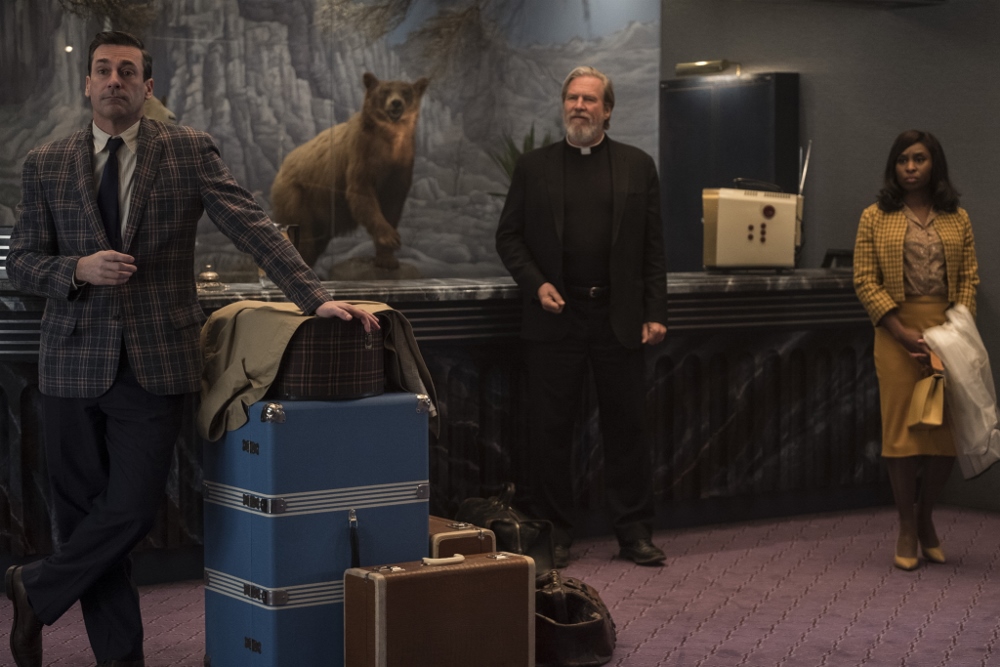 Darlene Sweet (Cynthia Erivo), a singer, encounters Father Daniel Flynn (Jeff Bridges), a Catholic priest, in the parking lot. Entering the El Royale, they encounter verbose and not at all subtly racist vacuum salesman Seymour Laramie Sullivan (John Hamm). The California-Nevada border runs right through the El Royale, and the hotel plays it to the hilt, with cute state map room keys and a red line running through the hotel to mark the border. The glory days are gone and the hotel is practically deserted, but eventually they manage to find the hotel's lone clerk, Miles Miller (Lewis Pullman), who checks them in with as much aplomb as he can muster. Soon another guest zooms into the parking lot, a hippie with fringes swinging on her suede jacket, eyes hidden behind over-sized sunglasses. Naturally, this woman with attitude to spare (Dakota Johnson) refuses to reveal her name, and signs the register: Fuck You. And so it begins.
As Chaucer and Agatha Christie fans know, sequestering a group of travelers with secrets in an inn is an excellent formula for intrigue, mayhem and mystery. The film's reverse chronology sequences make comparisons to Quentin Tarantino's Hateful Eight inevitable, but I enjoyed Bad Times at the El Royale in its own right. The film was written, directed and produced by Drew Goddard, who made his directorial debut with The Cabin in the Woods (2012), and whose writing credits include the film adaptation of Andy Weir's novel for The Martian (2015), and episodes of Buffy the Vampire Slayer, Angel, Alias and Lost. Goddard takes his time setting up the scene and introducing his characters. Breaking the narrative up according to the rooms and their guests, scenes are viewed from different perspectives, altering expectations with each shift. With a run time of 141 minutes, he can afford to do just that. While action aficionados might complain, I found the character driven quality of the film compelling, captivating in its depth and resonance.
The retro look of the film is abundant in lavish detail, from the hotel and its décor, to the costumes, cars, and even an old-school recording studio scene thrown in there for music lovers. But in this film where secrets abound, not everything is as it seems. Set in 1969, it reflects the sensibility of that era of shattered illusions and great changes, as referenced in a brief flash of former US President Richard Nixon on a television screen.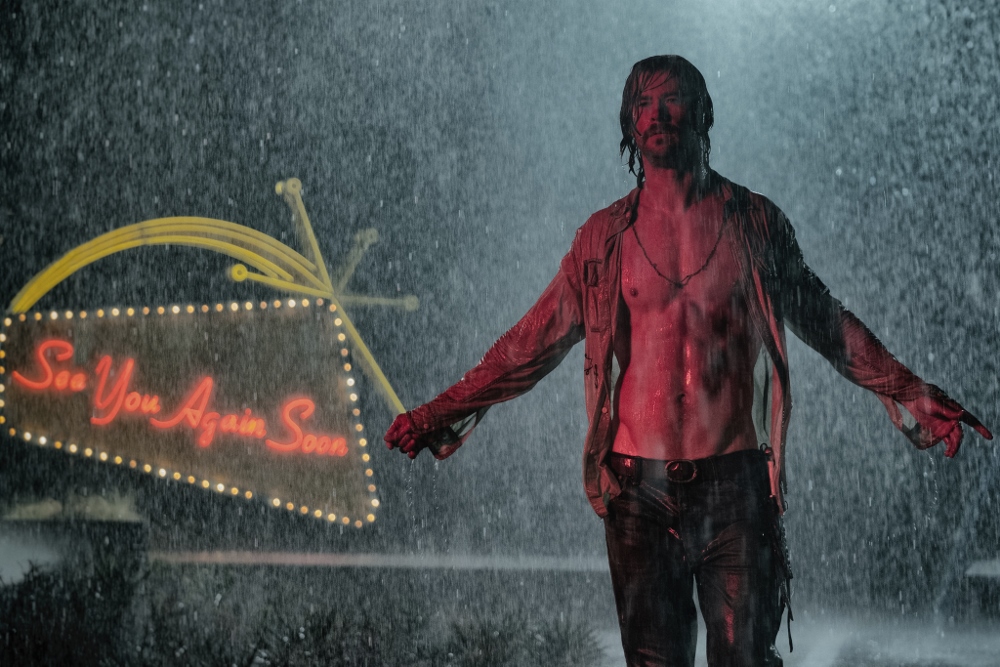 Jeff Bridges brings a depth and louche charisma to his portrayal of Father Daniel Flynn. He's clearly on the wrong side of the law, and yet he conveys a certain vulnerability and warmth. Jon Hamm is slick and sleazy, with some tricks up his sleeve as Laramie. Chris Hemsworth burns up the screen, exuding an (almost) irresistible heat as the outrageous Billy Lee. Even the hotel clerk, Miles Miller has a past, and Lewis Pullman does him proud. Dakota Johnson is not half bad either. It's an outstanding ensemble cast, but the most riveting character in the film is Darlene Sweet, and Cynthia Erivo is someone to watch.
Darlene is a backup singer with serious pipes, and Goddard could have taken this character in different directions. Much to his credit, rather than falling back on existing archetypes and clichés, he's written a bold, original Darlene Sweet, creating a character whose circumstances reflect the times, yet whose individuality, intelligence, courage and compassion are entirely her own. Erivo's performance is utterly captivating. British actor Erivo made her Broadway debut as Celie in the 2015 revival of The Color Purple, winning the 2016 Tony for Best Actress in a Musical and the 2017 Grammy Award for Best Musical Theater Album. Erivo's presence, and her singing (watch for This Old Heart of Mine and You Can't Hurry Love) endow the film with transcendent moments of sheer beauty.
Bad Times at the El Royale
USA, 2018, 141 min, English with Hebrew subtitles
Written and directed by Drew Goddard; Cinematography: Seamus McGarvey; Editing: Lisa Lassek; Art Direction: Michael Diner (supervising art director), Lisa Van Velden; Music: Michael Giacchino; Cast: Jeff Bridges, Cynthia Erivo, Jon Hamm, Dakota Johnson, Chris Hemsworth, Lewis Pullman, Caelie Spaeny.