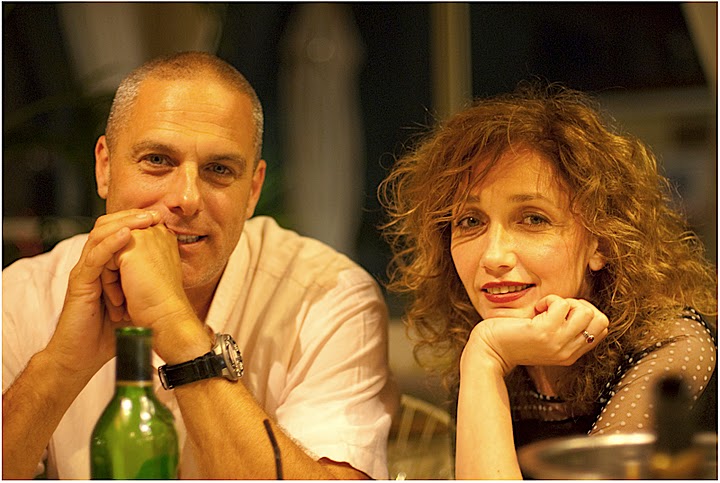 "This is not just another project," said Yaron Lavitz, of the current exhibit he has co-curated with Benoit Sapiro at the Minotaure Gallery: Boris Aronson, Avant-Garde Yiddish Theatre, Original works for Yiddish shows in New York 1923 – 1931. "We have a sense of a mission; we feel that we are connecting to history. It is important to us as Jews that future generations will know about these things."
Lavitz marked the opening of the exhibit with an event celebrating Yiddish culture, co-sponsored by All About Jewish Theatre and Yiddishpiel – The Yiddish Theatre in Israel.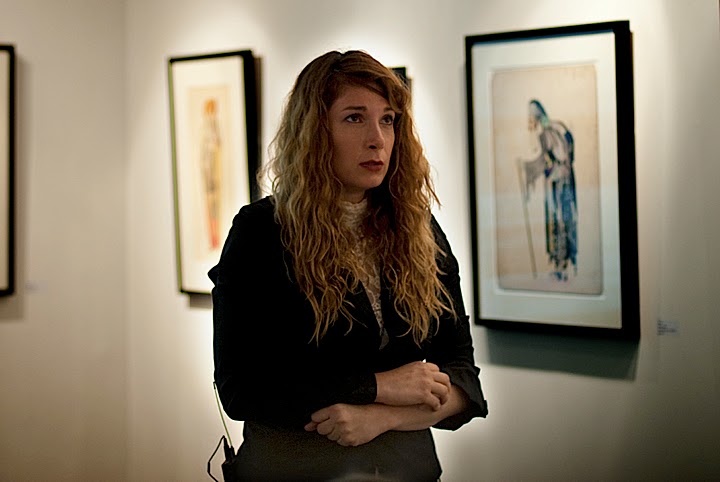 Actress Hadas Kalderon, the granddaughter of acclaimed Yiddish poet Abraham Setzkever (1913 – 2010), performed a monologue in Yiddish, which she created based on a short story by Setzkever.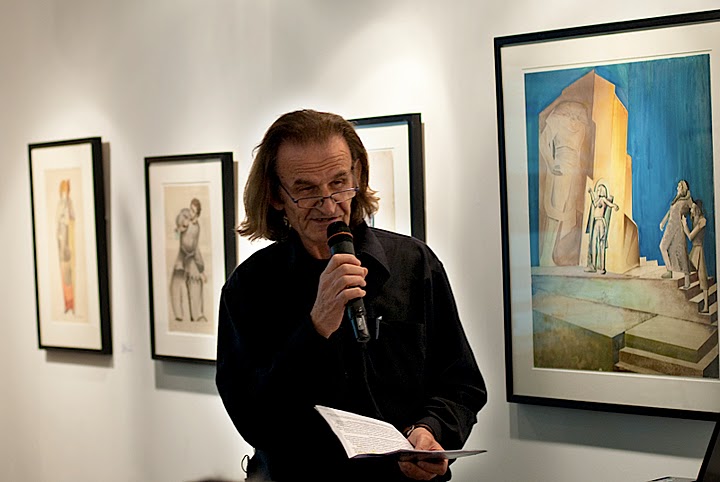 Moti Sandak, founder and editor of All About Jewish Theatre, an online resource for Jewish Theatre and performing arts, said that Aronson, "just like many other Jewish artists, he was the son of a rabbi, born in a small town, who immigrated to the US." There Aronson worked at first with experimental Yiddish theatres in New York, before turning to Broadway, where he worked with composer Kurt Weill, and playwright Clifford Odets, among many others. Aronson designed sets, costumes and lighting for over thirty plays, including the 1955 original production of The Diary of Anne Frank. Sandak recounted that Aronson was friendly with Chagall, whose work inspired Aronson when creating the set design for Fiddler on the Roof.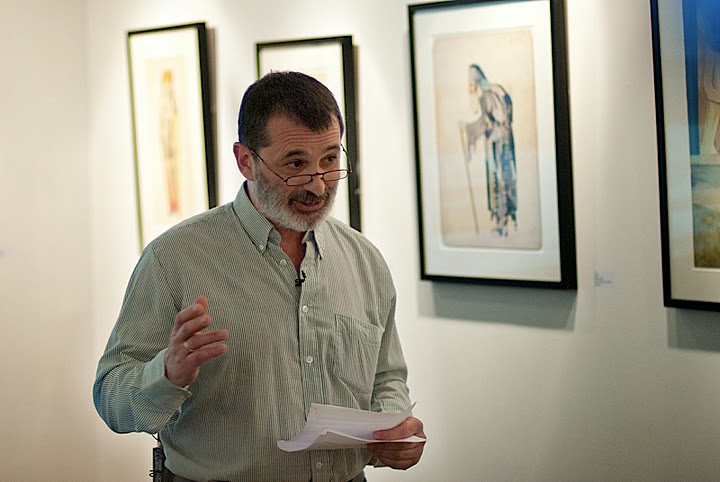 Historian Hillel Kazovsky inspired gallery owners Benoit Sapiro and Yaron Lavitz to search for the artwork in the current exhibit, convinced that it must exist somewhere. Kazovsky said that although Aronson worked extensively on Broadway, he always maintained a connection to his Jewish heritage. Kazovsky said that Aronson's designs for Fiddler on the Roof (1964) can be viewed as an expression of nostalgia for the Jewish world that was destroyed in WWII.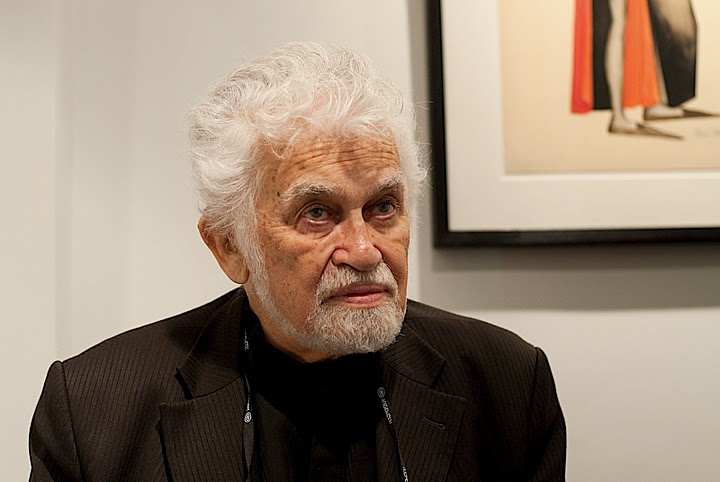 Shmuel Atzmon, founder and director of the Yiddishpiel, recalled coming to the US on a Ford Foundation Grant, and spending a long weekend in Aronson's home. There he saw the first sketches for Fiddler on the Roof. Atzmon recalled his audition for Habima National Theatre in 1953, which took place on the set of The Dybbuk. He was asked to approach the ark and don the tallit and tefillin, which he did and was accepted as an actor in the theatre. When Atzmon asked Yehoshua Bertonov (one of the founders of Habima) why that was part of his audition, the reply was, "In order to perform in a Jewish theatre you must be a Jew, it is not enough to be an Israeli." Atzmon told two tales in Yiddish, translating the stories to Hebrew as he spoke.
Actress Yevgenia Dodina, who delights audiences in any language, read from The Dybbuk in Russian.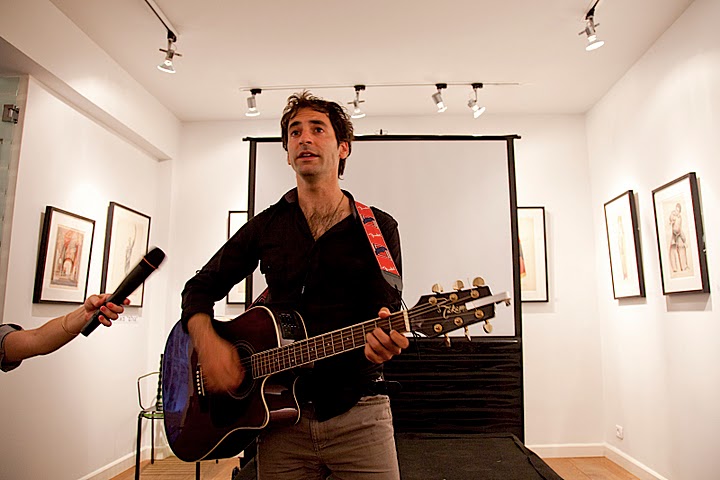 Jonathan Rozen, a young actor from the Yiddishpiel, closed the afternoon's events with two songs from The Megillah, a production of the Yiddishpiel, based on a series of poems by Itzik Manger, adapted for the stage by Shmuel Bonim and directed by Izhak Shauli. The familiar characters of the Book of Esther are brought to life in vivid Yiddish, with songs composed by Dubi Zeltzer. Rozen plays the role of a tailor in love with Esther, yet as he sang of his unrequited love, his moving performance also contained a message of hope – for the future of Yiddish culture in Israel.
The exhibit of Boris Aronson's drawings will be open through June 6, 2010 at the Minotaure Gallery, 100 Ben Yehuda Street, Tel Aviv, Israel.
Opening Hours: Sun – Thurs 10:30 – 19:30, Fri 10:30 – 14:00
Information: www.minotaure-telaviv.com, 03-5228424
AYELET DEKEL