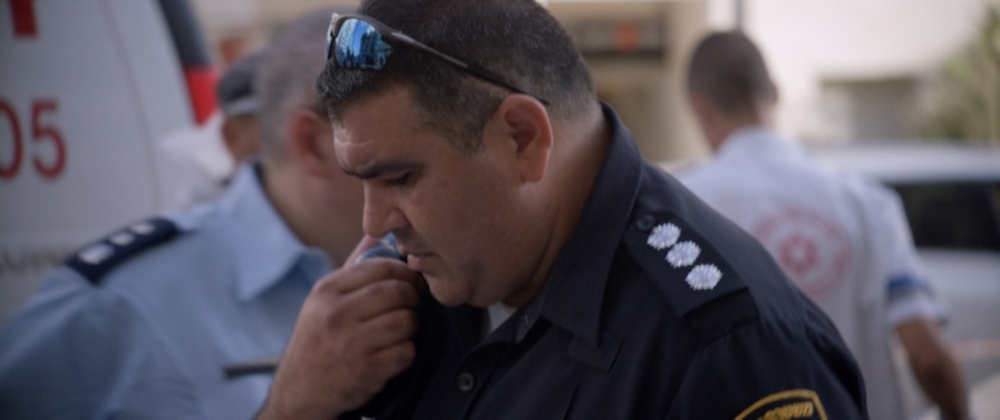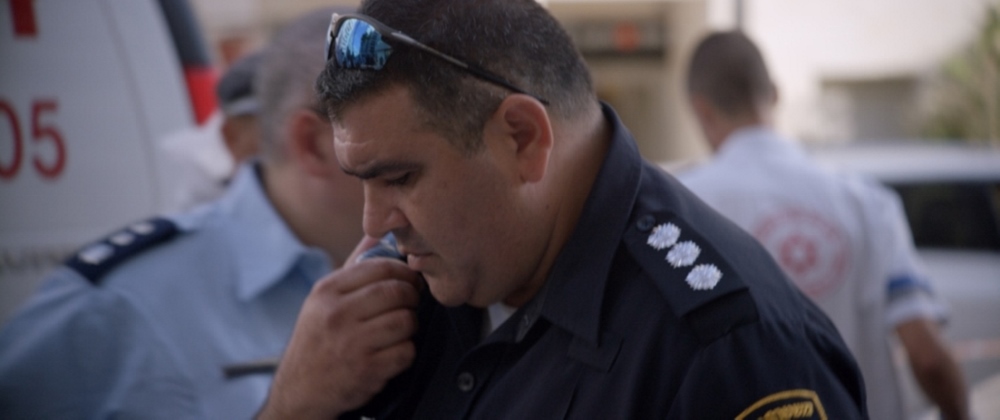 Riveting and heart-wrenching, Chained, the second installment of Yaron Shani's Love Trilogy, is impressive in its ability to present the perspectives of the different characters bound together by that elusive cultural construct known as love. The film focuses on Rashi (Eran Naim), a cop who encounters malevolence and violence on a daily basis, immersing the viewer in his world from the start, as he responds to a domestic violence call. Experience has taught Rashi to expect the worst, and ignoring the calm façade of the father and young son in the living room, he insists on searching the apartment, ultimately breaking down the locked door of the bathroom, where he finds the bruised and beaten older son. The abusive father is cuffed, the weeping brothers huddled together on the couch are reassured, and at that moment, Rashi seems almost heroic.
Coming home from the night shift, he insists on accompanying pregnant wife Avigail (Stav Almagor) to her ultrasound appointment, where they learn that the fetus is dead. Avigail collapses, shutting down emotionally, while Rashi showers her with love and encouragement, urging her repeatedly to look at him, as she looks down, avoiding his gaze. Yet Rashi's insistence raises the question: is this solicitude or control? Sometimes it's hard to tell the difference.
Police work is a constant source of stress and risk, and for Rashi, home life is replete with tensions as well. Unsuccessful in their attempts to have a baby, Rashi and Avigail are also raising her thirteen-year-old daughter Yasmin (Stav Patay), who in classic adolescent form is a whirlwind of emotions: testing limits, acting out, raging at her mother and step-father.
As the narrative arc unfolds, and Rashi contends with the complexities of his situation at work and at home, events are presented in a way that invites the viewer to question and interpret the choices made by each character. When Rashi receives a call informing him that some teenage boys are selling drugs in the park, one sees his response to that situation, searching the boy's backpacks, and, upon finding nothing there, conducting a strip search. His next call involves three dead bodies, two of them children. Rashi's working world is one of extremes.
At home, co-parenting Yasmin with Avigail is a source of conflict. Rashi thinks there should be more boundaries, while Avigail is permissive by default, subdued and passive, she seems to be trying to please everyone. It's not easy to balance this triangle of relationships. Shani, who wrote and directed the film, presents the viewer with the events as they happen. One encounters the characters in the present moment, creating a very neutral frame through which to view the characters, giving the audience ample opportunity for questioning and reflection.
The dialogue and performances throughout are so authentic and precise that the film has an almost documentary feel. This may be attributed to Shani's distinctive approach to filmmaking. Working with non-actors, he selects cast members who he feels can relate to the character. In this case, for example, Eran Naim was a member of the police force for 16 years, and since Avigail works as a nurse, Stav Almagor volunteered in a hostel in order to better understand her role.
All three lead actors – Eran Naim, Stav Almagor, Stav Patay – imbue their characters with nuance and depth, offering insight to their thoughts and feelings. In its depiction of fully-realized characters, interacting with emotional integrity, the film is striking and deeply moving, as it elicits compassion, even in the absence of approbation and understanding, for them all.
Awards at the Jerusalem Film Festival: Best Israeli Feature, Eran Naim – Best Actor, Audience Award
Chained
Israel, Germany/2019/112 minutes/Hebrew with English subtitles.
Written and directed by Yaron Shani; Producers: Saar Yogev, Naomi Levari, Michael Reuter; Cinematography: Sahi Skiff, Nitzan Lotem; Editor: Yaron Shani; Sound Design: Aviv Aldema; Cast: Eran Naim, Stav Amagor, Stav Patay.