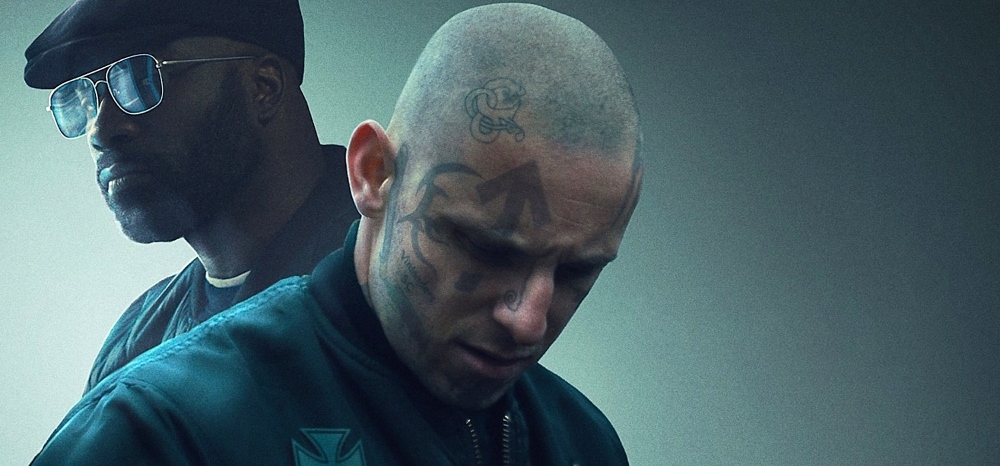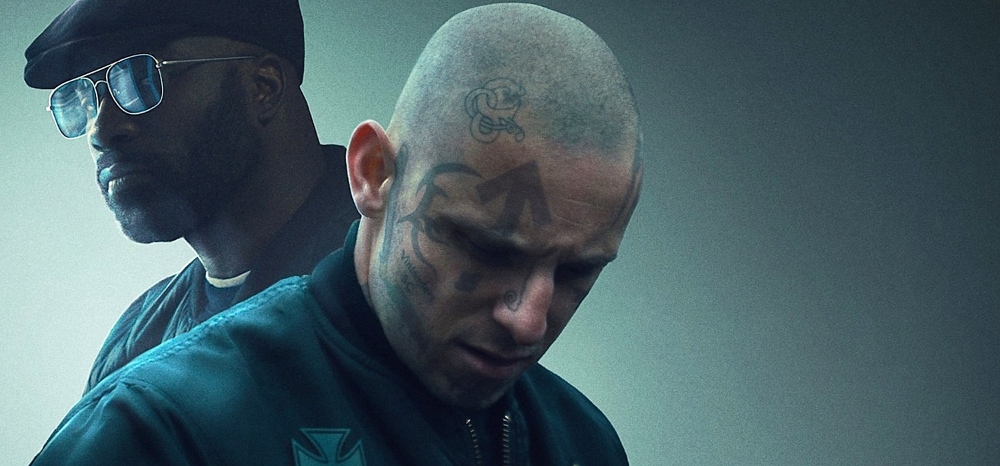 Is change possible? Can a person radically transform his or her life and beliefs?Relentlessly painful and excruciatingly slow, the process of tattoo removal is a powerful metaphor for the difficulty and complexity of effecting changing one's life in Skin, the moving and compelling feature film written and directed by Guy Nattiv. Inspired by the life of Bryon Widner, who renounced the racism and violence of the white supremacist groups he had belonged to, and literally changed his skin, removing the tattoos that covered his face, scenes of the removal function as a frame for the film, a searing image connecting the suspenseful narrative to reality, punctuated by the punishing rhythm of the laser. Jamie Bell (Billy Elliot) delivers a dazzling, fierce performance as Bryon Widner in a film with a message of hope, as well as a warning.
Brutish and violent, Bryon, or Babs as he is known to his friends, is at first indistinguishable from his skinhead companions, shouting racist slogans at a demonstration and beating up on a black teenager. Later, he relaxes by drinking to oblivion. Taken in for questioning, when Mary Stuart Masterson in her role as a Federal agent offers him a deal, his loyalty to the group is absolute. Where and how does the desire to change begin?
In this brilliant character study, Nattiv offers insight into the dynamics of hate groups, as functioning in a manner similar to other gangs. In this narrative, when Bryon was a homeless, directionless teenager, Fred "The Hammer" Krager (Bill Camp) and his wife Shareen (Vera Farmiga) took him in, as he later tells Julie, "They're my family." Like any other gang, they supply his material and emotional needs. They give him a sense of belonging, and in return, expect unquestioning obedience. Their racist credo offers easy answers to a troubled teenager's feelings of anger and insecurity. Self-hate turned inside out to become hatred of others. The film provides a parallel to Bryon's entanglement with the group through the character of Gavin, a homeless teen hanging out by the river, whom Fred easily entices with the offer of a hot meal.
Vera Farmiga portrays the dangerously intelligent Shareen, who seduces the potential recruits with her instinctive sense of their weaknesses and needs. In a pivotal and disturbing scene, Shareen – whom everyone calls "Ma" – shaves newcomer Gavin's head, while softly singing and caressing his shoulder, in a distinctly un-motherly way. As Bryon watches from a distance, his eyes reflect a first glimmer of understanding, an awareness of Shareen's manipulation, Gavin's vulnerability, and his own.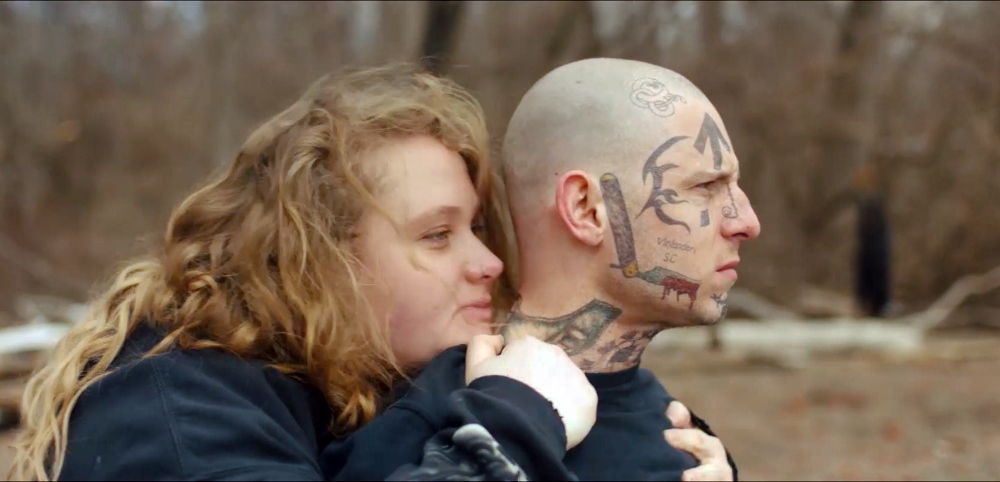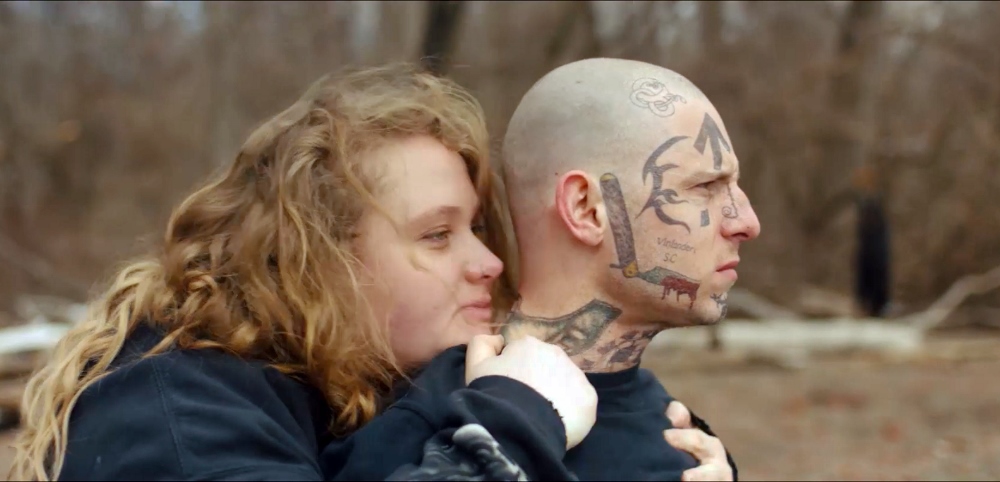 Jamie Bell's piercing gaze expresses the turmoil, anger, fear, and desire of a man in conflict with himself. Love is a strong force in the film, yet its influence is double-edged. Bryon's encounter with Julie (Danielle Macdonald) and her daughters fills him with the desire for a different way of life and sense of purpose. But he is also bound to Shareen and Fred by deep feelings, and those ties are not easily undone. Neither are the patterns of behavior acquired over the years, responding to issues that arise with aggression and violence. Danielle Macdonald (Patti Cake$, Dumplin') is a luminous presence in the film, with her portrayal of a woman who acknowledges the mistakes she has made, and emerged from those experiences with strength and wisdom, and a steel resolve to provide her children with a better life. Honest with herself and others, playful and sensual, her appeal is immense.
Yet once you become a member of a gang, leaving is almost impossible, as this suspenseful film makes abundantly clear. The psychological, internal process is intense and demanding, but once that is overcome, the external environment remains unchanged, and one must find a way to live with it. The film is fictional, yet it reflects the spirit of Bryon Widner's life experiences. Once he left the world he had known, he received death threats from white supremacist groups on one hand, and on the other, found it impossible to find a job and reintegrate into society with the many tattoos on his face. In real life, it was his wife Julie who contacted Daryle Lamont Jenkins, founder of the One People's Project who connected her with the Southern Poverty Law Center (SPLC), which eventually led to an anonymous donation that funded the removal of Bryon's tattoos. Jenkins and Widner did become friends, yet another inspiring twist in this incredible story.
Skin depicts an environment steeped in hatred and violence, one that is all too relevant to our current era. Yet there are moments of harmony, as in the wedding scene, set against the background of Philip Lewin's beautiful song Watercolors, that resonate with a message of love and hope.
Skin
Directed and written by Guy Nattiv; Cinematography: Arnaud Potier; Editors: Lee Percy, Michael Taylor; Music: Dan Romer; Cast: Jamie Bell, Danielle Macdonald, Daniel Henshall, Bill Camp, Louisa Krause, Zoe Colletti, Kylie Rogers, Colbi Gannett, Mike Colter, Vera Farmiga, Mary Stuart Masterson, Russell Posner.