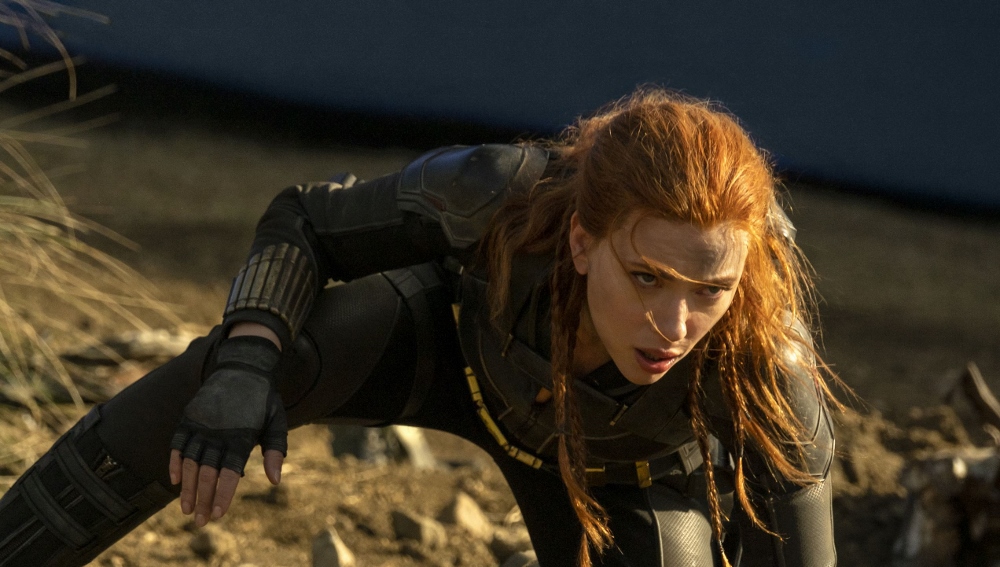 Natasha Romanoff, aka Black Widow, is my favorite Avenger, and that made the long wait for her solo film filled with apprehension – would I be thrilled, or would I be disappointed? I am thrilled with Black Widow, directed by Cate Shortland, not only for the terrific action, suspense, and the magnificence of Scarlett Johansson, but for the direction Black Widow's character takes in the film, as Natasha says: "At some point we all have to choose between what the world wants you to be and who you are."
Indulge me while I explain why Natasha Romanoff is my favorite. I'll be succinct. She is human, and not only is she not endowed with super powers, owing her success in battle to her intelligence, resilience, strength of body and mind, but she has overcome adversity, even exhibiting a caustic sense of humor, and made the choice to move forward and ally herself with the forces of good. Although Natasha has taken on and overcome many a villain in the Marvel Cinematic Universe, in this writer's opinion, her fiercest enemy always has been, and always will be (because movies are sort of forever), the sexism inherent in the system. The "system" referring not only to the Avengers films and the Marvel Universe, but more generally, to Western culture. Natasha's back story – effectively abducted as a child and raised in the horrific Red Room, where young girls are trained to become elite assassins and sterilized to make them better killers – is an exemplary bit of sexist narrative, whose details are designed to titillate the viewer with the sexual overtones of its abuse of young girls. From her first appearance in Iron Man 2, Natasha Romanoff's character is clearly intended, among her other functions, to be eye candy. But one might argue, so is her buddy, Steve Rogers in that muscle-hugging Captain America suit. The plot that really sparked my anger and disgust was the treatment of the romance (Avengers: Age of Ultron) between Black Widow and the Hulk. Natasha, as the token woman Avenger, is the only one who can soothe the Hulk's raging temper, and the two connect over her inability to bear children, which makes her monstrous. Do I even need to explain why that infuriates me?
Yet, amazingly, in film after film, Scarlett Johansson succeeds in rising above the sexism inherent in this character's narrative arc. Her gaze and tone of voice consistently imbue the character with intelligence and humor, as well as a sensitivity that transcends gender stereotypes. Which brings me to Black Widow.
Although Natasha Romanoff sacrificed herself in Avengers: Endgame, her character can live on indefinitely in stories that fill the gaps between films. I like the power of fiction to raise the dead. Black Widow is set just after Captain America: Civil War, when the Avengers have broken up and Natasha is alone and on the run. The film opens with a scene from her past, but it is a chapter that has never before been mentioned. Young Natasha (Ever Anderson) is a young teen, stylishly ahead of her time with bright blue hair in 1995 Ohio, living with her mother Melina (Rachel Weisz), father Alexei (David Harbour) and younger sister Yelena (Florence Pugh). Their ordinary, middle-America existence is blown apart, first to the ominous tones of American Pie's recurring refrain – this'll be the day that I die – and then in tantalizing and heart-wrenching slow motion to Think Up Anger's wonderfully disturbing cover of Smells Like Teen Spirit. As it turns out, mom and dad are deep-cover Russian spies, and the girls are, effectively, props. But for three years, this was a family.
The Ohio interlude contributes another, different dimension to Natasha Romanoff's past and her sense of identity. Cut to the film's present day, with Natasha alone and on the run. The arrival of a mysterious package from her former sister Yelena, sets the plot going, and most auspiciously, brings Florence Pugh (Little Women, Midsommar) into the picture. While one might argue that bringing in such a strong female lead diverts the focus from Black Widow, I felt that the exploration of the relationship between the two women, is not only fascinating in its own right, contributing to the depth of the film, it shifts the focus from the externally imposed things that happened to Natasha, to the choices she makes as an individual. Brought together as children by the villainous designs of General Dreykov (Ray Winstone) to be part of an artificial family, to what extent are the two women connected by those shared experiences?
Reflections on families of choice aside, the dynamic between Johansson and Pugh is edgy, prickly, tender and fun; like sisters. Not too surprisingly, although I don't want to give too much away, Mom and Dad come back into the picture. Rachel Weisz is tough and mysterious as Melina, while David Harbour brings a quirky, kind of scary charm to his role as the aging, heavily tattooed, Alexei.
Yelena reveals to Natasha that their nemesis General Dreykov had found a way to gain total control over his army of female assassins, literally controlling their brain functions so that they are fully conscious but have no choices. As Yelena tells Natasha, "you don't know which part is you." I find it an apt metaphor for the experience of women, born into a sexist culture and growing up within it, or, in the case of Natasha Romanoff, the Black Widow, being written into it. One of the pleasures of Black Widow, is Natasha's agency as an adult to make her own choices, and the choices she makes. And the way she totally kicks ass.
Black Widow
Director: Cate Shortland; Screenplay: Eric Pearson; Cinematography: Gabriel Beristain; Editing: Leigh Folsom Boyd; Music: Lorne Balfe; Cast: Scarlett Johansson, Florence Pugh, David Harbour, Rachel Weisz, Ray Winstone, O-T Fagbenie, Ever Anderson, Violet McGraw, William Hurt