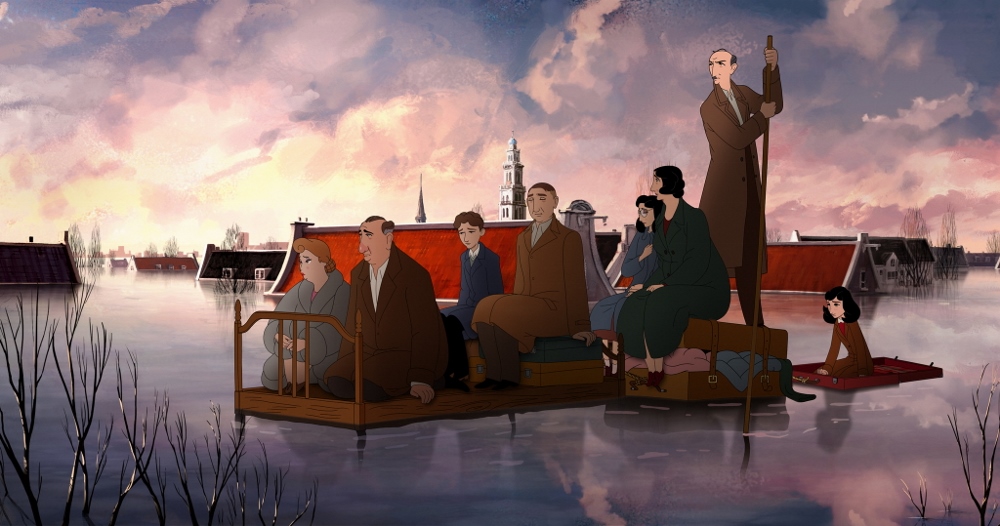 The 38th edition of the Jerusalem Film Festival will open on August 24, 2021 with a gala screening of Ari Folman's new film Where is Anne Frank. The traditional opening ceremonies will take place at the Sultan's Pool, moderated by Israeli television presenter and author Shifra Cornfeld.
Where is Anne Frank is an animated adaptation of Anne Frank's diary, a creative and visually striking re-imagining of the narrative. The film premiered at the 74th Cannes Film Festival, receiving much acclaim from critics. Folman's previous films have shown his talent to express complex ethical issues as well as nuanced feelings through animation, as in the Oscar nominated Waltz with Bashir (2009), and fantastical imaginings, as in The Congress (2013), which merged live action with animation.
Anne Frank hid from the Nazis in the Netherlands, living in an attic with her family, and keeping a diary in which, she recorded her thoughts, addressing them to an imaginary friend she called Kitty. Kitty was a character in a series of books by Dutch author Cissy van Marxveldt, described as "bright, cheerful, and funny" – hence, according to the Anne Frank House website, she became Anne's choice. Anne and her family were discovered in 1944, and in 1945 she died in the Bergen-Belsen concentration camp. Her diary, kept throughout the war years by Miep Gies, was published posthumously, becoming well-known worldwide, for its intimate and honest portrayal of the experience of Jews in hiding during the Holocaust, as well as the distinctive voice of its young author.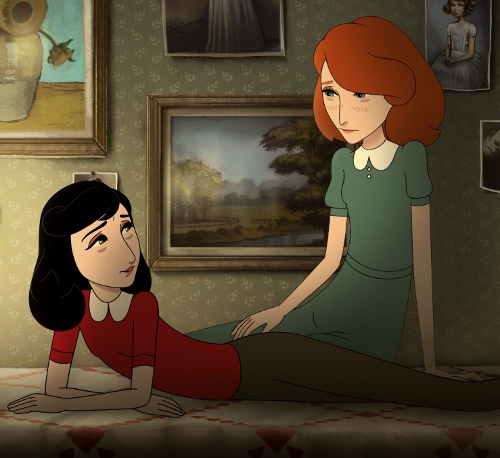 The artistic freedom of Where is Anne Frank brings the imaginary Kitty to life, as she wakes one morning in the near future. She does not realize at first that 75 years have passed since the end of the war, and embarks on a search for Anne. The film follows Kitty on her journey, with flashbacks to scenes from the past, as depicted in Anne Frank's diary.
Ari Folman expressed his happiness and excitement on Where is Anne Frank opening the Jerusalem Film Festival, saying that it is "a film that 40 Israeli artists worked on for 4 years, whose design department was walking distance from the Sultan's Pool where the screening will take place. I hope that this screening will be an unforgettable experience for both the children and adults who will watch the film."*
The Jerusalem Film Festival's Executive Director Dr. Noa Regev and Artistic Director Elad Samorzik issued a statement: "We are proud to open the festival this year with Ari Folman's new film, Where is Anne Frank. The film is an animated work, spectacular in its beauty, that will enthuse audiences of all ages, adults and children alike. Ari Folman, who dedicated a decade of his life to this film, adapted the well-known story of Anne Frank to cinema in an original and ground-breaking way. We have no doubt that watching the film on the giant screen at the Sultan's Pool, with an audience of thousands, will be an exciting and unforgettable cinematic experience."
The film's production in Israel was supported by the Rabinovich Foundation, and the Jerusalem Development Authority, which made it possible to set up an animation studio in Jerusalem for Bezalel Academy graduates. In addition to the Israeli artists, around 200 animators from eight different countries worked on the film. The film is composed of about 160 thousand drawings, a labor of love and artistry. The film employs a technique that combines classic 2D animation with constructed static backgrounds. Miniature models were created for the backgrounds, which were then recorded by cameras, and drawn figures were placed onto those backgrounds.
The 38th edition of the Jerusalem Film Festival will open at the Sultan's Pool on August 24, 2021. Opening ceremonies will begin at 19:30, moderated by Shifra Cornfeld, and will be approximately 45 minutes in duration, followed by a screening of Where is Anne Frank. Tickets for the festival opening are 62 NIS and may be ordered online from the Jerusalem Film Festival website: https://jff.org.il
The Jerusalem Film Festival will take place from August 24 – September 4, 2021, with screenings of about 150 films from 50 countries, including films that have premiered at leading international festivals – Berlin, Cannes, Venice, Sundance and more – garnering accolades and awards. In addition to screenings the festival will include industry events and professional workshops. The festival will continue its 4-year tradition of a traveling cinema, which will offer free quality screenings in the neighborhoods of Jerusalem.
The Jerusalem Film Festival is supported by the Ministry of Culture, the Jerusalem Municipality, the Jerusalem Development Authority, the Van-Leer Foundation and the Jerusalem Foundation.
Where is Anne Frank
Director: Ari Folman; Animation director: Yoni Goodman; Editor: Nili Feller; Set Designer: Lena Guberman; Music: Karen O, Ben Goldwasser.
*Statements from Ari Folman and the Jerusalem Film Festival Directors were received in Hebrew, and the translation is mine.