Looking for something different, extreme, provocative? The Haifa International Film Festival presents Haifa's Wildest Nights, late night screenings of films that break boundaries, challenge expectations, and offer an alternative viewing experience.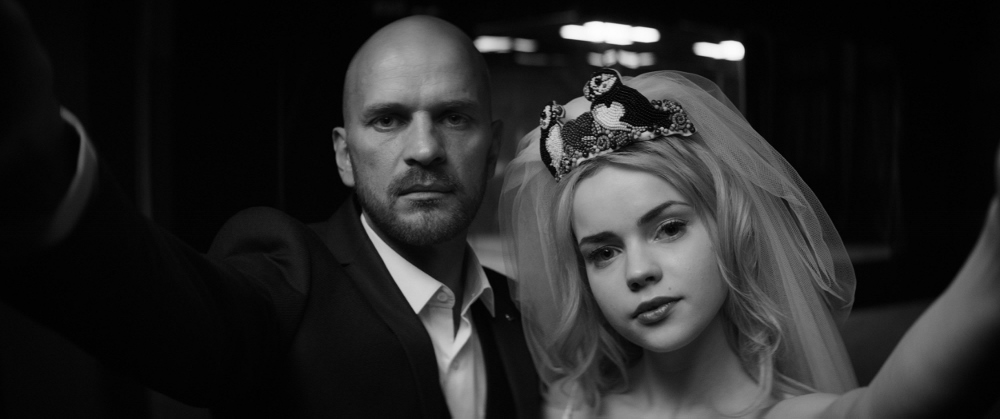 In the Mirror, written and directed by Laila Pakalniņa, is a stylized re-visioning of Snow White shot entirely in sumptuous monochrome. Set in a bizarre world vaguely reminiscent of our present day, the characters are never far from their smartphones, indulging in constant self-documentation and posing for selfies. When the pursuit of physical perfection has become a sacred quest, who is king, if not the owner of a gym? Lauris Dzelzītis portrays Snow White's father, a cross-fit trainer. Following his wife's untimely death, Trainer Dad raises baby Snow White in the gym. It does not escape his notice that one particularly fit damsel, portrayed by Elza Leimane, can do 50 burpees, and the two are soon married. The diabolically beautiful bride looks into her smartphone murmuring "mirror mirror." Snow White grows up to be as fit as she is beautiful, portrayed by Madeleine Valdberga, doing burpees with the casual ease of a child. All too soon, she has surpassed the reigning burpee queen's record. Clearly, something must be done.
In many respects, the plot remains generally faithful to the progression of the familiar fairy tale. Snow White hides out in the woods with seven guys, all supremely fit, who spend their days honing their talents, much to the delight of viewers. The plot deviates from tradition in placing an emphasis on Trainer Dad's relentless search for his daughter. It's an interesting choice, yet its development leads to an odd meandering sequence at sea with sailor poets, which rather than contribute depth, feels more like a digression.  Yet the appeal of this film, is in its piercing look at self-absorption and the search for the perfect image, as when mourners photo-bomb the grieving widower at a funeral, while mischievously, and spectacularly, feeding the image-hungry viewer a feast of fascinating scenes, quirky, and technically impressive, all to a score by Paulius Kilbauskasand and Vygintas Kisevicius. Visually dazzling and punctuated by humor, Pakalniņa's excursion into fantasy is a lively critique of contemporary narcissism.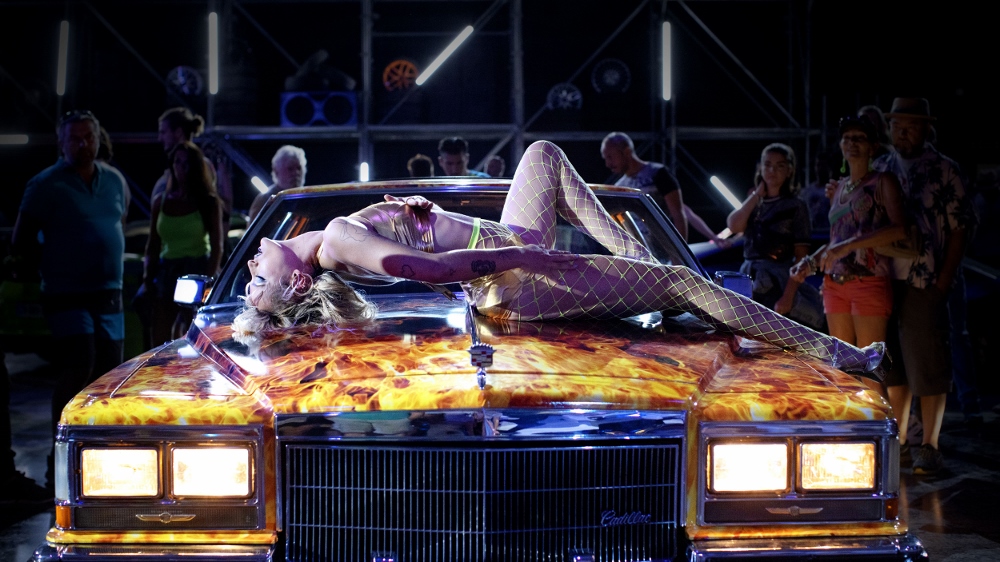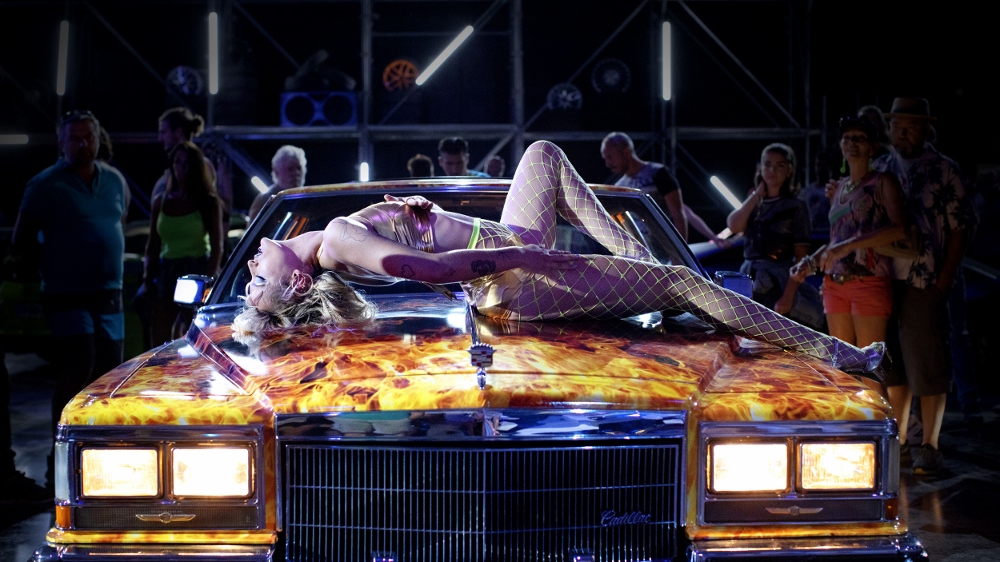 Julia Ducournau's Titane presents something so different it's hard to define, with a plot that takes several surprising turns. Watching Titane is like riding in a fast car or on an extreme roller coaster – there's not a lot of time to integrate or make sense of what's happening, you just have to go with the feeling. Agathe Rousselle is riveting as the amoral Alexia; even when there were scenes that felt unbearable, I couldn't tear my eyes away from the screen. The film explores concepts of body, gender, desire and family with fierce intensity, striking imagery, horrific violence, and a terrific soundtrack.
In a film that confounds expectations at almost every turn, the opening scene is, surprisingly, rather familiar. The traditional folk tune Wayfaring Stranger, sung by Lisa Abbott, accompanies close-up images of car parts and then the scene opens up to a child sitting in the backseat of a car, making humming, engine-revving noises, while Dad is trying to focus on driving. The child's gender is intentionally ambiguous, teasing assumptions and stereotypes. The tension between child and parent is palpable, the outcome – extreme, but predictable. The child ends up with a titanium plate in her head, the metal's biocompatibility has made it the material of choice for a wide variety of medical uses. As the family leaves the hospital, the young cyborg makes it clear that the curling scar on the side of her head indicates an alteration that is far more than skin deep: she plants a huge hug and kiss on the car. Fear not, the film gets ever so much stranger.
To discuss the film in detail is to give away too much. Ducournau clearly wishes to surprise and shock her audience, and I would not deny her that pleasure. In Alexia, the director has created an intriguing character, one whose motives often remain opaque. Yet one can feel confident in the knowledge that nothing is random in this meticulously crafted film. Vincent Lindon delivers a fascinating performance as a firefighter dedicated to maintaining his physique by any means, who is trying to overcome a staggering loss. The encounter between Alexia and Vincent takes the film in yet other unexpected directions. With its incredible, literally incredible scenes, and intoxicating music, Titane raises more questions than answers; a fantastic, horrific and utterly captivating film.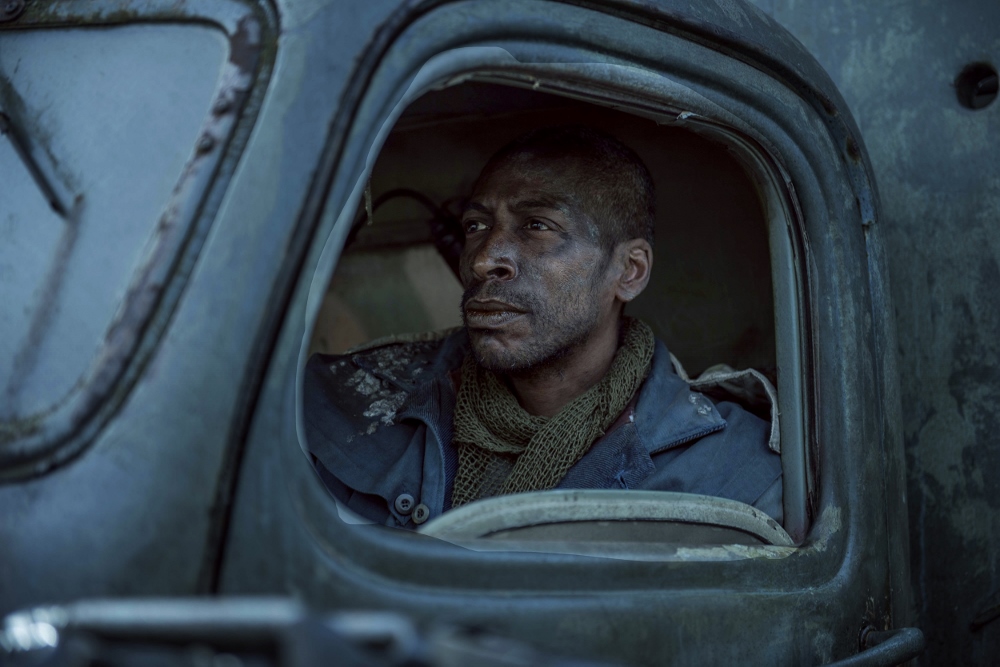 Deep into strange, Undergods, the feature debut by director Chino Moya, takes the viewer into a desolate urban landscape, suggesting a brutal dystopian future. K (Johann Myers) and Z (Géza Röhrig) tell each other their weird dreams as they drive in a beat-up truck, collecting dead bodies on the ground. Three different narratives are presented in such a way that the viewer has no way of knowing what is 'real' in the world of the film, and what might be one of the dreams K and Z are recalling, and this murky uncertainty is part of the film's appeal. As in many folk tales, the common thread within the disparate narratives, aside from their overwhelming bleak tone, is the arrival of a stranger who disrupts the existence of the other characters. What might be most unsettling about these tales is the extent to which they are familiar.
The first vignette opens with a close up on the viciously red, wet slop that is Ron (Michael Gould) and Ruth's (Hayley Carmichael) dinner. There's a buzz at the door and Harry (Ned Dennehy) says that he is a neighbor who lives on the 11th floor and has been locked out of his apartment. They take him in, and he proceeds to make himself useful. Perhaps too useful…The next story is a tale within a tale, as Octavius (Khalid Abdulla) tells his young daughter a bizarrely inappropriate bedtime story in which Hans, a rich merchant, is approached by a Foreigner, portrayed by the wonderfully mysterious Jan Bijvoet who offers him a tempting deal. Perhaps too tempting. This tale is brightened by Tanya Reynolds (Sex Education) as the merchant's intellectual daughter. This story merges into the third and final tale, in which Kate Dickie delivers an eerie and comic performance as a suburban housewife who is confronted by the sudden appearance of her long-lost first husband after a 15-year absence. The connection between the narratives is more one of mood than meaning, although alienation, loneliness, and the dissolution of the family are omni-present.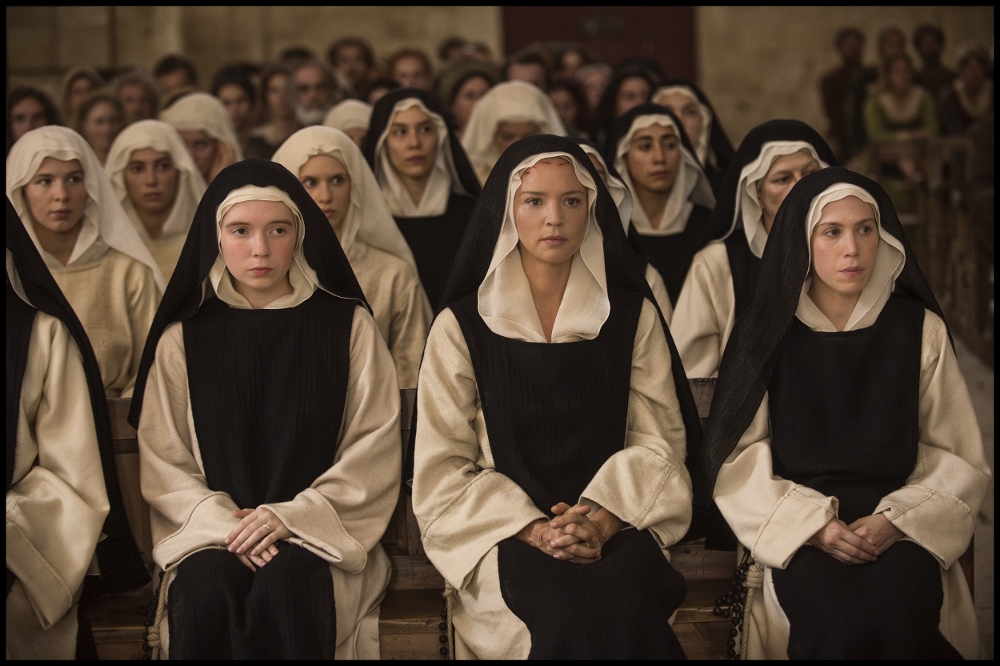 Paul Verhoeven has never been one to shy away from controversy, with films like Basic Instinct (1992), Showgirls (1995) and Elle (2016).  His latest, Benedetta, is loosely based on true events, as described in Judith C. Brown's Immodest Acts: The Life of a Lesbian Nun in Renaissance Italy (1986). The lovely Virginie Efira stars as Benedetta, in a film that veers between exposing the hypocrisy and power plays within the church, as well as the systemic exploitation and oppression of women, and at the same time, inscribing itself within a voyeuristic tradition of exploiting women onscreen.
Set in the 17th century, it is significant that the film opens with the young Benedetta who is brought to the convent by her affluent parents, who dedicated her to the church from birth. Reflecting a misogynistic culture in which women's options are severely limited, it also indicates the inevitable impact on a young girl's sense of identity, brought up to believe she is the chosen bride of Christ, only to be delivered into a system in which the body and its pleasures are denied as sinful. The film explores the connection between the spiritual and sensual, as well as a woman's discovery of her sexuality, and power imbalances within relationships. The attraction and rivalry between women are reminiscent of the relationship between Nomi (Elizabeth Berkeley) and Cristal Connors (Gina Gershon) in Showgirls. There is an almost lurid fascination with the ways in which women are complicit in the oppression of other women.  Benedetta's character is ambiguous from the start, at times tender and caring, and at other times ferocious in her religious fervor. As the film progresses, she becomes less complex as a character, reduced to a somewhat ludicrous poster figure for an obscure cause. Not Verhoeven's best, yet yields the odd laugh and vaguely erotic moment, as well as a measure of social commentary and yet another stellar performance from the inimitable Charlotte Rampling as the convent's Abbess.
All these and more will be shown as part of Haifa's Wildest Nights. The full program and ticket information may be found on the Haifa International Film Festival website: https://www.haifaff.co.il/eng