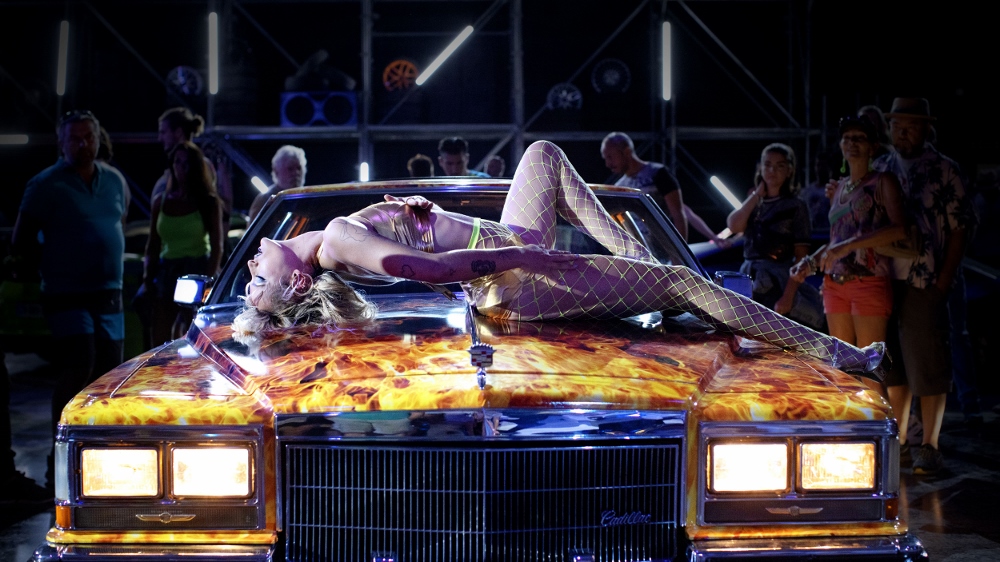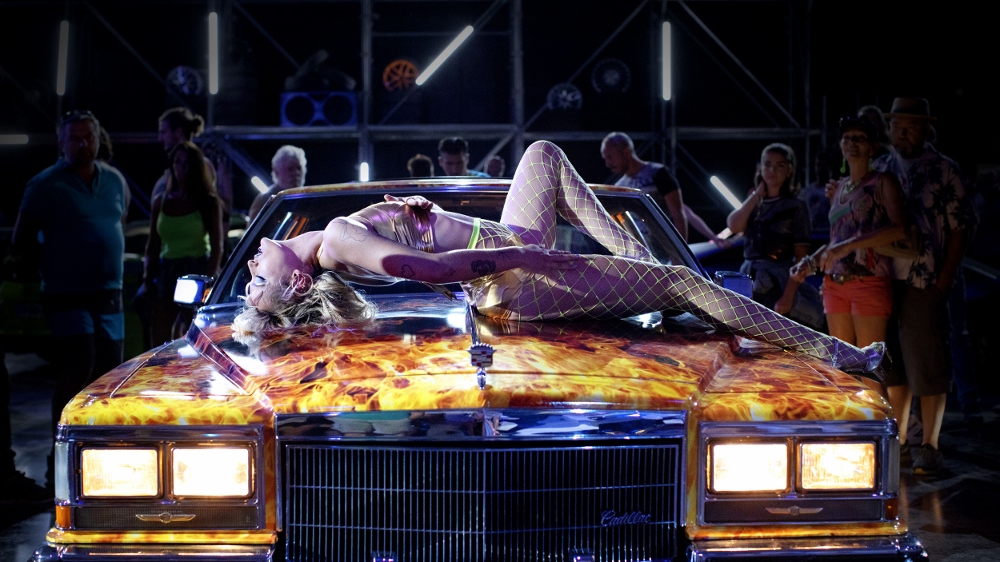 Julia Ducournau's Titane presents something so different it's hard to define, with a plot that takes several surprising turns. Watching Titane is like riding in a fast car or on an extreme roller coaster – there's not a lot of time to integrate or make sense of what's happening, you just have to go with the feeling. Agathe Rousselle is riveting as the amoral Alexia; even when there were scenes that felt unbearable, I couldn't tear my eyes away from the screen. The film explores concepts of body, gender, desire and family with fierce intensity, striking imagery, horrific violence, and a terrific soundtrack.
In a film that confounds expectations at almost every turn, the opening scene is, surprisingly, rather familiar. The traditional folk tune Wayfaring Stranger, sung by Lisa Abbott, accompanies close-up images of car parts and then the scene opens up to a child sitting in the backseat of a car, making humming, engine-revving noises, while Dad is trying to focus on driving. The child's gender is intentionally ambiguous, teasing assumptions and stereotypes. The tension between child and parent is palpable, the outcome – extreme, but predictable. The child ends up with a titanium plate in her head, the metal's biocompatibility has made it the material of choice for a wide variety of medical uses. As the family leaves the hospital, the young cyborg makes it clear that the curling scar on the side of her head indicates an alteration that is far more than skin deep: she plants a huge hug and kiss on the car. Fear not, the film gets ever so much stranger.
To discuss the film in detail is to give away too much. Ducournau clearly wishes to surprise and shock her audience, and I would not deny her that pleasure. In Alexia, the director has created an intriguing character, one whose motives often remain opaque. Yet one can feel confident in the knowledge that nothing is random in this meticulously crafted film. Vincent Lindon delivers a fascinating performance as a firefighter dedicated to maintaining his physique by any means, who is trying to overcome a staggering loss. The encounter between Alexia and Vincent takes the film in yet other unexpected directions. With its incredible, literally incredible scenes, and intoxicating music, Titane raises more questions than answers; a fantastic, horrific and utterly captivating film.
Titane
Written and directed by Julia Ducournau; Cinematography: Ruben Impens; Editor: Jean-Christophe Bouzy; Music: Jim Williams; Cast: Agathe Rousselle, Vincent Lindon
*Film review from the Haifa International Film Festival 2021