Spectacular, gritty, and deeply moving, Steven Spielberg's West Side Story is at once an homage to the past stage and screen versions and a dazzling stand-alone film. Opening on a scene of destruction – remnants of homes and lives strewn on the ground, crumbling brick facades of partially demolished buildings awaiting the final swoop of the wrecking ball – Spielberg frames the tale of the young lovers in the context of New York City's history. The film is set in 1957, in the neighborhoods of San Juan Hill, a community whose residents were mostly Puerto Rican and African American, and Lincoln Square, whose residents were primarily of European descent. These neighborhoods were razed in the name of urban renewal in the early 1960s, and the renovated, upscale neighborhood is now well known as the home of Lincoln Center. The turf war between the Jets and the Sharks is being fought over territory that neither group will control. Pushed out by gentrification, they are all destined to lose.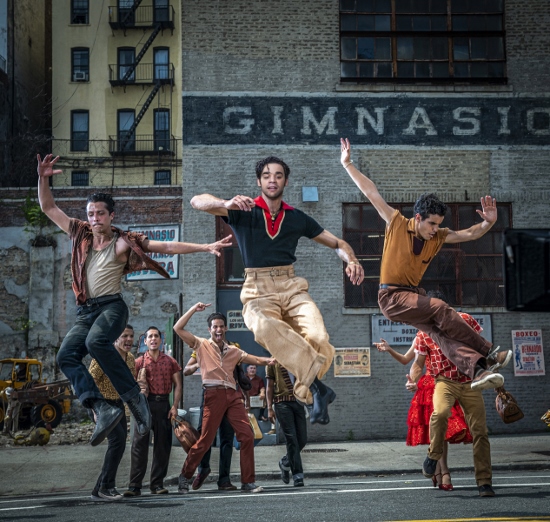 Yet the sense of the streets is exhilarating as Riff (Mike Faist) leads the Jets towards their next declaration of dominance over the Sharks, destroying a mural of the Puerto Rican flag at the basketball court. Spielberg is brilliant at in working on a grand scale precisely because he is so finely attuned to the details, as is vividly demonstrated in this first scene and throughout the film. The colorful noisy streets of New York; the magnetic pull of Riff as he calls the Jets to him, and they just stop whatever they were doing to follow their leader; and the racial tension that simmers below the surface, heating up as pranks ignite retaliation and rage. Spielberg's unerring sense of composition, with Janusz Kaminski's fluid camera, and Justin Peck's choreography make this a film that moves, with dance sequences that merge with the narrative; motion and emotion are as one.
What is the point of another West Side Story? Just as we are still in conversation with its source, Shakespeare's Romeo and Juliet, there is still much to contribute to the artistic conversation of West Side Story, and Spielberg does so with panache and intelligence. Our perspectives on race, gender, equality, poverty, assimilation, gentrification, and other issues have changed over time, and a finely honed, sensitive screenplay by Tony Kushner recognizes those changes. One glaring issue in Robert Wise's 1961 film is that Caucasian actors portrayed the Puerto Rican characters in the film, in brown face, all in the same shade of brown. Spielberg not only cast Latinx actors, but in his choice to present conversations in Spanish without subtitles, represents the Spanish language and culture with the same respect accorded to the English language and American culture. Don't worry, the acting is excellent and there is no difficulty in understanding the few interactions in Spanish. Luckily for non-Spanish speakers, Anita (Ariana DeBose) is always urging the others to speak English in order to facilitate their assimilation in America. Yet another excellent choice is in the character of Anybodys, who was depicted as a tomboy in the 1961 film, a girl who tagged along after the Jets, wanting to be accepted. In this version, Anybodys is explicitly transgender, and is eloquently portrayed by nonbinary actor Iris Menas, enhancing the depth of the character.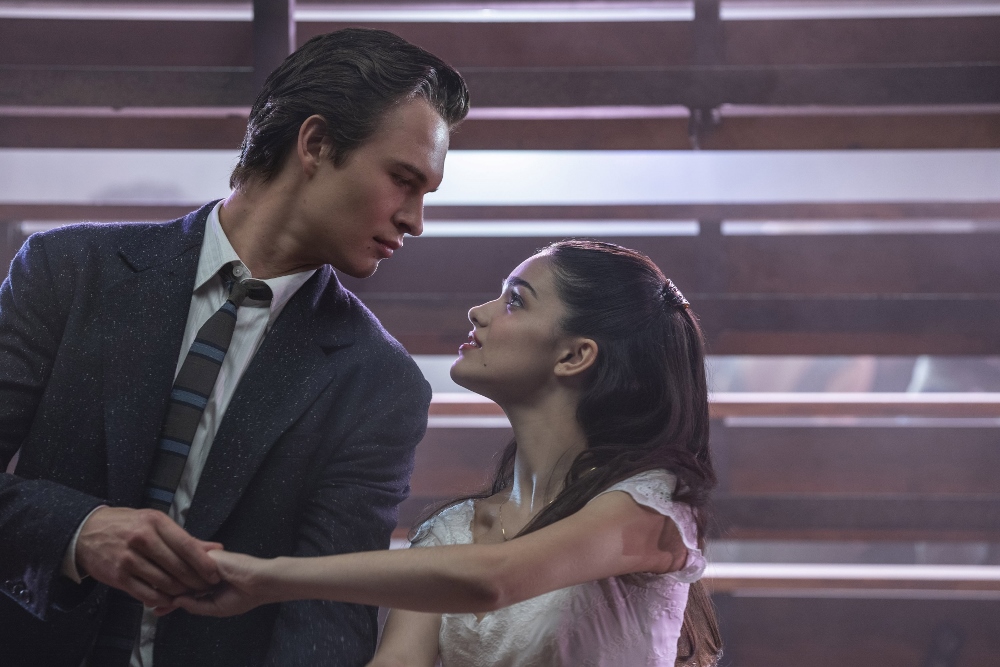 The music of West Side Story – composed by Leonard Bernstein, with song lyrics by Stephen Sondheim – is timeless and makes my heart soar. Music is the heart and soul of the film. In this version, Tony (Ansel Elgort) and Maria (Rachel Zegler) sing their own parts, and their voices invite one's empathy for their love and their plight. Ansel Elgort's height contributes to the image of Tony as someone who has been a violent brute in the past and after a year of introspection in jail, and now wishes to walk a different path. After his meeting Maria, his desire to learn some Spanish phrases so that he can communicate his feelings in her mother tongue reflects a respect for her culture. Rachel Zegler depicts an appropriately youthful Maria, longing for fun and independence, who is not afraid to tell her bossy older brother Bernardo (David Alvarez), leader of the Sharks, "I will think for myself." Ariana DeBose's stand-out performance as Anita is the essence of sensuality and strength. In a form-fitting yellow dress with its billowing skirt and red petticoat, her dance moves make America one of the most exuberant and enticing scenes in the film, as well as one of the most explicitly critical: "Life is all right in America/If you are white in America."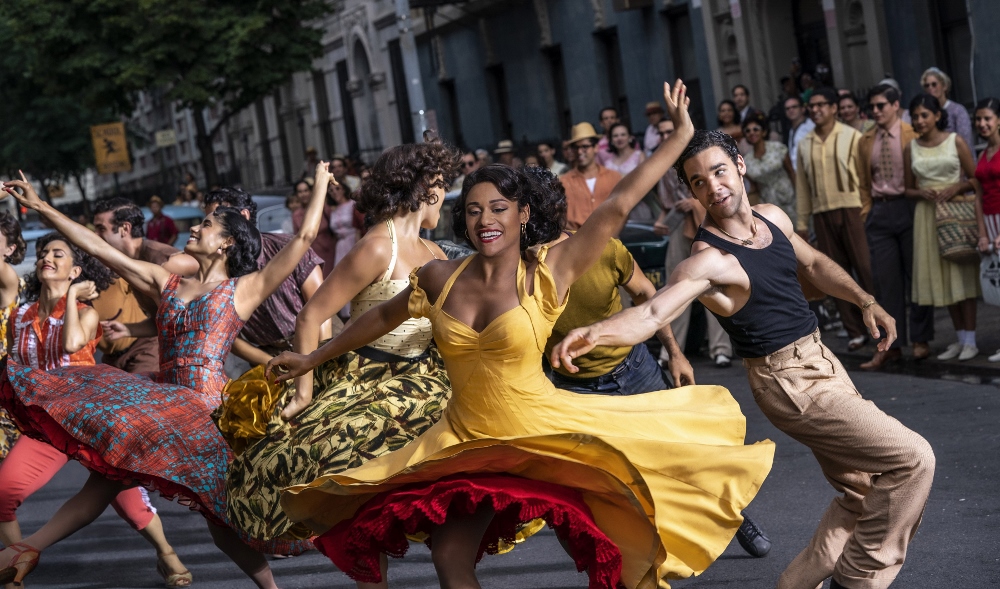 Yet perhaps Spielberg's wisest choice was to create a role for Rita Moreno, who played Anita in the 1961 film, and is an Executive Producer for the current film. Moreno shines as Valentina, the widow of the late Doc, and illuminates the entire film with her compassion, understanding, courage and humor. A Puertoricana who married a Gringo, Valentina is well acquainted with the difficulties of living between two cultures. She takes Tony under her wing, giving him encouragement and affection, as well as a job and a place to work. In her role as an ally, she is reminiscent of the nurse in Shakespeare's Romeo and Juliet, thus relating this newest version of the tragedy to its source. In one of the rare changes made to the musical aspect of the film, it is Valentina who sings Somewhere. With the beauty and power of her voice, Moreno, who will turn 90 on December 11, 2021, takes the desire for a place of "peace and quiet and open air" beyond the two young lovers, to express a dream of acceptance for all.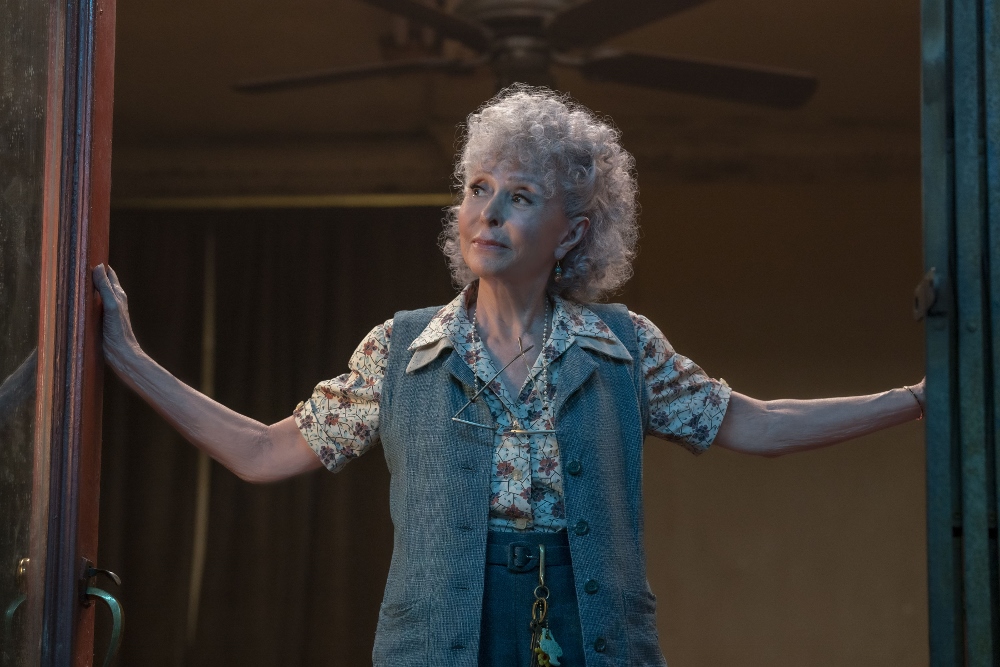 West Side Story
USA/156 min/English and Spanish
Director: Steven Spielberg; Screenplay: Tony Kushner; Cinematography: Janusz Kaminski; Editors: Sarah Brosher, Michael Kahn; Music: Leonard Bernstein, Stephen Sondheim; Cast: Ansel Elgort, Rachel Zegler, Ariana DeBose, David Alvarez, Mike Faist, Rita Moreno, Corey Stoll, Brian d'Arcy James, Josh Andrés Rivera, Iris Menas