There must be fairy dust in the Cameri production of Peter Pan, because it made my heart soar! Exuberant, imaginative and full of fun, the play, directed by Gilad Kimchi, captures the essence of Peter Pan that has enthralled readers and viewers for generations: the sense of freedom and wonder, the feeling that anything is possible. Shirili Deshe and Roy Segev's adaptation makes some significant changes, but these do not detract from the overall effect. On the contrary, stream-lined and fast paced, the musical play with its catchy tunes (Amir Lekner) makes the story come alive for a contemporary audience. Set, costumes, movement, puppets, video art, lighting and terrific performances all come together to create a magical experience!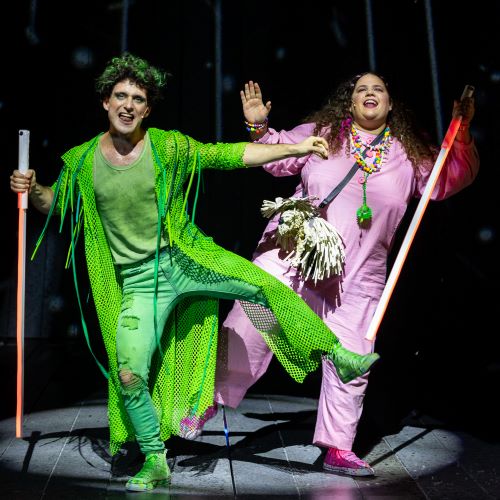 M. Barrie's original novel (1911) is fascinating and disturbing, I'm not even sure I'd recommend it for young children. The Disney film and 1954 musical stage production directed by Jerome Robbins are probably the best-known versions of the story – all, including Barrie's original have elements, such as the stereotypical depiction of Native Americans that would feel awkward and inappropriate to viewers today. Yet this production reaches far beyond editing and takes a bold step to shift the story's main theme. The novel's original title is Peter Pan; or, The Boy Who Wouldn't Grow Up; growing up is not an issue in this production. Instead, the focus is on families and relationships. To emphasize this point, the play opens not, as in all the other versions, in the Darling home, but in an orphanage, where Wendy (Maya Landsmann) regales the other children with stories of Neverland.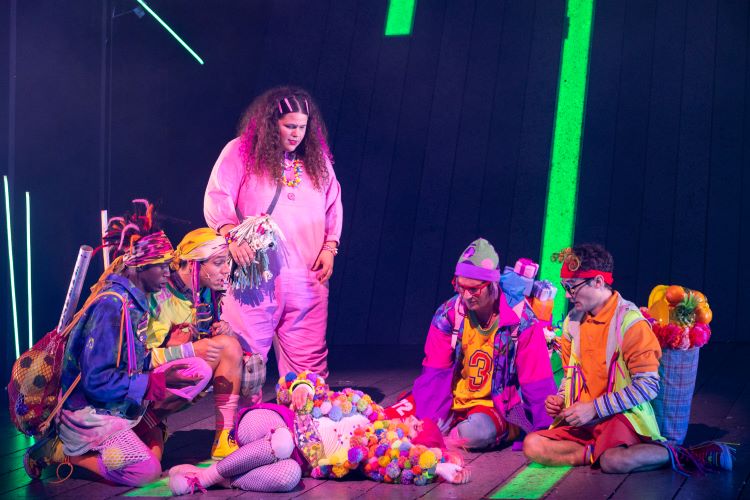 Wendy was always a heroic character in her own way, and this production really lets her shine. There are no John and Michael in this play, Wendy is an orphan among other orphans; all dressed in drab gray. Her storytelling is interrupted by the director of the orphanage, Mrs. Hookins (sound familiar?) a stern yet comic character portrayed by Ofer Biterman, in a black pin-stripe suit with her hair piled way high on her head, and a comic wiggle in her walk. She lets Wendy know that a family wishes to adopt her, and they will be coming the following morning to pick her up. Maya Landsmann, whom I have previously referred to as "a bright and joyous presence onstage, full of energy and humor" is all that and more. She depicts Wendy as a bright and caring leader, full of imagination, curiosity, courage, and loyalty, yet also vulnerable. Excited to learn that she will have a family of her own, Wendy is also worried: are they nice? Cue Peter.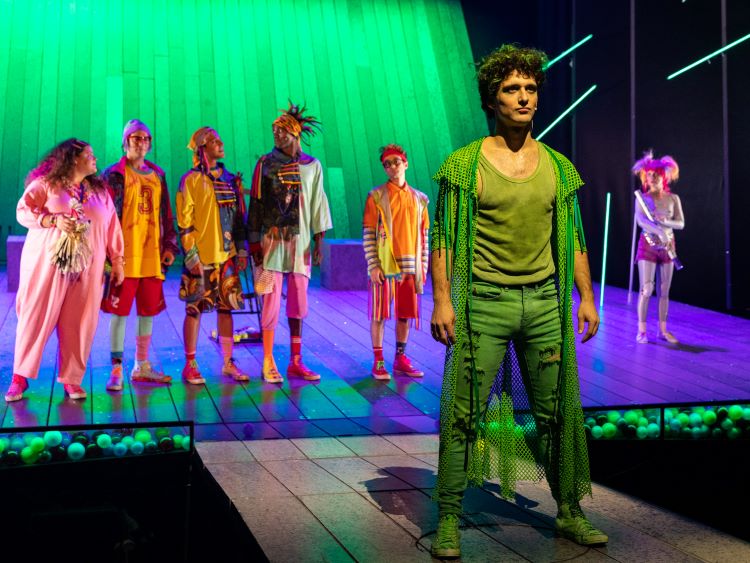 Alon Sendler is a lithe and limber Peter; walking on his hands and cavorting about the stage it really does seem as if he could easily fly. Charming and cocky as his literary original, he's constantly complimenting himself, yet the magical adventure he offers Wendy is incredibly enticing. They do need Tinkerbell to sprinkle some fairy dust, which she does, albeit very reluctantly. Noam Bart is a colorful, tart-tongued sprite, her unique language is simply hilarious and the stage sparkles with her presence.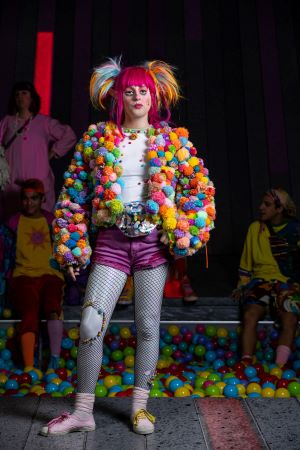 In addition to being very entertaining, the relationships among these three call up themes of friendship and jealousy in a way that invites post-play conversations. Yet another thought-provoking scene comes later, when Peter teaches Wendy how to fight. She demurs and says she knows nothing about fighting, even covering her eyes. They're fighting with light sticks, and Wendy, without looking (homage to Star Wars?) manages to vanquish Peter, who lies on the ground, pinned by her light stick. Wendy, who can't see that she won, accepts that she's no good at fighting, while Peter claims to be victorious. Definitely an interesting scene to discuss from a feminist perspective.
There are so many funny, wonderful moments in the play, but the most breath-taking by far is when Peter and Wendy fly off to Neverland. The illusion is so perfect – created with a combination of lighting and movement – that I didn't even think about believing, I just gazed, spell-bound, and hoped the moment would last forever. The use of technology and crafts in this production is amazing, the entire creative team has wrought an enchanted experience. Neverland is a child's paradise, outrageously colorful with a huge jumping pit of colored balls, and even a nod to J.M. Barrie with big, inflatable, pink flamingos, and a brief cameo from a trio of glittering mermaids. The wonderful set and costumes, respectively designed by the talented Eran Atzmon and Orna Smorgonsky, reflect the world of childhood not only in the bright colors of Neverland, but in the choice of objects and materials – like the multi-hued puff balls that compose Tinkerbell's jacket, similar to those often used in children's craft projects.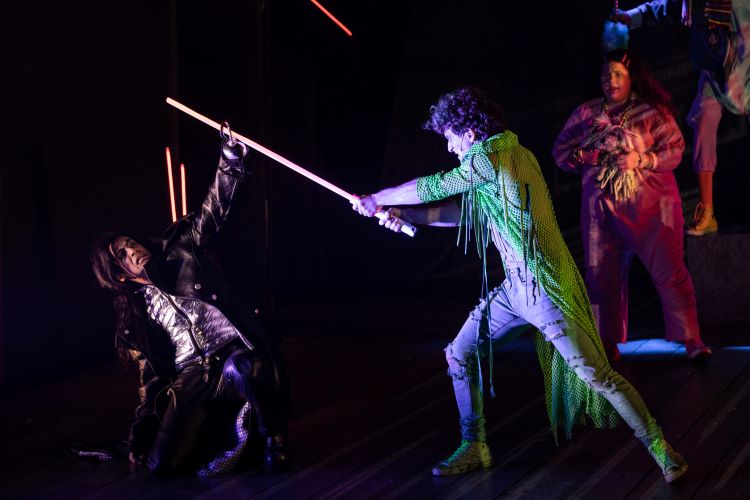 Biterman returns in a dual role as Captain Hook – wonderfully over-the-top and just a little scary. Elad Atrakchi is hilarious as Smee, and the dynamics between the two are a delight to see. Hook's nemesis the crocodile makes an appearance too – the artistry of Roni Wagner and Yaron Bareli is so evocative and lifelike that this would be a terrifying moment, but fortunately, it's just the crocodile head and the puppet is visibly manipulated by a man wearing bright pink Bermuda shorts. Whew.
There are some nice opportunities for audience participation in the play – the one we expect, and some creative surprises as well. In shifting the focus from growing up to issues of family and relationships, the play does not actually stray too far from the original. One of the main problems of growing up is the requirement to abandon fun and take on the mantle of responsibility – this theme is expressed, albeit in a different context – in Peter's depiction of families as forcing children to behave. Necessary, but not always fun. Happily, Neverland is never very far away… all we need is some fairy dust, and a trip to the theatre.
Peter Pan
By James Matthew Barrie
Original adaptation by Shirili Deshe and Roy Segev; Director: Gilad Kimchi; Music: Amir Lekner; Set: Eran Atzmon; Costume: Orna Smorgonski; Lighting: Nadav Barnea; Movement: Miri Rubinov and Gilad Kimchi; Video Art: Sivan Presler and Nitai Shalem; Dolls Design: Omer Hachmon; Design and Manufacture of Crocodile Puppet: Roni Wagner and Yaron Bareli; Cast: Alon Sendler (Peter Pan), Maya Landsmann/Yaeli Rozenblit (Wendy), Noam Bart (Girl, Tinkerbell), Nadav Nates/Gilad Merhavi (Boy, Biggie, Pirate), Meni Gross (Boy, Coco, Pirate), Sean (Chonsella) Mongoza (Boy, Shiroko, Pirate), Eran Mor/Guy Rosen (Boy, Smiley, Pirate), Elad Atrakchi (Boy, Smee), Ofri Biterman (Mrs. Hookins, Captain Hook)