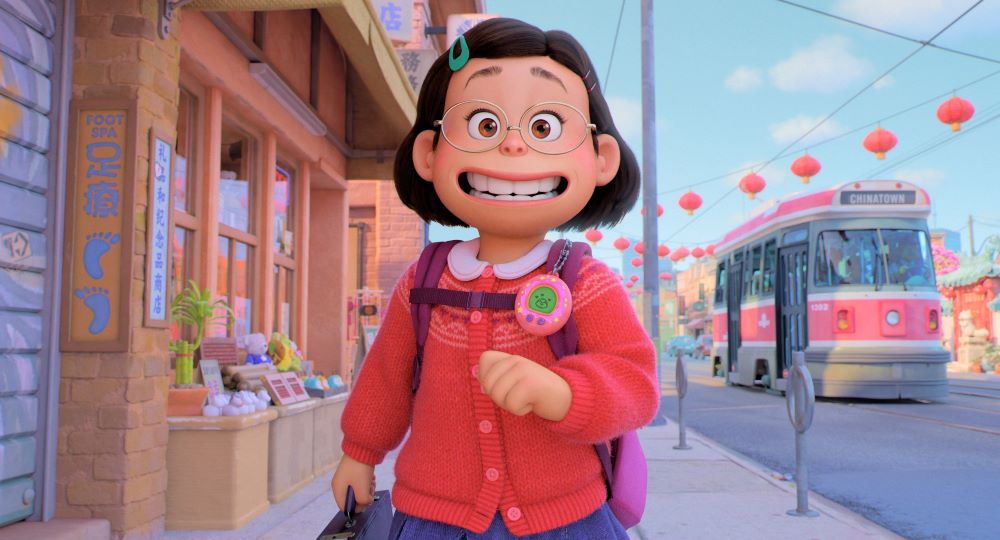 Turning Red is a funny, compassionate and intelligent animated coming-of-age film with art that communicates the beauty of Chinese culture. It's a stunning feature debut for director Domee Shi, and one of Pixar's finest films. It's a pleasure to see a film that addresses the myriad, complex, feelings and sensations of puberty and adolescence with honesty and sensitivity to nuance, as well as a compassionate, humorous perspective. Turning Red focuses on Meilin Lee, a 13-year-old Chinese Canadian, voiced by Rosalie Chiang, smart, energetic, loving, fun, and confident, who struggles, as everyone does, with the challenges of growing up. I wish there were more onscreen characters like Meilin when I was growing up, and applaud Pixar for a film centered on a girl's perspective.
Mei Lee brings a joyous enthusiasm to all her pursuits – school, her family heritage as keepers of a temple, and her friends, with whom she shares a passion for the boy band 4*Town. Unlike many fictional protagonists, Mei Lee does not have many problems. Life is good: she has a warm and loving home and has a good relationship with her parents, she identifies closely with her cultural heritage, she does well at school, and has a group of close friends. But the process of growing up brings changes both emotional and physical, suddenly, the "me" that is Mei Lee has thoughts, feelings and sensations that are new and unexpected. The happiness and well-being of her life up until now serves to emphasize that adolescence and the changes it brings can be difficult and stressful for everyone (parents too). As Mei Lee experiences the extreme emotions of her changing inner world, she changes externally too – waking up one morning as a "gross, red, monster"! She even smells bad. When her fiercely protective mother Ming (Sandra Oh) finds out, she explains that this is a quirk that runs in her family, affecting all the women, but it can be cured through a ritual that must be conducted during the next red moon.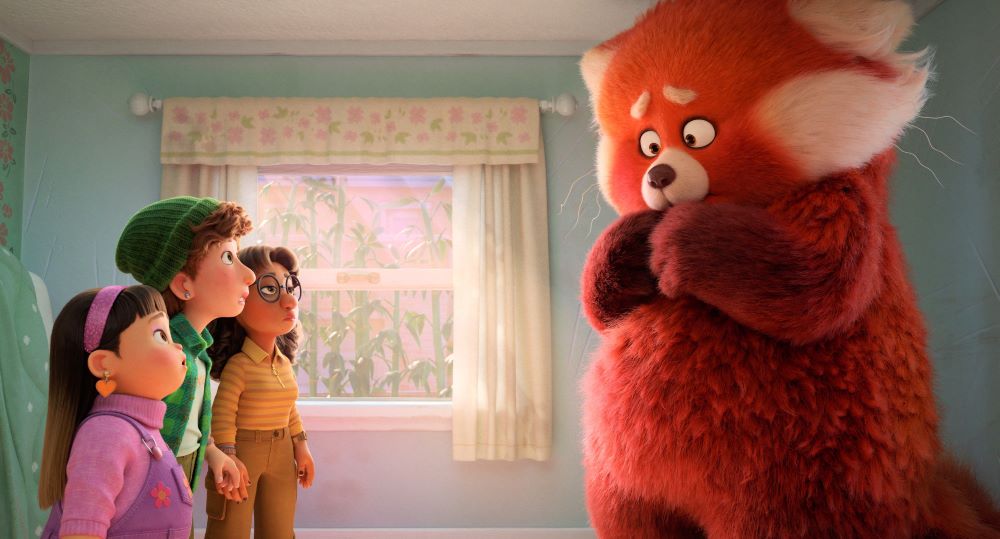 One of the many strengths of this film is the extent to which, despite its wonderful fantasy premise, it is grounded in concrete detail. Set in the early 2000s, the film evokes the era with a delightfully nostalgic precise details, from Mei Lee's Tamagotchi to 4*Town's sleek look and songs composed by Billie Eilish and Finneas. Throughout Mei Lee's journey the art of Turning Red is a sensory wonderland, merging the best of both worlds – 2D art and 3D magic – from the mouth-watering lingering look the culinary feats of her father (James Hong) to the beauty of Chinese scrolls and the dreamscape of the world she enters during the ritual to contain the panda. The panda itself is a delight, with fur that looks so fluffy and soft. The influence of anime is apparent, especially in Mei Lee's expressive eyes, that go literally starry-eyed in adoration.
The screenplay, co-written by Julia Cho and Domee Shi, skillfully conveys the subtleties and endless complexities of a young girl's awakening sexuality. Mei Lee's adoration of 4*Town is safe, because they are out-of-reach, as unattainable as any fantasy. Her friends, Miriam (Ava Morse), Abby (Hyein Park), and Priya (Maitreyi Ramakrishnan), indulge in a slightly closer admire-from-afar, watching 17-year-old local Devon, through the windows of the Dairy Mart where he works. Much of Mei Lee's conflict originates in the happiness of her childhood: she has always felt close to her parents, and now that she finds more understanding, fun, and support among her group of friends, she feels torn, afraid to disappoint her parents and lose their love. Overwhelmed by unfamiliar feelings and desires, she is frightened and confused.
Although Mei Lee's secret fantasies are revealed in her notebook sketches, her inner conflict prevents her from acknowledging them, even to herself. It's a wonderfully honest depiction of the chaotic carnival of a young girl's first intimations of sexual attraction. No less significant is the reference to menstruation, metaphorically and explicitly, as Ming brings Mei Lee a cornucopia of menstrual accessories. The image of the red panda is a wonderful metaphor for the changes wrought by puberty, not only menstruation but the emotional, neurological changes that take place for everyone. Turning Red is a film about a young girl, but the emotional, family, and social conflicts it depicts are relatable for everyone. Mei Lee discovers that when she calms down, the panda disappears, and she returns to be her familiar self. Even more surprising, her panda self is not rejected by her friends, on the contrary, they find her very appealing and cuddly. Is the panda a curse or a gift? Might Mei Lee like this "new me"?
Turning Red
USA/2022/99 min/English with Hebrew subtitles & also dubbed Hebrew version
Director: Domee Shi; Screenplay: Julia Cho, Domee Shi; Story: Domee Shi, Julia Cho, Sarah Streicher; Cinematography: Mahyar Abousaeedi, Jonathan Pytko; Editor: Nicholas C. Smith; Music: Ludwig Göransson; Cast: Rosalie Chiang, Sandra Oh, Ava Morse, Hyein Park, Maitreyi Ramakrishnan, Orion Lee, Wai Ching Ho, Tristan Allerick Chen, Lori Tan Chinn