The Tel Aviv International LGBTQ Film Festival (TLVFEST) opens this week and there's so much to see! The festival will take place from October 27 – November 5, 2022 and the full program and tickets are available on the TLVFEST website.
Here are two very different looks at friendship:
Sissy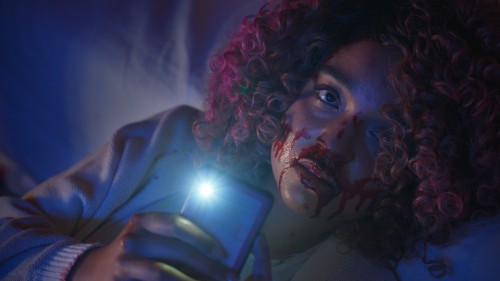 There's a quirky ambivalence about Sissy that intrigues me. Written and directed by Hannah Barlow and Kane Senes, it skillfully merges horror, gore, and social critique with a light comic touch. Yes, that's a lot, and the previously mentioned ambivalence is also sometimes to its detriment, yet it's a lot of fun.
Aisha Dee (The Bold Type) delivers a noteworthy performance as Cecilia, a mental health advocate and influencer with 200,000 followers. Her warm smile and calm demeanor broadcast assurance, yet once the camera is off, the rosy background is revealed to be merely a screen set up in a small, dingy, apartment, and the sink is full of dishes. Not exactly living her best life. When Cecilia runs into Emma (Hannah Barlow), a childhood friend, Cecilia seems rather hesitant, while Emma is all smiles and enthusiasm, and in her excitement, invites Cecilia to her engagement party. Flashbacks show the two girls giggling together and declaring their friendship forever as they bury a time capsule – but is that the whole story?
As Cecilia, Dee exposes the social awkwardness and tension that lies beneath the veneer of beauty, health, and wellness slogans. Joining Emma, her fiancée Fran (Lucy Barrett), and friends Tracey (Yerin Ha) and Jamie (Daniel Monks) for a hen weekend (it's an Australian film) in the country (cue ever so slightly ominous music), Cecilia smiles brightly as she drives, but her eyes are wary. She and Emma have a past, and it is soon revealed they share that past with Alex (Emily De Margheriti), who is hosting the weekend at her family's luxurious vacation home.  Beyond a single incident, revealed in flashbacks, the viewer is not given many details about the three women's backstories. Yet the vast contrast between the elegant minimalism of Alex's place in the country and Cecilia's apartment hint that issues of money and social class may have played a part in their childhood as well.
Warm, beautiful, sweet, and bubbly Emma, who initiated the unwelcome reunion between Cecilia and Alex, comes across as a child of privilege, someone for whom happiness has come easily because she's always been surrounded by love and friendship. When it comes to considering the feelings of others, her imagination fails her. It's not really clear who to root for during this toxic weekend in the country, but it's riveting to watch it all unfold, and, in some weird way, as it gets gorier, it becomes more comic. The film raises questions about the long-term effects of bullying and trauma, as well as issues of responsibility, and of course, the impact of social media. Yet rather than seeking the depth of these issues, it goes for the gore – and that works too.
Girl Picture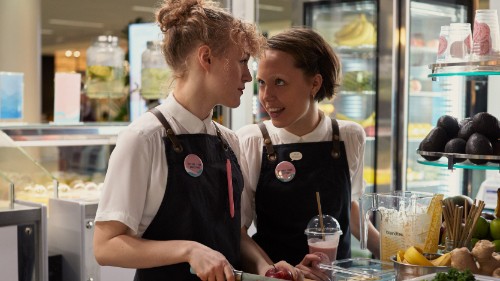 Friendship is at the heart of Girl Picture (original title Tytöt tytöt tytöt), directed by Alli Haapasalo. Mimmi (Aamu Milonof) and Rönkkö (Eleonoora Kauhanen) are best friends who work together in a smoothie shop, talking about love and sex between making drinks with corny names like "take two to mango". Impulsive Mimmi goes for love with the bold intensity she brings to every aspect of her life. But the course of love is not always smooth. Rönkkö is still figuring things out and looks to Mimmi for advice. Emma (Linnea Leino) is a talented figure skater, devoted to the sport to the exclusion of all other distractions – until she falls for Mimmi.
The film takes place over three weekends in the lives of the girls, and each one has her own narrative and emotional trajectory. No one is an object; each is the hero of her story. There is a youthful feel to the film, it compares well with Booksmart and Ladybird, as a lively and honest portrayal of the emotional and sexual experiences of older teenagers, European style. One of the strengths of this film is that it does not attempt to fix anyone or neatly resolve all problems, at the film's end all the big issues are still there, to be felt and explored.
The depiction of Mimmi and Emma's relationship happily does not fall into stereotypes of lesbian relationships; their issues are not about coming out or uncertainty about their sexual preferences, their difficulties are intrinsic to their characters. Eleonoora Kauhanen imbues Rönkkö's adventures of sexual discovery with humor and an endearing honesty.