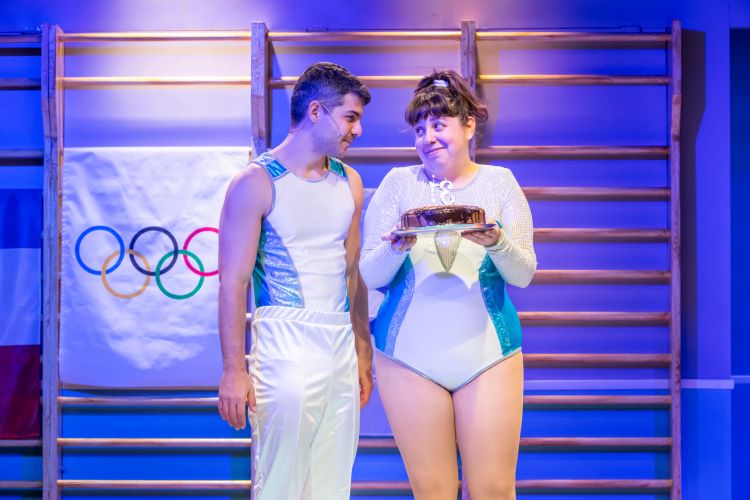 Playful, clever, and laugh-out-loud funny, Trampoline, written by Matan Goren and directed by Ella Nikolayevski, takes a quirky look at the ups and downs of friendship, sports, politics, and love. The Cameri Theatre's A New Generation ensemble, whose previous productions include Ringo and The Wandering Jews, bring their considerable talents, energy and charm to this warm and wacky production.
Yifat (Yael Rozenblit) and Yinon (Tom Gal) have been best friends and partners on the trampoline since third grade, when they vowed to make it to the Olympics and bring home a gold medal by age 30. The play meets the pair at a crucial crossroads, as Yifat turns 30. Nowhere near their goal, they are faced with a difficult decision. The two are as adorable as they are hopeless (they don't even seem to have trained with a coach), and utterly clueless about how to deal with their feelings. The onstage chemistry between Rozenblit and Gal is sparkling with sweetness, and they imbue their characters with an endearing innocence and sincerity, as they lift their spirits with inspirational quotes from their idol – Olympic gold medalist in judo, Linoy Zeevi Zahav (Roni Nathanel). If the name reminds you of real-life Olympic gold medalist in gymnastics, Linoy Ashram, that is not at all coincidental. Gleefully self-aware, the play is very much attuned to contemporary Israeli culture. But even if you miss some (or all) of the many cultural references and quotes from song lyrics (so many of those just flew by me), it won't mar your fun.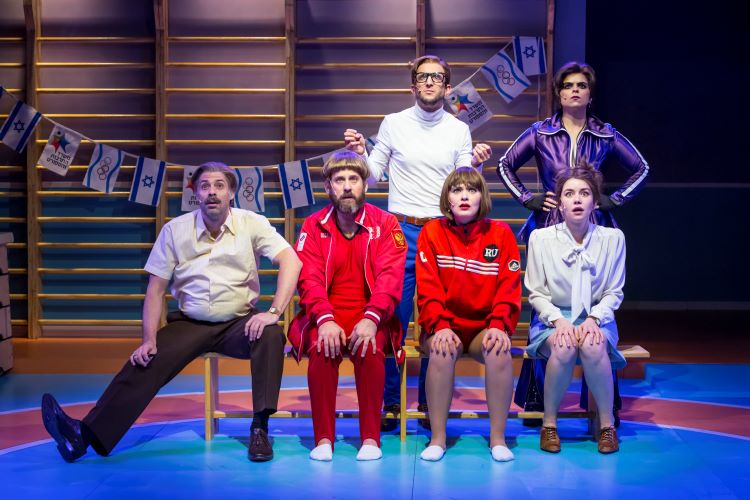 The set design by Orna Behrendt Shimony manages to be very aesthetically appealing and yet remind me of my high school gym – quite a feat! The music (Bar Harel) and movement (Gal Sabo) combined with the fast pace make this a very vivacious production. Nikolayevski successfully navigates the high-wire act of maintaining balance within a show that has a zany premise and some bizarre characters, by establishing a strong emotional core for all the main characters. We understand their desires and their fears, and we care about what happens to them – even as we laugh at their quirks and stumbles. Physical comedy is used to great advantage here throughout the play – of note is a particular instance in which a classic comic trope is employed with flair to resolve a tricky issue. Uriah Jablonowsky is very funny as Meni, Yifat's father, and Rony Nathanel wears several hats here, but it is notable that even in her smallest role, she has a wonderfully comic moment. Yael Rozenblit is hilarious as Yifat, inviting empathy for her character even as her impressive delivery and comic timing had me laughing out loud.
The play makes excellent comic use of the tropes of competitive sports – from inspirational mottos to the image of the tough coach as exemplified by Kiley (Michal Uziel), and the extreme dedication of professional athletes like Anton (Yoel Rozenkier) and Irena (Chen Garti) who will go very far to reach their goal. As Yinon and Yifat contend with their personal dilemmas, there is pressure on Hagay Franco (Tom Chodorov), the Minister of Culture and Sport, to make sure Israel is represented with honor, and helping him out is his assistant Maya (Maya Koren), who has some secret desires of her own. On the serious side, the play touches on some emotional truths – the tortuous path of friendship in which there is an undercurrent of attraction, and its companion dilemma (say something, act on it, or hide it forever), as well as the constant ticking of an internal clock, that seems to chant, as one celebrates yet another birthday, "by now I should have…"
Taking a look at the funny side of failure, Trampoline is light-hearted, witty, and vibrantly entertaining.