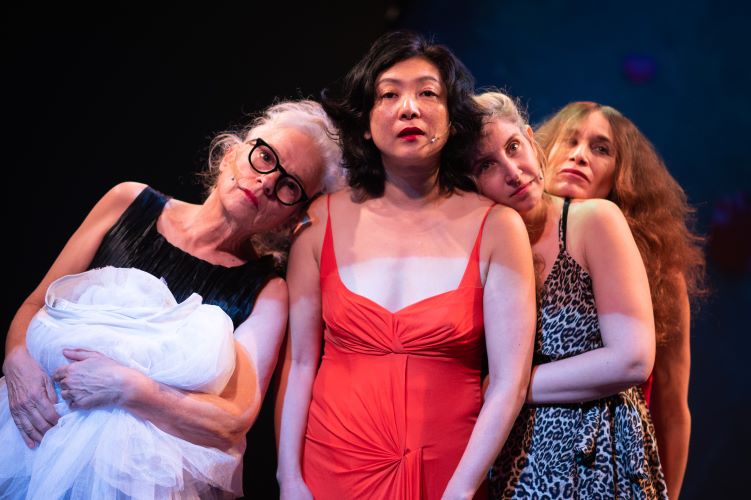 The stage is a place where anything can happen. I am often content to be entertained, but secretly (or not so secretly) I crave an experience that charges my energies, sets off an explosion of associations and emotional fireworks. Something I keep thinking about long after the performance is over. Model, by  Alit Kreiz, with the participation of Ilana Bar, Yael Finkel, Shiraz Grinbaum, and Mami Shimazaki, at Habayit Theatre last Friday was visually enticing, riveting, and provocative, igniting fiery thoughts and feelings, and ultimately, for me, the stage became an area consecrated by a shared experience.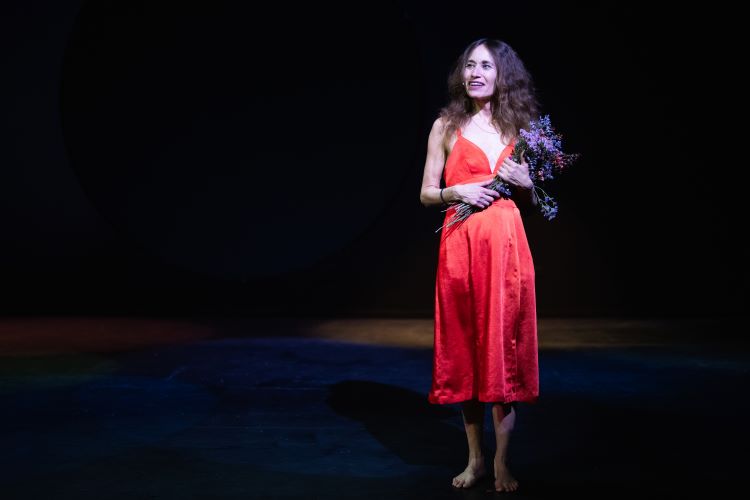 The show opens with Alit Kreiz standing on the stage wearing a red silky slip dress, holding a bouquet of flowers – the kind that might be a gift from a lover or an admiring fan. In her distinctive, richly textured voice, she declares that she is not afraid – not afraid to stand on the stage thinking this might be her last work, not afraid to be forgotten… and with each declarative sentence, the shadow of her words rises. Each declaration of "I am not afraid" raises the spectre of fear: I am afraid of a time when my creative work will come to an end… I am afraid… and each of us can fill in the blanks from our own secret trepidations. Joining Alit onstage in this work are four women – Ilana Bar, Yael Finkel, Mami Shimazaki, Shiraz Grinbaum – who, as she recounts, have consented to be her friends for this hour onstage, much as the audience members have consented to come and see, and listen, and experience this time together. Ilana, Yael, Mami and Alit share with the audience their fears, desires, history and secrets, while Shiraz sits at the edge of the stage documenting the process.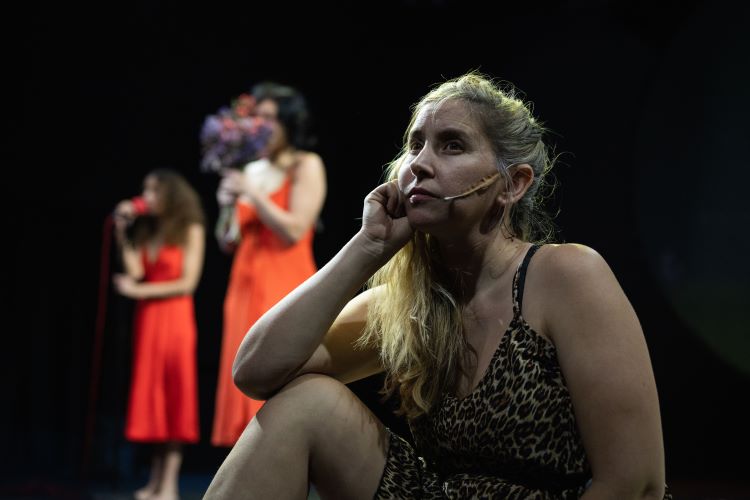 From my vantage point in the audience, I observe the stage from a distance, in curiosity, trying to figure out who they are and where it's all going. The women do not portray characters, each one comes as herself – Ilana, Yael, Alit, Mami – sharing parts of her story in fragments. They create themselves onstage as characters in this carefully crafted and meticulously envisioned production. To the mellifluous sounds of the song I Go To Sleep, they strip off their underwear, that most intimate layer of clothing, the one that is closest to the skin. But all the action takes place beneath their long dresses; we see what they want us to see, we know what they want us to know about them. And yet, there is a force moving the action, as they take off one colorful layer after another, a desire to reveal that which is not seen. On the wall behind them is a gigantic circular screen, projected on it is an aerial view of the stage, strewn with magentas, pinks, lavenders, and blues, the actions onstage rendered from a distance, from a different perspective, almost an abstraction.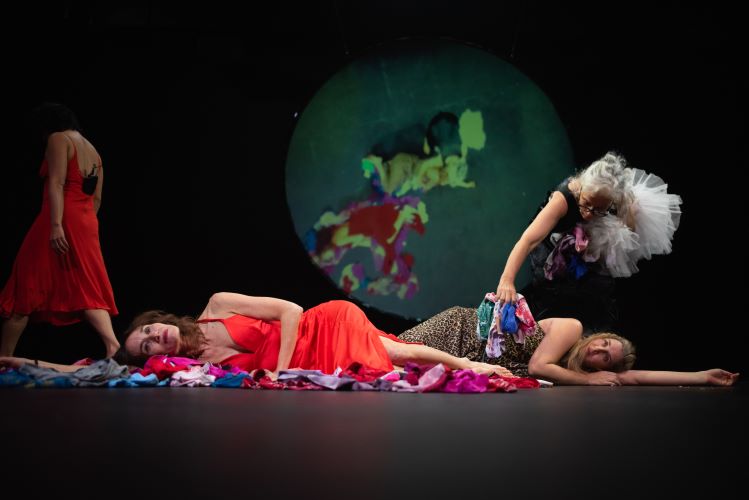 The narratives are fragmented, like parts of a story torn out of a notebook, a photograph found at the back of a drawer. Ordinary moments recalled, that, in the telling, become significant. Four women of different ages and backgrounds, each with her memories, dreams, passions, and disappointments. As the performance progresses, my questions fade, the distance between me and the stage disappears, becomes irrelevant, as I am riveted by these women. Quirky, brave, and bold, they embody their stories with an expressive physicality. Objects take on significance – a white tulle tutu, a long, white satin wedding skirt.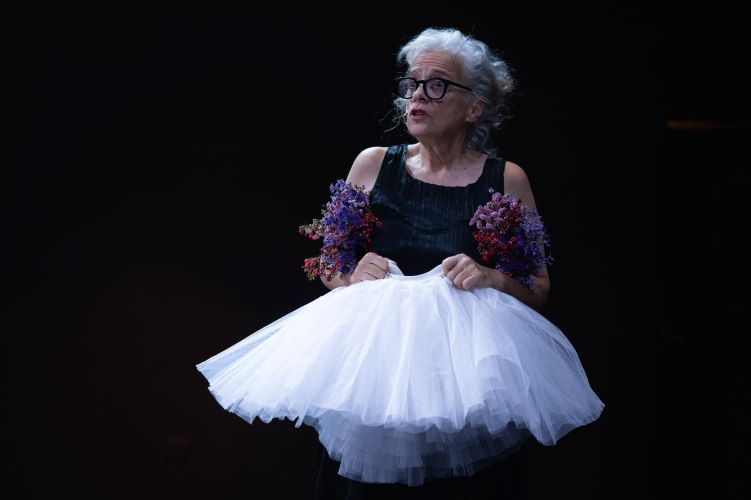 Two of these women are utterly unknown to me – Ilana and Yael; the two others I have seen onstage many times before – Alit and Mami. Yet I know them, I know something of what they have chosen to give to one another, and to the audience. This shedding of colorful layers, looking boldly at longing, fear, failure and loss, this telling becomes a talisman of strength and support. Model is a work of striking beauty, a performance about performance, about acting and action, becoming the creator of your own story, and the power of sharing those most intimate layers, in a work that is funny, tremendously entertaining, visually compelling, and deeply moving; the stage becomes an arena made holier by a shared experience, evoking a sense of ritual, community, and healing.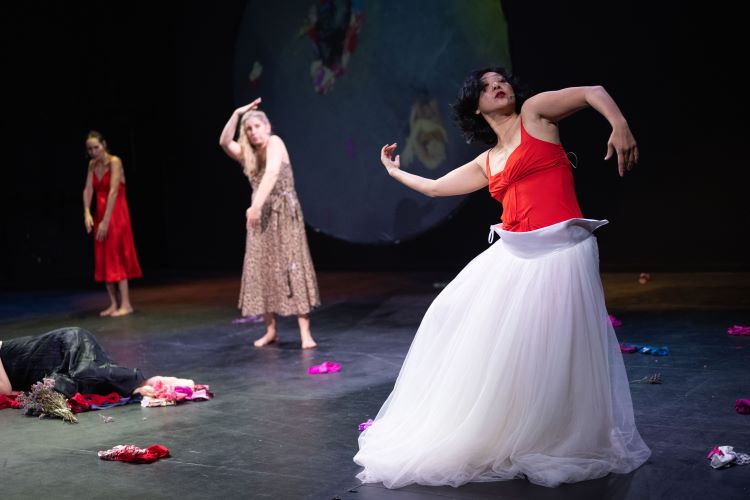 Model
By Alit Kreiz
Performers/Co-creators: Ilana Bar, Yael Finkel, Mami Shimazaki, Shiraz Grinbaum, Alit Kriez
Dramaturg: Dafna Kron; Stage: Iris Mualem; Choreography: Renana Raz; Music: Karni Postel; Lighting: Rotem Elroy; Video: Shaked Harari; Production: Atalya Zahavi