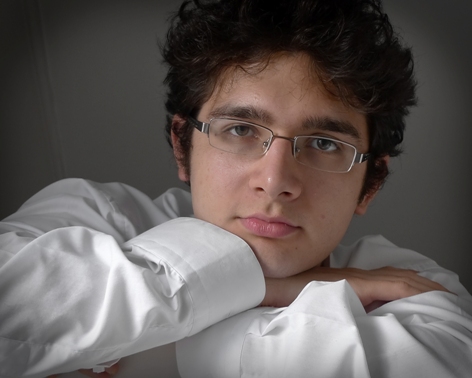 Pianist Roman Rabinovich will perform next Saturday, June 12 at 21:00 at the Einav Cultural Center. "The Heroic and the Demonic", is the 6th concert in the piano recital series "Chopin: Reverberting Heritage" presented by The Israel Conservatory of Music Chamber Music Center. Celebrating 200 years to Chopin's birth, the series places Chopin in the context of other composers, reflecting his relationship to his predecessors and his own contribution to musical tradition, with its emphasis on compositions for the piano.
Praised by critics for his "vivacity and virtuosity" twenty four year old Rabinovich is the winner of the 2008 Arthur Rubinstein International Master Piano Competition. Rabinovich was born in Tashkent, Uzbekistan and began his piano studies at the age of six with his mother, Mira. Immigrating to Israel in 1994, he studied with Irena Vishnevitsky and continued with Arieh Vardi at the Rubin Academy of Music in Tel Aviv. He is a graduate of The Curtis Institute of Music as a student of Seymour Lipkin and received a Masters Degree from Julliard where he studied with Robert McDonald.
Saturday's concert will focus on the Ballade, a genre invented by Chopin, and the Scherzo. The two forms reflect two complementary poles of the Romantic composers. The Ballade is usually inspired by heroic poetry, while the Scherzo are more dramatic and capricious in style. The evening will include a selection of Ballades and Scherzi by Chopin and Brahms.
The Fryderyk Chopin Institute and Ministry of Foreign Affairs of the Republic of Poland have initiated the project 2010 The Chopin Year, a worldwide celebration that includes concerts, lectures, conferences and exhibits. The Polish Institute in Israel, in conjunction with several Israeli musical institutions – The Jerusalem Academy of Music and Dance (JAMD), The Israel Conservatory of Music, The Chopin Society and the Edward Aldwell Center – present an impressive program of events throughout the year 2010.
The performance will take place at the Einav Cultural Center, 71 Ibn Gvirol Street. Tickets and information: 03-54662288, www.icm.org.il/chamber, chamber@icm.org.il.