She was known as the Queen of Disco, and the heat of Donna Summer's Love to Love You Baby, co-written with Giorgio Moroder, burns eternal. The song, with its sensual moans and pulsing beat, was the harbinger of an era of sexual freedom in music and in life. Yet although Love to Love You, Donna Summer opens with scenes of Summer singing and gyrating onstage and a disco crowded with people deliriously dancing to her other big hit, the intoxicating anthem I Feel Love, co-directors Roger Ross Williams and Brooklyn Sudano (Summer's daughter) seek to present a fuller portrait of the woman and artist. There's an emphasis in the film that disco was just one aspect of Donna Summer's creative talent; how you feel about that narrative direction depends on how you feel about disco. Extensive archival footage, home movies and interviews with family members and Summers herself, not only round out Summer's public image, but also reveal her immense talent, intelligence, and ability to articulate her own processes.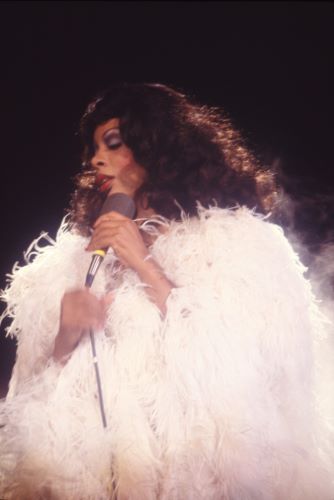 The documentary presents Donna Summer as seen not only from her public image, but from the perspective of those who loved her. The film is very explicitly about a daughter – Brooklyn – trying to understand her mother, and trying to reconcile the different, contradictory aspects of a woman also known as the "first lady of love" who, later in life, became a born-again Christian. And since that mother is a fascinating, complex, character, that process results in a very engaging film. Born in 1948, Summer grew up with her six siblings in Boston, Massachusetts, which her brother Ric Gaines says was "not a friendly city to people of color" in the 1950s. Singing and performing was an integral part of Summer's family life, in later years, her sisters would tour and perform with her. Young Donna Summer made her first public singing debut in church at age 10, but at 19 she left home for New York, seeking out wider horizons. Her casting in the German language version of Hair, marked the start of a successful career in Europe. There's a wonderful clip of Summer in hippie mode, her hair in long braids, singing Aquarius in German.
As the film traces the trajectory of Summer's career, her sisters Dara and Mary Ellen stress the distance between Summer's family background and private life and her public image as a sexy singer, with Dara saying "it was the opposite of the culture of our family." The contrast between her stage persona and private life appears to be a struggle that Summers contended with throughout her career. It's also important to remember that as Summer says in the film, being a woman was hard professionally and "being a Black woman was a double whammy." Summer was also haunted by unresolved issues from sexual abuse she experienced as a teenager, pain that remained with her throughout her life. There were aspects of her personality, such as her love of comedy (as seen in the film), that never found expression in her work, and there were aspects of her life, such as raising three daughters, that were almost impossible to balance with the demands of recording and touring. Photographs of Summer, exhausted from her hectic schedule, reflect the high cost of becoming a star with raw honesty.
Summers struggled with the never-ending quandary faced by many women – how to be a good parent to your child, while being good to yourself. One of my favorite parts of the documentary focuses on Summer's great 1983 hit She Works Hard For The Money, co-written with Michael Omartian. It's stated in the film that the music video for the song was the first by a Black female artist to be played on MTV. Yet most moving and powerful is the home video featuring Donna Summer with her hair natural, and no makeup, singing the refrain with her daughter Brooklyn by her side and holding her younger daughter Amanda in her arms.
The film reflects some of the difficulties of the music business, such as Summer's conflict with longtime producer Neil Bogart over the timing of the release of her collaboration with Barbra Streisand. Yet what feels lacking, given Summer's central place in the disco era, is more context about the period, the music, and her disco contemporaries. There is some insight into Summer's creative process and collaboration with Giorgio Moroder, known as the "Father of Disco" and pioneer of EDM. Yet more would have been even better. Inevitably, the coverage of Summer's later years, her personal woes, her turn towards religion, and the controversy over what she may or may not have said about the Gay community, and ultimately, her early demise from lung cancer at age 63, end the documentary on a melancholy note. Yet the beauty and strength of Donna Summer's voice shines throughout, and one emerges with an enhanced appreciation of her creativity and talents.
Love to Love You, Donna Summer will be screened at the 2023 Docaviv film festival which will take place from May 11 – 20, 2023. The full program and schedule are available on the Docaviv website.
Love to Love You, Donna Summer will be broadcast on YESdocu, HOT, and Cellcom TV at a future date.
Love to Love You, Donna Summer
United States/2023/105 min/English with Hebrew subtitles
Directors: Roger Ross Williams, Brooklyn Sudano; Editors: Enat Sidi, Jon Stray, Jean Tsien