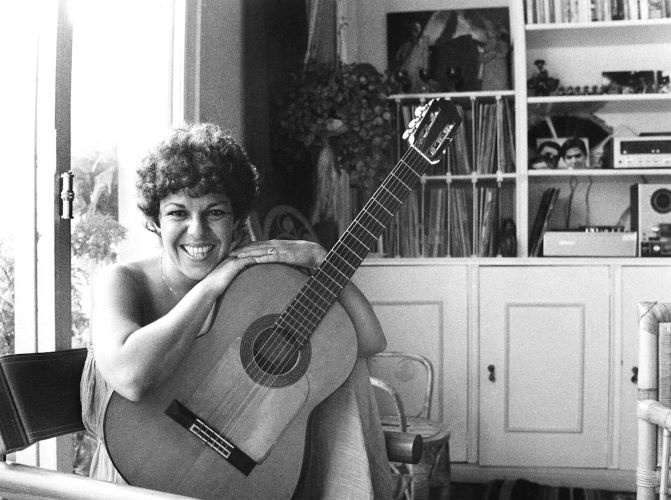 Miúcha: The Voice of the Bossa Nova explores the life and creativity of Heloísa Maria Buarque de Hollanda, who went by the stage name Miúcha. The film seeks to shine a spotlight on the singer and songwriter who was in the inner circle of the Bossa Nova – the Brazilian music that became popular worldwide in the late 1950s and early 1960s – yet did not receive the same recognition as the musicians with whom she worked, such as João Gilberto, Antônio Carlos Jobim, and Vinicius de Moraes. Miúcha's dazzling smile shines out in every photograph, and what makes the documentary distinctive is that it is based entirely on her own diaries, letters, recordings, and watercolors. Directors Lilian Mutti and Daniel Zarvos (Miúcha's nephew) let Miúcha tell her story, without exposition, resulting in a very intimate feel to the film, as the viewer becomes her confidant.
Born in Rio de Janeiro 1937 as one of four children. Miúcha's father, a historian, had a wide circle of acquaintances and she describes the family home as always lively and full of guests. That is how she met musician Vinicius de Moraes, who was the first to teach her some chords on the guitar. Music was an integral part of her life from the start, yet it took many years before she began performing professionally and recording. The film follows the trajectory of Miúcha's life in chronological order, and in her experiences one can also see a reflection of the changes in women's lives during those times. A startling example is when she describes sitting at home with her father one night and hearing her brother come in at 11pm she feels jealous that he, at age 14, has house keys, yet she – although 7 years older, does not.
The film benefits from Miúcha's vibrant personality and her honesty in talking about her thoughts, feelings, and experiences. The drawback is that everything is told only from her perspective and the wider context in the music scene and other aspects of her biography and its times, is lacking. Her childhood bout with polio is mentioned briefly in passing, yet one might imagine that the illness had an impact on the development of her character and feelings. Awarded a scholarship to study art history in Paris, she set out to discover a wider world, yet that is where she met and began a relationship with João Gilberto. Known as the "father of the Bossa Nova" it is not too surprising that the young Miúcha was swept off her feet, as she says, "Joao was my hero. I only thought about music, so he totally won me over."
Their intense and often turbulent marriage takes up much of the film, again, reflecting the social norms and status of women in the 1960s. In those early years, Miúcha seems to have accepted without question the role of "problem solver" as well as homemaker and mother. Yet as time goes on, she begins to feel more frustrated with the limitations of her life and begins to devote more time and thought to music. It's very much a feminist narrative typical of the 1960s – 70s, as women began to join the professional work force in greater numbers and seek an equal role in public as well as private life. As Miúcha becomes more active in music, there are interesting descriptions of her work recording with Stan Getz, Antônio Carlos Jobim, and Vinicius de Moraes.
One of the film's great pleasures is Miúcha's voice in song, from her albums as well as more informal recordings. The film provides an opportunity to become acquainted with a talented singer and vivid personality.
Miúcha: The Voice of the Bossa Nova will be screened at the Docaviv film festival which will take place from May 11 – 20, 2023. The full program and schedule are available on the Docaviv website.
Miúcha: The Voice of the Bossa Nova will be shown on YES docu at a future date.
Miúcha: The Voice of the Bossa Nova
Brazil/France/2022/98 min/English, French and Portuguese with English and Hebrew subtitles
Directors: Liliane Mutti, Daniel Zarvos; Screenplay & Cinematography: Liliane Mutti; Editors: Isabel Castro, Daniela Ramalho; Sound Design: Rodrigo Sacic, Pierre-Yves Gauthier; Music: Ruben Jacobina; Animation: Guilherme Hoffmann, Meton Joffily, Julie Reed; Narrator: Silvia Buarque