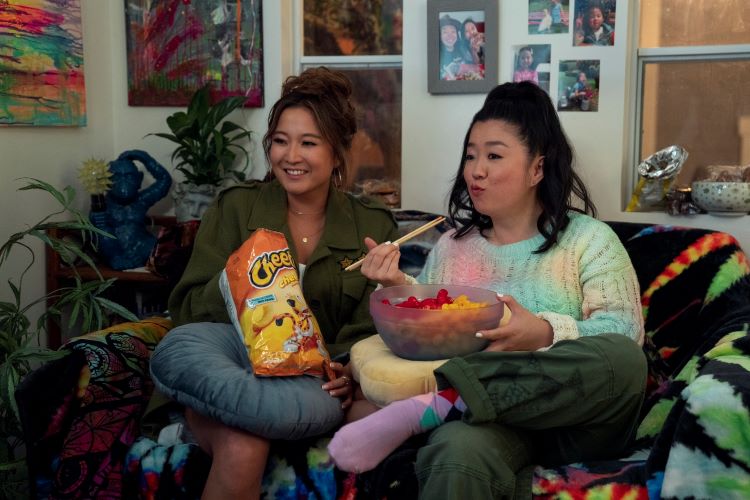 Joy Ride is the crazy wonderful fun that can happen onscreen when movies fully embrace diverse representation. Outrageous, bawdy, and hilarious, director Adele Lim puts an Asian, feminist, sex-positive spin on the "friends trip gone bizarre" film, with a screenplay by Cherry Chevapravatdumrong and Teresa Hsiao. Familiar tropes take on new energy when the perspective is different, and the screen is literally and figuratively more colorful.
As someone who spent much of her childhood as the "different one" in her neighborhood and classrooms, I watched with glee as the film opened on images of a town so very, very, white that anyone who diverges from the norm can be certain of hearing the inevitable question: "Where are you from?" But when the Chen family meets the Sullivans on the playground, what they encounter is not so much racism, as it is enthusiasm and naiveté. The Sullivan's daughter Audrey was adopted from China, and they are delighted to see a Chinese family with a little girl her age – Lolo. The two girls become best friends, despite having very different personalities, as is demonstrated in this first scene. Confronted by a racist playground bully, Lolo never hesitates and hurls a forceful "Fuck you!" and an equally powerful punch at the offender, while Audrey looks on. I almost cheered out loud.
Before starting its protagonists on their adventure, the film establishes their characters and their individual responses to growing up Asian in a primarily white culture. Lolo's parents own a Chinese restaurant, she grows up within her culture, speaking Mandarin, and the confidence she had as a young child has only increased. Outspoken, vibrant, impetuous, creative, and somewhat of an activist in her own way, Lolo (Sherry Cola) is an artist who focuses on sex-positive art in different media, at least in part as a way of challenging stereotypes about Asians. Intelligent and ambitious to the point of being driven, Audrey (Ashley Park) is an associate lawyer in a major law firm, trying to prove herself in what is still, shockingly, shamefully, in 2023, a man's world. Although by some standards Audrey is more successful than Lolo (Lolo lives in Audrey's garage), as the film progresses one realizes the dissonance she has experienced, growing up Asian in a white household and White culture. When Audrey is sent on a business trip to China, she takes Lolo along to help her with translations. As their journey begins two more travelers join them: Deadeye (non-binary stand-up comedian Sabrina Wu), Lolo's cousin who is a huge K-Pop fan, socially awkward and utterly adorable; and Kat (Stephanie Hsu, known for Everything, Everywhere, All At Once), Audrey's best friend from college who is now a popular film star in China.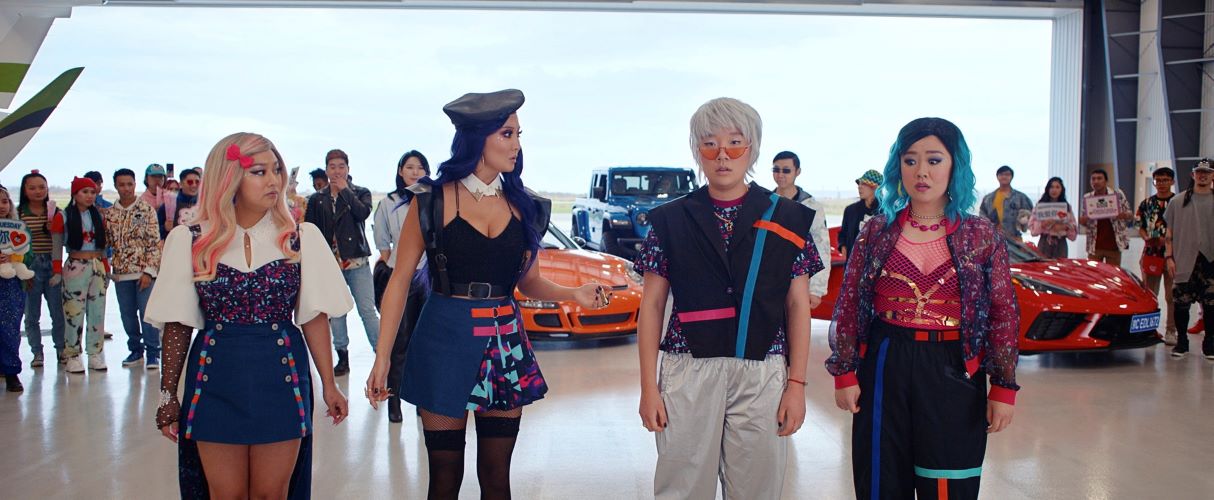 Along the way the lines of friendship mix and remix. Audrey is initially dead against Deadeye joining them, Lolo is jealous of Kat, and Kat appears to look down on Lolo from the lofty heights of stardom. While Lolo shares proximity and childhood memories with Audrey, Kat is probably the closer match in terms of personality to the more socially refined (repressed?) and professionally ambitious Audrey. The shifting relationships between the four and each person's journey of self-discovery gives heart and weight to their wild, wacky, and sometimes gross, adventures. There's lots of sex, alcohol, drugs, awkward accidents, good intentions gone wrong, a brief interlude of inter-Asian racism, all sorts of things going magnificently wrong, heroic saves, and of course, a marvelous scene in which they dress up as a K-Pop band and sing Cardi B's WAP.  It's a joy ride all the way.
Joy Ride
Director: Adele Lim; Screenplay: Cherry Chevapravatdumrong and Teresa Hsiao; Story: Cherry Chevapravatdumrong and Teresa Hsiao and Adele Lim; Cinematography: Paul Yee; Editor: Nena Hsu Erb; Music: Nathan Matthew David; Cast: Ashley Park, Sherry Cola, Stephanie Hsu, Sabrina Wu, Ronny Chieng, Meredith Hagner, David Denman, Annie Mumolo, Timothy Simons