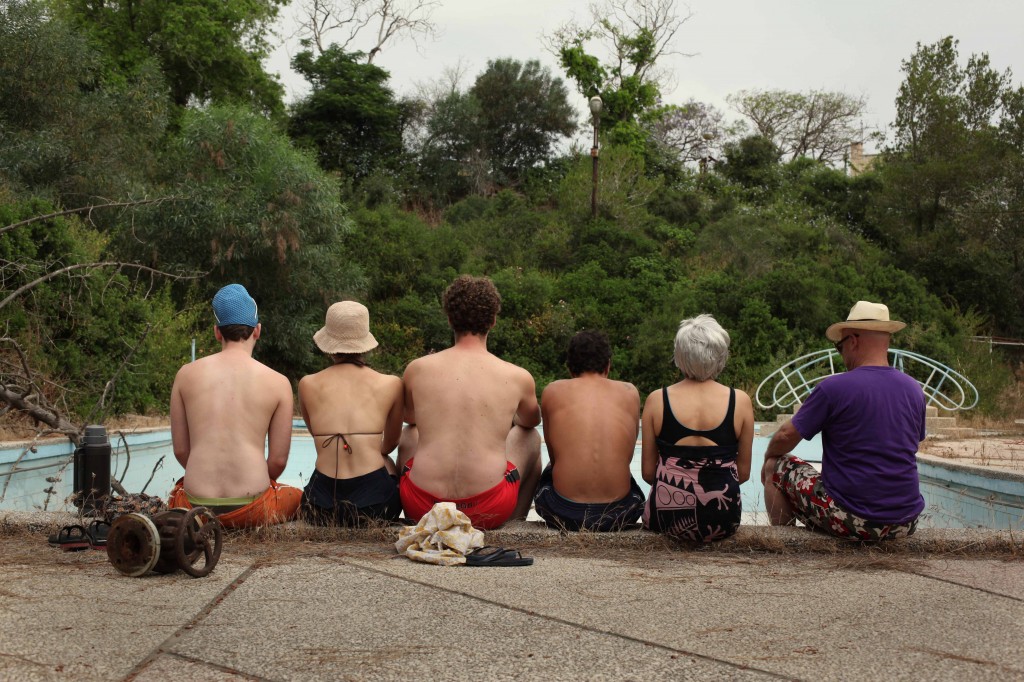 Heaven cannot be described, it must be experienced. Absurd, intellectual, physical, visual, and emotionally intense, Wojtek Klemm's production of Heaven (for Tristan) defies any attempt at straightforward narrative description – and that is its strength. Part of the German Season, a collaborative project of The Goethe Institut Tel Aviv and Tmuna Theatre, with performances July 7 & 8 at Tmuna Theatre in Tel Aviv, one might read in the program notes that German playwright Fritz Kater set the play in the town of Wolfen in East Germany, where the first modern colour film was developed; now there are no jobs, no hope, no people except those who cannot leave. The single sentence contains a tangle of narrative threads: historical, economic, political, the individual narratives of people in the town and the way they interconnect, the emotional history. Yet this Heaven is a production in Hebrew, with an Israeli cast, directed by a Polish-German director.
Drop the program notes – no one needs an explanation to understand this play: its impact is immediate, powerful and universal. If you have ever been to Dimona, or Muncie, Indiana, for that matter, you will recognize the scene. If you have ever wanted something you knew you could never have, yet couldn't stop wanting, you will recognize the feeling.
It is German, and it is not German. The German sensibility is conveyed more by the approach to direction than by the text itself, which has not only been translated into Hebrew by Mashav Balsam, but translated into Israeli by Klemm. The language, as well as the look of the play is very contemporary Israeli, with quotations from the "Song of Songs" as well as references to supplementary health insurance and the ubiquitous plastic water bottles. It feels Israeli. Yet, at the same time, retains the original text with its references to Austrian physicist Marietta Blau, whose research is intimately connected to the Agfa Wolfen plant. Blau, a Jew, fled Austria in 1938, causing a rupture in her scientific career. The narratives diverge, spiral out, tangle, circle back, intersect and connect as the production oscillates between languages, histories, cultures, people.
The play sits very well in the Tmuna Theatre – a venue where everything is exposed: stage, actors, audience. Diving board, TV sets, a dresser with its drawers pulled out, huge bags stuffed with plastic water bottles. The actors sit on the sidelines in chairs. Suddenly – they all come on to the stage and start talking to the audience all at once. They could be speaking German or Hebrew, it would not matter. All shouting at once, it is impossible to understand the words, but it does not matter. We understand what they are saying, we feel it.
Klemm's approach is a creative free-for-all in which anything goes: metaphor, technology, movement, slapstick, verbal and visual elements. To describe any one element in isolation is to distort and reduce because they all work together – much as the wonderful ensemble cast. Remaining in full view of the audience throughout the performance, as our attention shifts from one to another they are all still there. In a sense, their narrative continues in their live presence on the stage, a presence that is doubled – embodying character and actor.
Klemm plays freely with Kater's text, not only in the translation, but also cutting and rearranging scenes. Yet this freedom somehow presents the text as an element that can be appreciated rather than a transparent vehicle for plot. There is poetry in this chaos.
Intimacy and artificiality work together in Heaven to create an intense theatrical experience. Instead of a traditional, naturalistic narrative that presents a problem with escalating action leading to a climax and resolution, one comes to know the characters and their stories from many different perspectives at once. In addition to the live action onstage – and there is a lot of action! – pre-shot scenes are projected on a large screen at the back that relate allusively to the action, either through their similarity or dissonance. A hand-held video camera tracks different characters, literally bringing the audience closer to the actor.
The pace is exhilarating. After the first outburst onstage, the actors disperse to the sidelines, leaving Simone a distraught young woman tied by a heavy rope, trying to reach her beloved Anders, an idealistic architect on his way out to seek his fortune, while their friend Robert holding the end of the rope, pulls her close. Narration takes place on top of the action as Robert tells Anders about Simone's suicide attempt, while Simone lunges at Anders – another layer in a different time sequence, played out simultaneously onstage.
The actors and characters are all very energetic and powerful in their despair. Despite the grim realities it works with, I emerged from this play with an overwhelming sense, not of hopelessness, but desire, the fierce desire that burns in these people, at odds with their circumstances.
 Heaven cannot be described – it must be experienced. Midnight East strongly urges that you do. Performances will take place July 7 & 8 at 20:00 at Tmuna Theatre, 8 Soncino Street, Tel Aviv. The play will be performed at Tmuna on a monthly basis as part of the German Season. Tickets and information: 03-5611211.
AYELET DEKEL