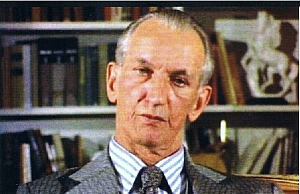 'The Karski Report'
This new short film (49 minutes) by Claude Lanzmann was put together from footage that Lanzmann left out of his seminal 'Shoah'. It is an interview with Jan Karski, a member of the Polish underground, who Lanzmann interviewed twice when preparing for 'Shoah'. The first interview was features prominantly in 'Shoah'. This film is footage from the second interview. Lanzmann, a guest of the festival, introduced the film by explaining that on the first day, he felt that Karski was open and emotional, describing what he saw in the Warsaw ghetto. On the second day, however, Karski was more guarded, and far more theatrical; Lanzmann said it felt like a performance. Indeed, in this film, we see a grand performance by a very skilled actor. In this second interview, Karski goes into great detail about his visit to the United States and his meeting with Roosevelt and various dignitaries. We see a man who is a marvelous storyteller, recounting what appears to be one of the seminal moments in his life.
The crux of the film lies in one tale, of Karski's meeting with associate justice Frankfurter, a confidant of Roosevelt and a very secular Jew.. After Karski details what he saw in the Warsaw Ghetto, Frankfurter dramatically gets up and firmly tells Karski "I do not believe you!" Frankfurter than explains: "I did not say you are lying. But I do not believe you." Karski explains to the camera that he took this as warning, that Frankfurter wanted to let him know that details of the Holocaust are so unimaginable that most people will simply refuse to believe them. And that is why Lanzmann said he decided to put together this film- to explain that, as it was going on, many people simply could not cope with the concept of the Holocaust, choosing not to believe. It is a fascinating film, both for its content and for the magnetic character at the center of it.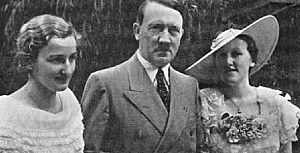 'The Wagner Family'
'The Wagner Family' is another short documentary (45 minutes), also greatly influenced by WWII, although from a very different angle: the unbelievably insane and often repulsive descendants of composer Richard Wagner, and how doomed the family is by its inextricable ties to the Nazi regime. Directed by the remarkably prolific Tony Palmer -who was in attendance at the screening, along with Gottfried Wagner, the composer's great grandson- the film follows the family line through its association with the Bayrouth Wagner festival. From the jovial but vitriolically antisemitic Cosima Wagner, Richard's second wife -who changed her children's father's name around so that a son from a previous marriage could continue the Wagner lineage- through her daughter in law -who's husband was homosexual, had a crush on Hitler and was devoted to him to the day she died- and the third generation, which included Winfried -who was constantly hoping for death- and Wolfgang -who threw his own family out on the street and seems like an all around terrible human being. Gottfried, Wolfgang's son, is the main speaker for the fourth generation, and he speaks about his utter disgust for his lineage, his father in particular. Both he and Palmer have been banned from attending the Bayrouth Wagner festival, and in fact have been asked not to set foot in the city of Bayrouth. This morbid documentary is probably the feel good movie of the year- it makes one feel ever so much better about one's own messed up family.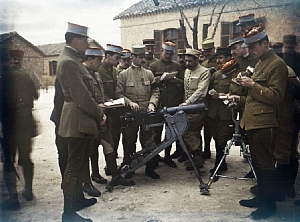 '14-18, Le Bruit et la Fureur'
An ambitious French documentary that weaves a first person perspective of the First World War (in the form of a narrator) using technology to a startling effect: The film is made up of film and photographs taken during the war, but digitally retouched. For the first time, one can see the most unimaginably horrific war in color, often with sound. In what must have been an epic endeavor, the filmmakers added not only color, but also apparently have smoothed out the footage, adapted the speed, ironed out much of the historic wear & tear, and added a soundtrack. The result is almost too much to confront. WWI is too sad to contemplate given the distance we have…with footage that brings these times to life in a chilling way, it forces us to confront this war -an ugly war down to its very core. It forces one to confront the fact that while WWII has been domesticated through its extreme drama -best good guys, worst bad guys, most tragic victims, most variety- WWI, a tragic and pathetic enterprise from start to finish, has been forgotten. There is no catharsis in remembering it. This documentary forces its audience to come to terms with the ugliness of war, a concept much harped upon but rarely practiced in cinema. It is exhausting, somewhat less than compelling in its dramatic structure (I didn't particularly care for the narration), but manages to convey an experience that is totally unlike anything I've ever seen before.
SHLOMO PORATH