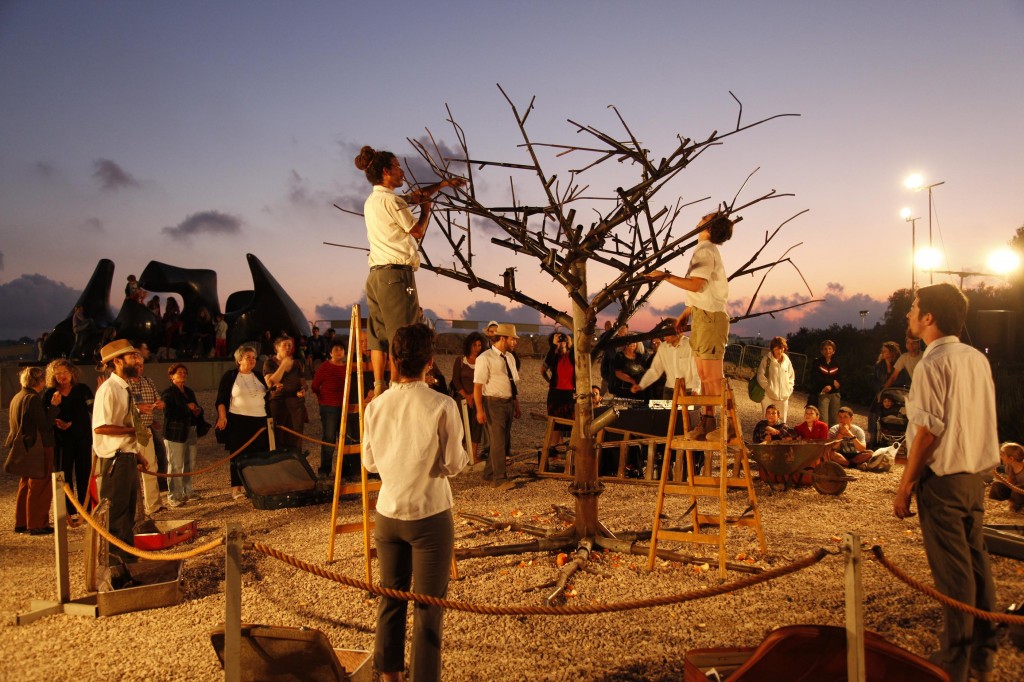 Take off your gloves and jump into the fray – Art Factory, the new multi-disciplinary art space in Bat Yam will have a feisty launch on August 12, 2010. Creating art within an urban space and creating connections with the community, Art Factory invites the public for a first look at this bold project. Performance art, video, sound, installations, physical theatre, drawings, photographs and sculpture will be ongoing in and between the studio spaces, allowing visitors to wander between rooms and create their own experience.
Art Factory is an initiative of the Bat Yam City Council to encourage creative work within the urban environment that engages in dialogue and collaboration with the community. The factory provides a three year residency program for artists selected for their sense of curiosity and commitment to create art in a multi-media environment, while developing a dialogue with the surrounding community. The first residency group includes: Eifo Dana, Keren Gueller, Anisa Ashkar, Gregory Larin, Ish Theater, Dana Tal Segev, Ehud Segev, Rotem of Qiryat Gat and Oren Coheninyo, who were selected from among 280 applicants.
Some unique collaborative projects are already underway: Keren Gueller conducted a workshop for religious girls during the "Being a Girl in Bat Yam" festival, Dana Tal Segev and Ehud Segev created an exhibit of photographs documenting the work of pre-school assistants, Gregory Larin is working with local youths to transform their personal stories as first, second and third generation immigrants into a mural, and the Ish Theater will perform at the Abarbanel Hospital.
The evening will begin at 19:30 with "Art Takes the Gloves Off" – a discussion on alternative art initiatives in the urban environment. Participants will be: Bat Yam Mayor Shlomo Lahiani, actor/director Oded Kotler, artist Hadas Ophrat, and Director of the Musrara School Avi Sabag. The event will be moderated by artist Diti Ronen. Registration is required, please write to: artfactorybatyam@gmail.com. The arts program will begin at 20:30, Mali Baruch is the artistic director for the project.
Hadas Ophrat in collaboration with the Art Factory will launch "Urban Art Project Room" an initiative to promote site-specific urban art with an orientation to social issues with "Guest Book" a sound/performance work.
FFF200 a graffiti group of industrial designers and visual artists will have a live graffiti performance in the yard and there will be a neighborhood boxing match featuring the Thai-boxing Nitzana club. Ariel Efraim Ashbel, known for his theatre work, will be the DJ for the evening. Games, surprises, a café and ice cream cart and other summer pleasures will await visitors at 13 Nitzana Street in Bat Yam.  Those arriving from Tel Aviv can take bus #19 and get off at the first stop in Bat Yam.
AYELET DEKEL