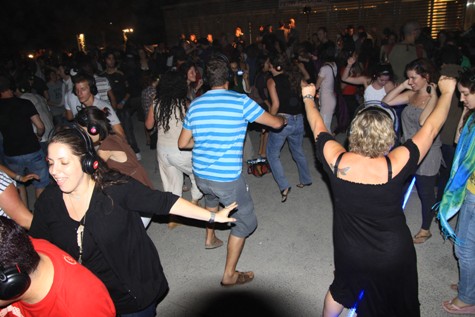 The Israel Museum celebrated its renewed opening on July 29, 2010 with Contact Point – possibly the best party of the season. An encounter between creative artists (musicians, performance artists, dancers and beyond) the museum exhibits and the public. Museum visitors could navigate their way through a labyrinth of events taking place throughout the museum – it was a night to remember.
The museum's new design creates an inviting space inside and out – with room to move, observe and interact with the exhibits, people and the surrounding Jerusalem landscape. It is not just a question of what is on display – the current design has twice as much room for the museum's extensive collections, but the way the exhibits themselves are designed: uncluttered, aesthetically appealing and perhaps most significant – many of the sculptures and artifacts are right out there, rather than enclosed behind glass. As one visitor remarked that night, the museum now reveals "an aspect of Jerusalem most people don't get to experience – open space, night air, view."
The design suggests an attempt to redefine the experience of a museum visit, the relationship of the public to the museum, and by extension to all that it symbolizes – Jerusalem, and Israel in all its history, beauty, complexity, and chaos. Contact Point, a joint project of the Israel Museum and the Jerusalem Season of Culture (JSOC), goes a long way towards achieving that end. Artistic director Nir Turk with Itay Mautner, artistic director of JSOC and JSOC senior consultant Naomi Bloch Fortis, brought together a fascinating cohort of Israeli artists from diverse disciplines, creating contact points between their work and the museum exhibits.
While many museums host concerts, plays, films and other cultural events, the potential of Contact Point goes far beyond that of providing a pleasant venue for a show. The juxtaposition of artist to exhibit is a catalyst for imaginative associations, theoretical reflection and pure fun.
Scenes from Naomi Yoeli's Aunt Frieda (winner of Best Play at the 2006 Acco Festival) were performed in the Jack, Joseph, and Morton Mandel Wing for Jewish Art and Life, in the Rhythm of Life: Birth, Marriage, Death gallery. Naomi Yoeli with Hadas Kalderon, Nana Ariel and Galia Yoeli presented the relics left by Aunt Frieda, who emigrated from Vienna in 1925, and was devoted to her own personal Zionist enterprise – bringing the culture of Vienna to Palestine. Funny, provocative and fiercely brilliant, Yoeli's work, dealing as it does with issues of memory, identity, relationships and collections, acquires new layers of meaning performed in front of the passing crowd in the museum. Yoeli's method of using the text to address the audience directly works so well in this context; it almost feels as though the work was intended to be performed in the Israel Museum.
Yoeli speaking of Aunt Frieda's bequest of relics "these things that no museum, not one museum would take these things" and the barbed asides of the rest of the 'family', Hadas Kalderon confiding to an audience member – "I wouldn't let this junk in my house" touched the precise point where laughter and reflection, performance and theory can meet, to the benefit of all.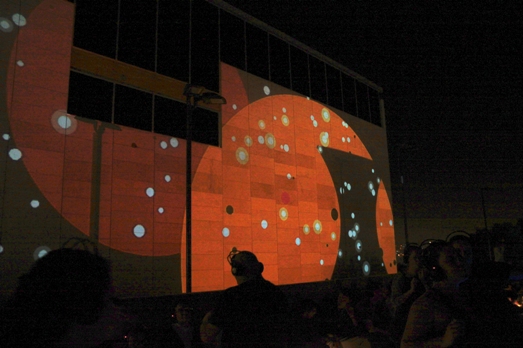 Outside the building, a magnificent video art work (created by Dan Bacon, Hovev Oppenheim, and Ben Benhorin) was screened on the wall behind Anish Kapoor's Turning the World Upside Down Jerusalem, while a Silent Wi party rocked the night with DJ Dory Ben Zeev.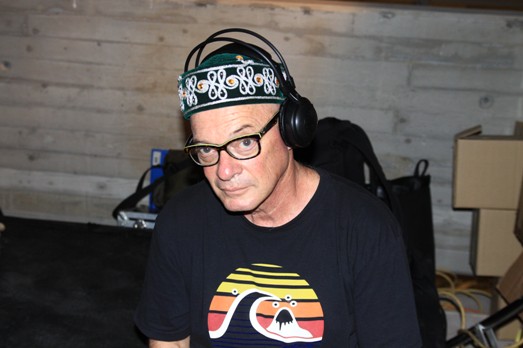 It was the best party of the season. But it could have been much more.
The group of artists participating in this event was impressive in its diversity and talent, including: musician Shlomo Gronich, voice artist Anat Pik, dancer/choreographer Renana Raz, singer Eti Ankri, voice artist Victoria Hannah, artist Hadas Ophrat and Rabbi Benny Lau – just to mention a few from a list of twenty. The success of this uniquely creative and exquisitely designed event was met with enthusiasm by the thousands of people visiting the museum that night, Midnight East among them. It was a wonderful party and certainly very different from the stereotypical museum experience, yet the very crowds that marked it as a success, also prevented the full realization of the artistic vision of this ambitious project.
Many of the performances were simply inaccessible due to crowding, for example: Renana Raz and Or Moran's performance amid the alluring black butterflies of Carlos Amorales' installation. Surrounded by a crowd of people three or four rows deep, I was left to imagine the possible flights of fancy that their movement would have inspired as I watched the ceramic bowls create their own choreography of sound and movement in the blue pool of Celeste Boursier-Mougenot's installation Untitled series V 2007.
Rather than wandering from room to room in the museum, sometimes choosing to view a particular performance, sometimes walking randomly and encountering an event – the density of the crowd made such an impact on the experience that it became a dominant element in the evening. Great for a party, yet parties, even amazing parties like this one, are happily plentiful, and as I look back on Contact Point, I have a lingering sense of a lost opportunity to create something unique.
It was exhilarating to see the thousands of people at the museum that night. I think the new design, expanded exhibits and the kind of personal experience created by nights such as this will bring more and more visitors to the museum every day – and that is wonderful. Yet a creative idea like Contact Point deserves its own place in time.
Wouldn't it be wonderful if this was not a one-time event? What if there was an annual Contact Point such as this, and even, a few events on a smaller scale throughout the year – allowing the time and space for discovery, exploration and reflection. As for the crowds – allow me to be so bold as to suggest that people should make a commitment to art: keep the event free with museum entrance (as it was on this evening) but set a limit on the number of participants and require advance registration. Those who miss the event will have the incentive to be first to register for the next year's event, and those who participate will be able to savor the experience.
AYELET DEKEL