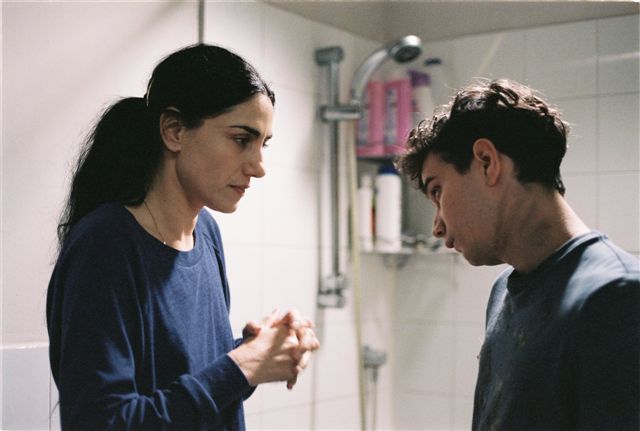 In a small coastal town the sun rises over the sea casting a glow over trees and homes. Then the train hurtles past. Coming in for a closer look, we see this vision of paradise is really a jumble of chicken coops, ramshackle sheds, broken down planes and broken lives. A boy on his bike navigates through the tangle, intent on pursuing his dreams, finding his way around the obstacles in his path.
Guy Nattiv's Mabul (The Flood), screened last night at the Haifa International Film Festival 2010, centers on 13 year old Yoni (Yoav Rothman) and his family, the tenuous balance of their lives disrupted when the institute where the older, autistic son Tomer has been living shuts down, and Tomer must be brought home.
Ronit Elkabetz as Yoni's mother Miri makes the screen come alive with her dazzling presence and dizzying emotional range – joyfully dancing in the fields with the children she teaches, subservient to their parents in one painful moment, and imperious in the next – casting a withering glance at Yoni's inept father, who cannot even take responsibility for a simple phone call to confirm the caterer for Yoni's Bar Mitzvah.
Yet it is impossible to single out any one of this amazing cast: Tzachi Grad stumbles majestically as the father, Michael Moshonov gives a moving performance, revealing in each look and gesture the inner world locked inside Tomer, and Yoav Rothman as Yoni is captivating, brave and vulnerable, carrying so much weight on his all too slender shoulders.
The story of Noah flows through the film, as Yoni studies the parasha to chant at his Bar Mitzvah ceremony, and Tomer rocks in a small green boat inside the family's shed. Collecting ants, worms and a rabbit, Tomer takes up the chant as well. The story of Noah brings the two brothers together, becoming an ark in which they find refuge.
Note: Mabul won Best Full-length Feature at the Haifa International Film Festival 2010. The prize was awarded on Thursday, September 30, 2010.
Mabul
Israel/Canada/Germany/France 2010, 97 min., Hebrew with English subtitles. Directed by Guy Nattiv, screenplay by Noa Berman-Herzberg, Guy Nattiv.
AYELET DEKEL