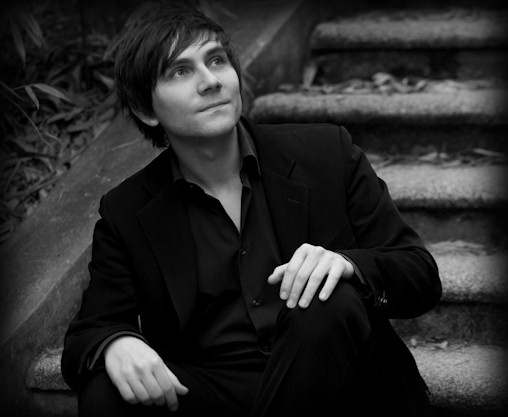 French pianist Eric Artz will perform a Chopin recital tonight, November 16, 2010 at the Jerusalem Music Centre. Artz is one of five soloists from the French Conservatoire National Supérieur de Musique de Paris (CNSMDP) who will perform in Israel as part of the musical season « French Notes, » a project of the French Embassy in Israel and the French Institute.
 Eric Artz, 27, entered the Conservatoire National Supérieur de Musique of Paris in 1997, where he studied with Nicholas Angelich and Roger Muraro. He won several national and international piano competitions, such as Geneva contest (2006) and Maria Canals competition of Barcelona (2007). In his performances at prestigious venues such as the théâtre des Champs Elysées in Paris, his original style and impressive musical maturity, Eric Artz is one of the most promising pianists of his generation in France.
Tonight's program includes :
Schubert:
Impromptu in E flat Major, op. 90 no. 2
Impromptu in G flat Major, op. 90 no. 3
Chopin:
Etude in c minor, op. 10 no. 12
Nocturne in c sharp minor
Nocturne in E flat Major, op. 9 no. 2
Polonaise Héroïque in A flat Major
Rachmaninov:
Prelude no. 5 in G minor
Liszt:
Consolation no. 3 in D flat Major
Hungarian Rhapsody no. 13
Hungarian Rhapsody no. 2
Featuring exceptional talents and a diverse range of styles and personalities, the program will introduce the Israeli public to five young French talents, with performances in Tel Aviv, Haifa, Beer Sheva and Jerusalem. The coming months will bring : Matthieu Stefanelli in December, Natacha Kudritskaya in January, Adam Laloum in February and Nima Sarkechik in March.
French Notes is a project of the French Embassy and the French Institute in collaboration with the Israeli Opera, the Felicia Blumenthal Music Centre, Rappaport Hall in Haifa, the Israeli Symphonietta, the Beer Sheva Music Conservatory, and the Jerusalem Music Centre. Tonight's concert will take place at 20 :00 at the Jerusalem Music Centre (02-6241041).
Coming in December : Matthieu Stefanelli will interpret two sonatas by Beethoven and Brahms, and present his original composition « Quatre Illusions ». Concerts will take place on December 9, 2010 at the Felicia Blumenthal Centre in Tel Aviv (03-6201185), December 13, 2010, Rappaport Auditorium, Haifa (04-8363804) and December 14, 2010, S. Rubin Conservatory, Beer Sheva (08-6279606).