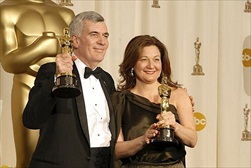 Animator and animation historian John Canemaker will be a guest of the DocAviv Galil Festival via skype, on Wednesday, December 1, 2010 at 11:00 at the Grass Center in Ma'alot. Canemaker's animated film The Moon and the Son: An Imagined Conversation (28 min) won the Academy Award for Best Animated Short in 2006, and in 2007 won an Emmy Award for graphic and artistic design. Canemaker, born in 1943 as John Cannizzaro Jr., uses drawn animation, photographs, newspaper clippings and other material to explore the complex relationship he had with his father.
A screening of Canemaker's film The Moon and the Son will be followed by a discussion with the filmmaker via skype. Dudu Shalita will conduct a workshop on "Animated Documentary Film in Israel and the World" accompanied by screenings of selections that show the development of the genre.
DocAviv Galil and the Gesher Multicultural Film Fund will launch a new project to encourage the making of animated documentary films, awarding two grants to students and one production grant to an independent filmmaker. The completed films will be screen at the 2011 DocAviv Galil festival.
DocAviv Galil will take place from November 29 – December 2, 2010. Additional information can be found on the festival site.