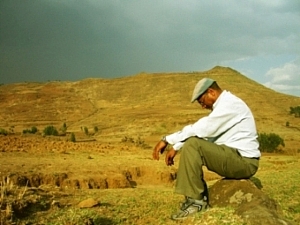 The room glows red, people laugh and dance, a woman stumbles, giggling, perhaps drunk. He stands off to the side, a middle aged man with glasses and a kippah, solemn in the midst of the carefree carousing. Moshe Rachamim is not part of the club scene, but he feels a responsibility towards these young people, members of the Israeli Ethiopian community, and asks, "If I put condoms here will people use them?"
Duki Dror's documentary Across the River follows Moshe Rachamim as he searches for a way to prevent the spread of AIDS in the Israeli Ethiopian community. Tsegaw Mahari (Mahari, which means "compassion" in Amharic, translates into "rachamim" in Hebrew) was born in the small village of Guluth in Ethiopia, separated from the surrounding communities by a river. The children were forbidden to cross the river and eat or drink in the homes of the nearby villages, for they were Jewish and expected to keep kosher. Rachamim crossed the river and kept on walking, immigrating alone to Israel in 1973 at the age of 12.
It is an intimate film that offers a glimpse of a community through one man's personal journey. "There is still a stain in my heart," says Rachamim, as he recalls the forced conversion that many immigrants from Ethiopia endured until protests ended the practice in 1986. Among the many open wounds in the difficult relationship between the Ethiopian community and the Israeli government is what is known as the "blood scandal" of 1996. The revelation that the blood donated by Ethiopian Israelis was discarded due to suspicion that it might be contaminated by the AIDS virus was met with vigorous protest from the Ethiopian community, led by Adiso Masala, who in 1996 was the first Ethiopian Israeli elected to the Knesset.
Yet AIDS does exist within the Israeli Ethiopian community. The discrimination and violation of human rights experienced by the Ethiopian community in Israel, combined with the stigma associated with the AIDS makes it difficult to prevent and combat the disease. Rachamim was asked by the Ministry of Health to promote AIDS education within the Israeli Ethiopian community. The film follows his often frustrating encounters with administrators and community members, making endless phone calls, attending meetings, trying to find people with HIV/AIDS who are willing to speak of their experience, and asking the ultimate question: "AIDS is no longer a fatal disease. Why are people still dying?"
His personal journey leads him back to Ethiopia, where he reveals yet another sad twist in this tale. Ethiopian Jews are encouraged to sell their possessions and leave their homes in hope of immigrating to Israel, spending years on end waiting in camps in Gondar under difficult, crowded conditions, unable to work, and increasing their exposure to the HIV virus.
The movie premiered last night as part of the Jerusalem Film Festival, one of 12 films chosen from 120 applicants competing for the Wolgin Award for Documentary Film. After the screening, Dror addressed the audience, mentioning Professor Shlomo Maayan, Director of Hadassah Aids Center (HAC), who has written to the Israeli government describing the problem of exposure to HIV due to the long stay in the camps. Rachamim said, "It has been my dream that one day I will be able to express my innermost feelings. I will continue to move forward." The desire to take the movie as a catalyst for pro-active involvement was shared by the film's producer, Yael Shavit, who said, "We need to get up tomorrow morning and decide what action we are taking."
At the reception following the movie, I spoke with Tsega Melaku, Director of Israeli Radio Reshet Aleph featured in the movie conducting a phone interview with a woman with AIDS, and Simcha Tadesa, a social worker seen in a phone conversation with a woman with AIDS who ultimately cannot decide to take the step of revealing herself publicly. Melaku expressed the concern that the movie would not have enough of an impact on the Ethiopian community because it did not feature prominent leaders such as Masala. While Tadesa thought that the scenes showing AIDS activists in Ethiopia speaking openly about the disease might influence people, Melaku felt that only Israeli Ethiopians can change minds within the community. Tadesa closed her remarks by saying, "The establishment remains oblivious to the problem but it's a ticking time bomb. This disease is spreading."
Yael Shavit, the film's producer, initiated a group discussion that included Dror, Rachamim, Melaku, Professor Shlomo Maayan, world renowned authority on AIDS Professor Zvi Bentwich, Rachamim, and Tzafi Rachmani who is in charge of the Ministry of Health's project for AIDS education in the Israeli Ethiopian community. Melaku opened the discussion by saying that she applauds the film but expects to "see more action [on the part of the establishment], not just to throw everything on the [Israeli Ethiopian] community. This is not just a problem of the community. This is a problem of the State of Israel."
Prof. Bentwich said, "We can't ignore the fact that the Israeli Ethiopian community has a problem as shown in the movie. It's still a stigma. Shlomo Mula is a member of Knesset, there are people like that who can lead. The Ministry of Health has failed – initiative will not come from them. There is a simple account that no one has made: it costs more to care for people with AIDS than it would cost to launch a preventive educational campaign. The Israel Aids Task Force needs to be a partner in this effort."
Professor Shlomo Maayan said, "As a doctor I feel frustrated. It is shameful to Israel [that this problem still exists]. The movie expresses Moshe's continued frustration." As an example of the frustrating situation he noted that  "The Ministry of Health does not test pregnant women for AIDS," adding that "all pregnant women should be tested." Tzafi Rachmani explained that she was not there to represent the Ministry of Health, but commented that lack of funds creates problems. For example, they currently rely solely on volunteers for AIDS outreach. Dror responded by suggesting that "perhaps the Ministry of Health is not capable of addressing this issue and we should look to the NGOs."
Across the River
Duki Dror Israel 2009
Hebrew and Amharic with Hebrew and English subtitles 70 minutes
AYELET DEKEL