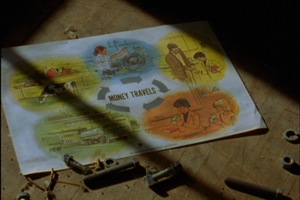 California conjures a multitude of contrasting images in the mind – from the paparazzi glitter of Hollywood to the natural beauty as conveyed by Ansel Adams. California Company Town is a road trip unlike any other, revealing a California that the imagination never dreamed of, yet is all too familiar to anyone who has lived in the state or ventured beyond the tourist route. Lee Anne Schmitt, a professor at California Arts Institute, documented 14 California company towns (towns owned and run by private companies) over the course of five years with a 16 mm camera. A quiet film, the text is spare, allowing the images to speak for themselves as the camera moves from town to town.
The voice-over narration is conveyed in a low, neutral tone, describing the origins and details from the history of each town, yet the message it seeks to convey is clear. Early on in the film Schmitt says, "Emerson once wrote that land was a remedy to whatever was false and fantastic in culture, but by land he meant nature…every natural fact is a symbol of some spiritual fact." The shots of abandoned factories, peeling wallpaper and shattered windows reflect the shattered dreams of the people who lived and worked in these towns.
The connections are easily made: viewing nature as a source of profit to be used in any way deemed necessary for achieving that end is a heartbeat away from viewing people in the same way. A lack of respect for nature equals a lack of respect for humanity. The details are chilling. In Eagle Mountain, owned by Kaiser Steel, there were no vagrants and no unemployment – people who were fired were forced to leave the town. The contemporary footage is interspersed with archival material that is presented without comment. The black and white footage of men cutting down a redwood needs no comment, and the irony of hearing former president Ronald Reagan narrating a promotional film "The Heritage of Splendor" needs no explanation for those who recall sales of "surplus national forest land." Reagan's familiar voice proclaims: "this scenic beauty constitutes one of our greatest resources."
The use and abuse of human and natural resources is at the heart of this film. The accumulation of detail makes it clear that it is a game no one can win, as the narrator's voice is heard, over and over saying, "the company went bankrupt." The use of archival material creates yet another layer of meaning in the film, inviting a consideration of our cultural as well as natural ecology and the importance of respecting and preserving all our resources. In this sense, it is as much a paean to film archives as it is a condemnation of company towns and their underlying principles.
California Company Town
Lee Anne Schmitt USA 2008 English, no subtitles 77 min
Screenings:
Tuesday, July 14 at 20:15, Saturday, July 18 at 13:45
www.jff.org.il
AYELET DEKEL