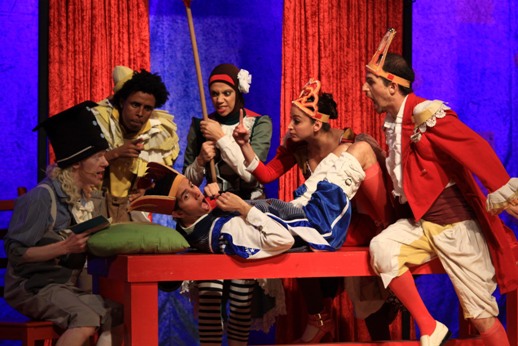 Every venture of the Na Laga'at Center is an adventure, and their latest, the children's play Prince Indik is no exception – it's clever, funny and joyously entertaining. Written, created and directed by Adina Tal (Na Laga'at founder and Art Director) and Dani Erlich, the play is based on a story by Rabbi Nachman of Breslev, about a prince who thinks he is a rooster. Recommended for ages 5 – 12, Midnight East tried it out on both ends of the spectrum – a four and a half year old and a 12 and a half year old – both were delighted and enthralled.
Prince Indik has something to offer audiences of all ages. The youngest will delight in the hilarious antics of the Prince who thinks he is a rooster and the members of the royal court who try to "cure" him in time for his fast approaching wedding to a princess arriving from afar, while older kids and adults will enjoy the tongue-in-cheek humor and connect to the underlying theme of difference explored within the play.
The play opens with a "behind the scenes" prologue. The actors sit in front of the makeup mirror, introducing themselves – and it's a good thing they do, because otherwise its impossible to tell that Prince Indik is performed by two actors who are vision impaired and four actors who are hearing impaired.
Yet the prologue provides more than explanations, setting the tone for the open, energetic feel of this production. "I was worried about moving on the stage because I don't see well," said Hadar Nahari who plays the queen, "I'm a deaf Muslim with a head covering" says Alaa Sarsur, who plays the maid, as the actors share their concerns with the audience, looking at themselves and the world with a wink and a smile. Once the play begins the excellent acting combined with the skillful weaving of narration into the dialogue creates a flow that is so lively and natural, that were it not for the explanation I'm not sure that audiences would realize that there is anything different about this production – other than the terrific combination of talented actors, a sweet and funny tale, and great music.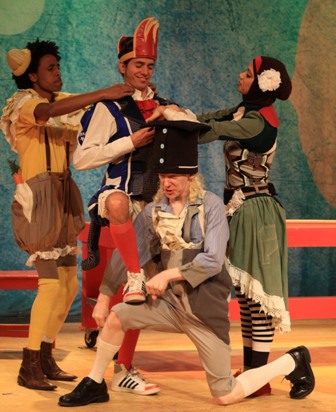 The play is accompanied by sign language – not in the standard format of one actor facing the audience providing simultaneous translation – the signing is integrated fully into the staging of the play and all the actors sign. During the course of the play some signs are taught and the audience is encouraged to sign too, accompanied by the explanation that sign language is a language like any other – Hebrew, Arabic, Japanese or French.
Interactive is the buzz-word for our times and those who are engaged in creating shows, school curriculum and video games for young audiences are always trying to find innovative ways to make their product more interactive. Watching Prince Indik, it occurred to me that maybe all children's plays should use sign language. It's an excellent way to make theatre interactive, and can open up new channels of participatory learning and communication for all children. Not to mention providing a terrific outlet for audience members young and old who have a hard time sitting still for an hour.
The fairy tale atmosphere in which there is no limit to the possible is the essence of the Na Laga'at Center, which sets new challenges day by day – and meets them. After the play, I spoke to the wonderfully talented Alaa Sarsur, who played the maid. Alaa, newly married and living in Jerusalem, told me, "I studied theatre ever since I was a child in Kfar Kassem. I began with a theatre class in a club for the deaf, studying movement and pantomime, and then I attended a mainstream high school where I studied theatre. I came to work at Na Laga'at as a waitress. At first I was a little disappointed to be a waitress because I wanted to act, then this project came along."
The Na Laga'at Center is now three years old, and they are planning two new theatre projects: one with all the employees scheduled for the end of 2011, and another with students who are deaf and blind scheduled for spring 2012. Prince Indik is a welcome addition to their existing repertoire, sharing the magic of the Na Laga'at Theatre ensemble with younger audiences.
Prince Indik is performed monthly at the Na Laga'at Center, Retsif HaAliya HaShniya Jaffa Port, 03-6330808. The next performances will take place December 26, 2010 and January 11 & 25, 2011 at 17:30. Further details are available in English on the Na Laga'at website.
Prince Indik
Actors: Eliran Golan, Alaa Sarsur, El-Ad Cohen, Hadar Nahari, Simon Mehari and Omer Hazan.
Original music and vocals: Tzvi Tal. Décor designer: Niv Manor. Costume designer: Romi Kisilov. Lighting designer: Ziv Volushin. Production manager and assistant director: Nehama (Nahche) Perl. Assistant director: Aviran (Shoko) Adari.
 AYELET DEKEL