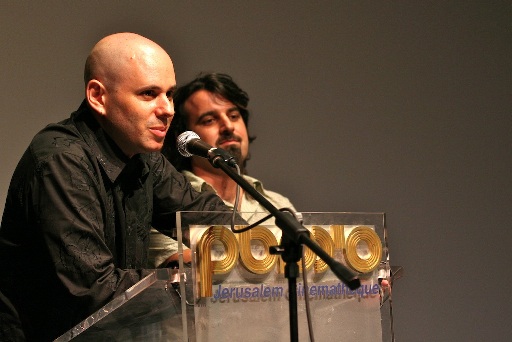 The Jerusalem Film Festival had its awards ceremony today. In contrast to past years, where the ceremony took place inside one of the theaters of the Cinematheque, this year's ceremony took place in the Hinnom valley, right under the building. A rather impromptu set-up of tables, a podium and a bar under a huge tree made for a less formal ceremony than usual, but a very pleasant one. As expected, the Wolgin full-length feature award went to the film Ajami, by directors Scandar Copti and Yaron Shani. The film Eyes Wide Open was cited as a runner-up. The award for best Documentary went to director Dana Goren's film Diplomat.
The best actor award was given to Zohar Strauss for his lead performance in Eyes Wide Open. Sasha Agrounov and Anton Ostrovsky were cited as runner-ups for their performances in The Loners. The best actress award went to Rita Zohar for her role in Mrs. Moscowitz & the Cats, with Rotem Zisman-Cohen cited as runner-up for her roles in both The Loners and the short film Lost Paradise. The last of the Wolgin awards, for short feature film, went to Benjamin Friedenberg's Guided Tour.
 Among the other notable awards- both the Spirit of Freedom award (in memory of Wim van Leer) and the FIPRESCI award (given by the International Federation of Film Critics) went to the film Burma VJ- Reporting from a Closed Country, a documentary by Anders Ostergaard. The Yad Vashem Chairman's Award for Holocaust related films was awarded to festival guest Michael Verhoeven, for his film Human Failure.
SHLOMO PORATH