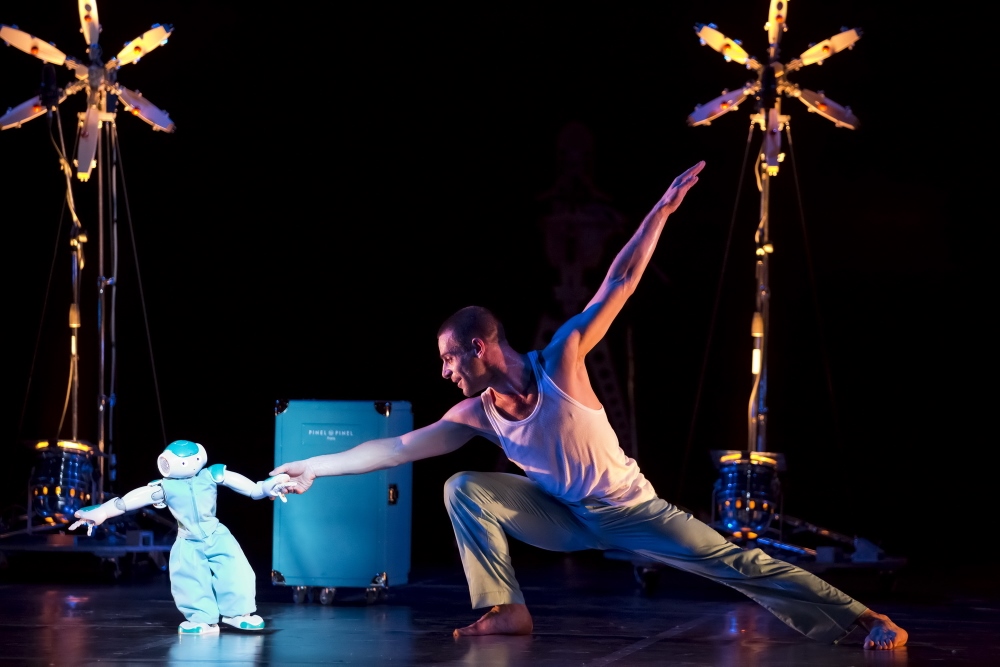 The robots are coming! Ever a source of fascination and fear for humans, choreographer Blanca Li's ROBOT explores the more whimsical, fun, aspects of the human-robot relationship. In this multi-media show created in collaboration with Japanese performance-art collective Maywa Denki and in partnership with Aldebaran Robotics, eight dancers share the stage with a mechanical orchestra of self-playing instruments, and seven humanoid Nao robots, each with its individual personality. ROBOT will be coming to Israel for three performances at the Israeli Opera, October 26 – 28, 2017.
In a statement on this work on the Blanca Li Dance Company website, Li notes the ever-increasing presence of machines in our daily life, and the questions that arise from reflecting on that relationship: "Where are the borders between us and them? …What will happen when thinking machines understand data, concepts, and behavior too complex for humans to grasp? If the robots get humanized by shape and communication skills, shall we humans become robotized hybrids or androids?" While the issues raised are serious ones, and offer many points for reflection, the work itself places an emphasis on colorful, humorous movement, feelings, relationships, and music. One of the amusing scenes is a boa-adorned robot presenting a cabaret-style rendition of the popular song Besame Mucho, as recorded by Blanca Li.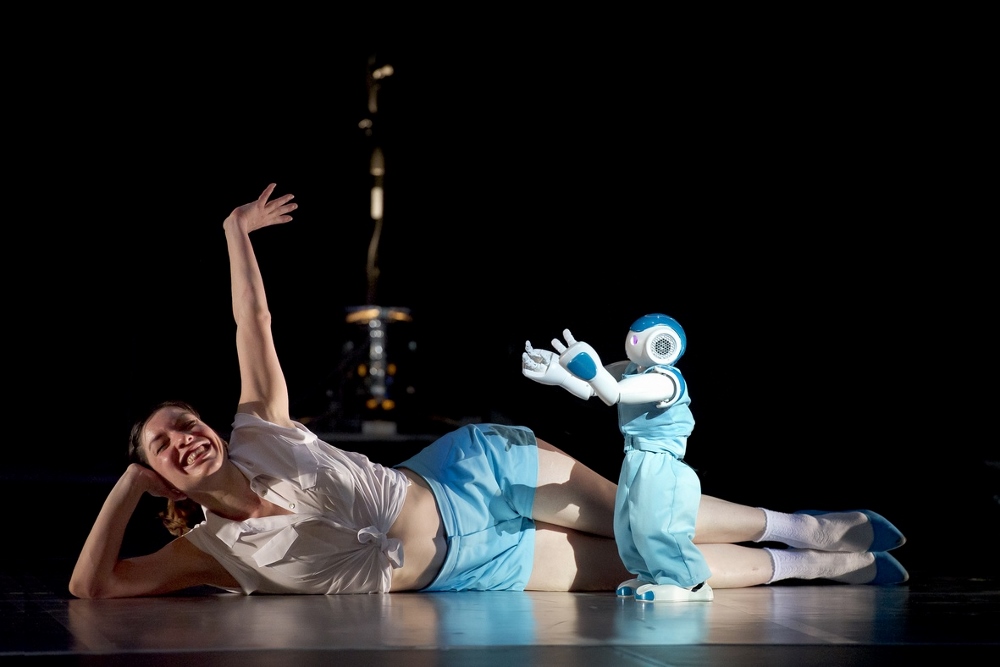 The versatile Blanca Li, is a choreographer, film director, dancer and actress, originally from Granada, Spain. Studying flamenco dance as a child, she left for New York at the age of 17, to study dance with Martha Graham and Merce Cunningham. There she encountered the rap and hip hop scene, even forming a Flamenco rap band Xoxonees.

Founding the Blanca Li Dance Company is Paris in 1993, Li has also created choreographies for major dance companies such as the Paris Opera Ballet, The Berlin Ballet and the Metropolitan Opera, and worked with filmmakers Pedro Almodóvar and Michel Gondry, as well as several musicians, including Beyoncé, Daft Punk, Paul McCartney, Kanye West and Coldplay. She is also the director of five feature films, the latest, Elektro Mathematrix (2014) is a musical set in a Paris high school. The vivacious spirit of her work can be seen in the choreography she created for the flight attendance dance scene to the Pointer Sister's popular hit in Almodóvar's eponymous I'm So Excited (Original title: Los amantes pasajeros, 2013).

Nao is a programmable humanoid robot, developed by Aldebaran Robotics, and stands just 58 cm tall. In addition to the cool dance moves featured in Li's choreography, NAO can communicate in 8 languages, and according to reviews of ROBOT, they are irresistibly cute! Humans, be afraid, be very afraid… but in the meantime, until they actually do take over, enjoy the show!
ROBOT
Concept and choreography: Blanca Li; Original music: Tao Gutiérrez, Maywa Denki, Jean-Pierre Taïeb; Set design: Pierre Attrait; Lighting design: Jacques Chatelet; Video: Charles Carcopino; Robot programming: Thomas Pachoud; Dancers: Yacnoy Abreu Alfonso, Iris Florentiny, Geraldine Fournier, Yann Herve, Samir M'Kirech, Margalida Riera Roig , Gael Rougegrez, Yui Sugano.
Performances will take place at the Israeli Opera: Thursday, October 26th at 20:00; Friday, October 27th at 13:00; Saturday, October 28th at 16:00. Tickets may be ordered online via The Israeli Opera.