Present and past, separated by a curtain. A dancer in a white dress glides backwards, drawing circles on the invisible ice with her foot, like a skater, like a film in rewind, a story moving towards its origin. The present is a blank space, a white page, an empty room waiting to be filled. A man in suspenders stands holding a suitcase, another man stands hunched over, a third is hidden from view. The men stand still, suspended in time, a frozen moment. The women dart and glide among them, skirts billowing. Light and playful, they might be the three graces. Or perhaps, the three fates in disguise.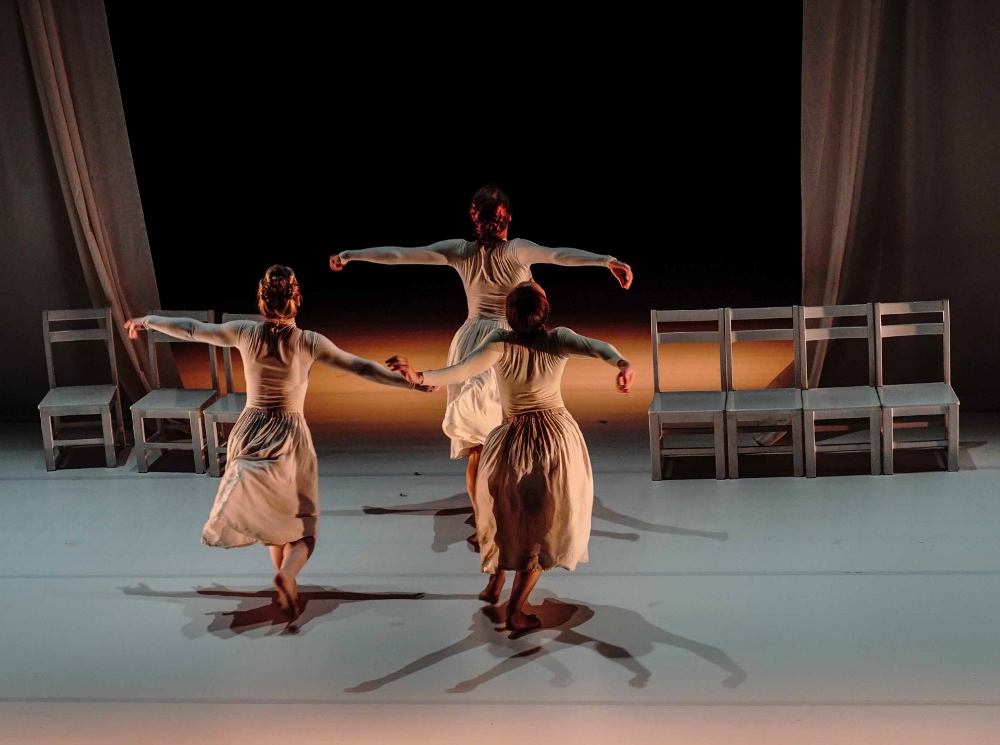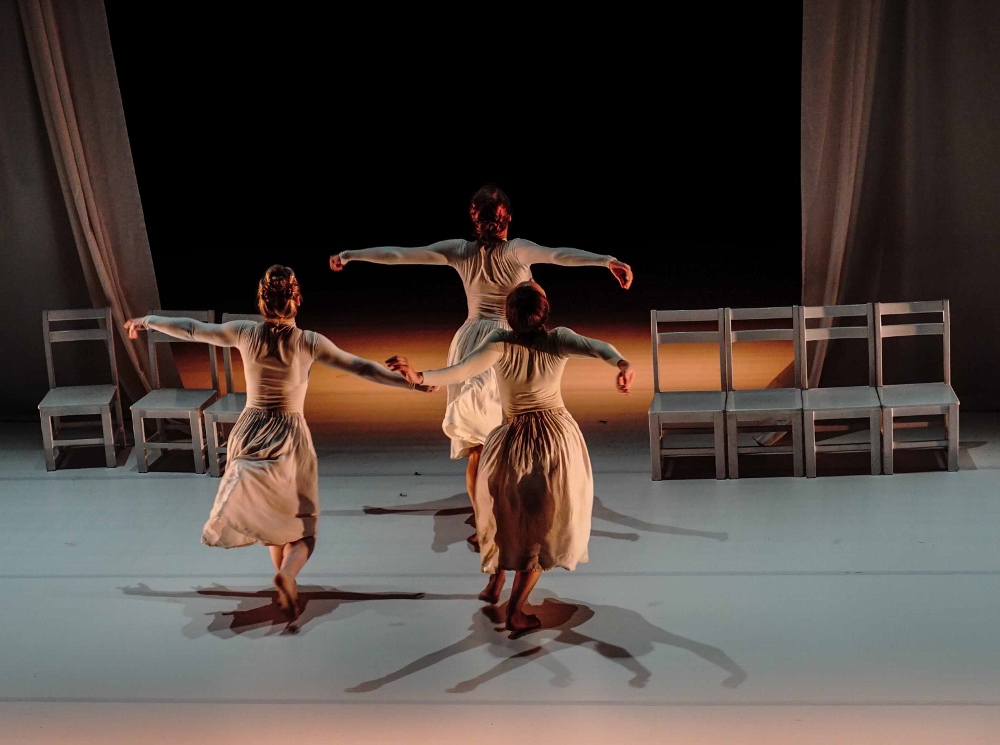 Poised between worlds, the dancers in Inbal Pinto and Avshalom Pollak's ICETREE are the embodiment of the imaginary; every movement and gesture ignites feelings and associations. Shimmering, like a child running with a sparkler in the dark, the mind can go anywhere. Time and again, Pinto and Pollak revel in their capacity to evoke a sense of wonder. Working with the simplest of elements – a curtain, several white wooden chairs and a suitcase, ICETREE is a re-visioning of a past work: Rushes, created in collaboration with Robbie Barnett of the Pilobolus Dance Theatre. Evoking a sense of nostalgia, in the scratchy sound of an old phonograph, and the comic slapstick of silent movies, ICETREE retains the feel, and, in its second part, much of the choreography of Rushes. Yet that is a minor consideration, and not essential to the appreciation of the work as a whole.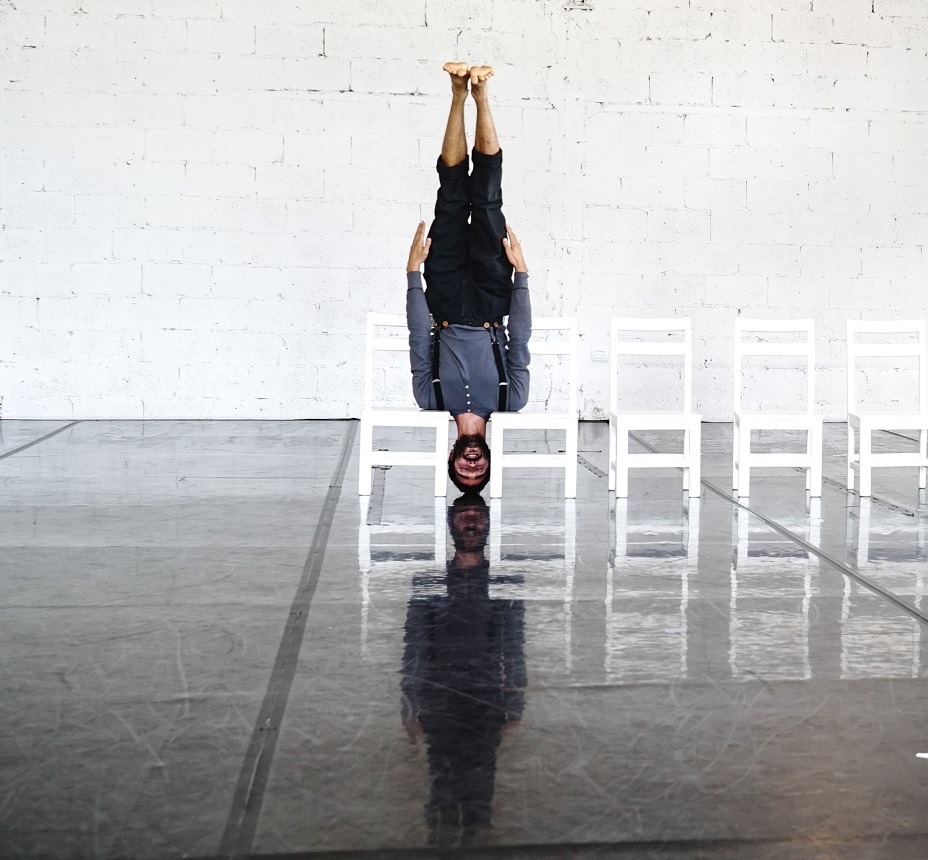 The unique movement language in Pinto and Pollak's work, technically challenging, nuanced and precise, expresses character, and the theatrical aspect of their work (most acutely felt in this minimalist piece) is imbued with a sense of narrative emerging from character – poignant, funny, and beautiful. There is an appreciation of the awkward grace in ordinary movement, and the breathtaking flights of imagination, the intricacy, fluidity and strength expressed in the choreography. The dancers are wonderful, they draw the viewer in, taking the audience on a marvelous journey.
Pinto and Pollak are keen observers of the human character and everyday gesture, the small moments shine. Sitting next to one another, a man and a woman engage in the time-honored duet: the stolen glance, looking at one another and quickly looking away. It rapidly moves to an amusing extreme, as the man looks steadfastly at the woman, while she continues her no-longer-so-secretive glance, moving faster and faster into a frenzy of movement. In another sequence, a duet with inventive lifts and charm, in the briefest of fleeting moments, the male dancer's expression betrays a puzzled look, as he holds his partner aloft, as if to ask: where do I put her now? Two women in black do their strange dance with fisted hands, hips swaying side to side as they move forward, knees in, feet out. Three men dance as one, a curious organism with many limbs and heads, its liquid moves magical. Even the furniture comes to life as a chorus line of chairs circles, rises and falls with the synchronicity of musical theatre.
Then there is the man with the suitcase. The weary traveler, bearing his burden, all those many kilometers. Always on the move. Always about to begin a journey, destination unknown. The mysterious traveler, with a suitcase full of wonder.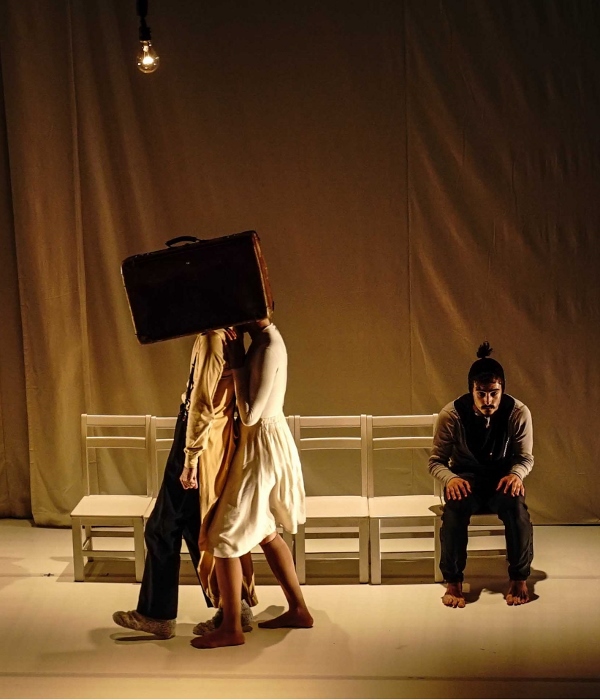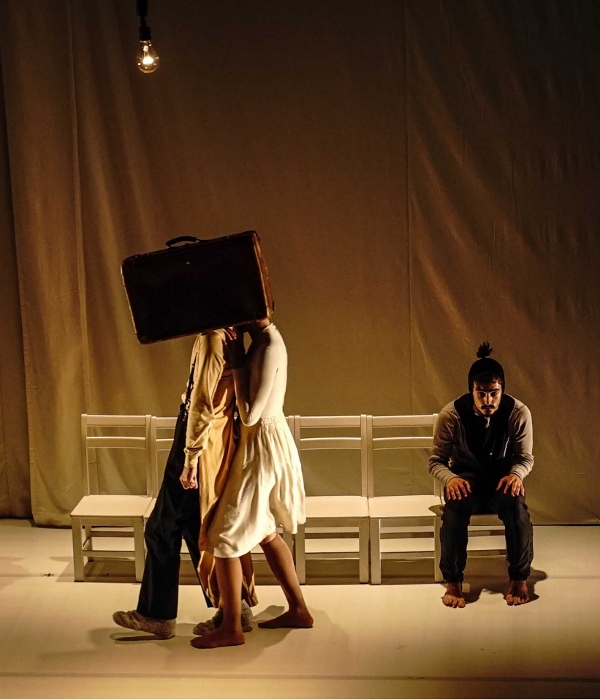 ICETREE
Choreography, costumes, soundtrack and set design: Inbal Pinto, Avshalom Pollak; Lighting design: Yoann Tivoli; Animation: Peter Salzka; Performers: Almog Ben Horin, Zvi Fishzon, Noga Harmelin, Joy Kammin, Marta-Luiza Jankowska, Amit Marsino, Moran Muller, Thomas Walschot, Ofir Yanni.
Future performance dates: Sunday, December 10th at 21:00; Monday, December 11th at 21:00; Tuesday, December 12th at 21:00. Suzanne Dellal Centre, Tel Aviv. To order tickets call: 03-5105656.