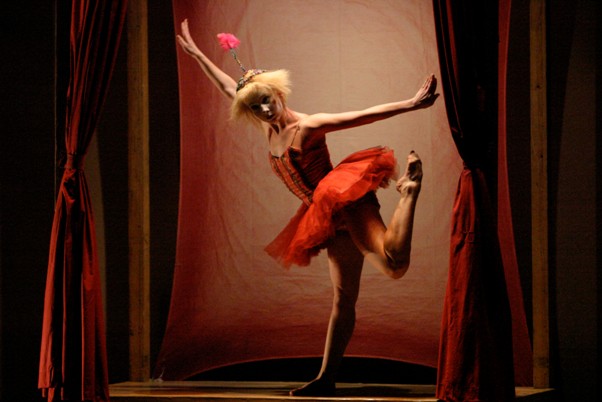 What becomes of the ballerina when the lid of the music box is closed?
Endless reflections of mirrors and tulle; turning to the music. Traces of childhood memories, half-remembered, half-fantasy tease the corners of the imagination: we have seen this ballerina before. Her familiar image unlocks a world where stardust and glitter are born of the same stuff, a world that summons up the scent of sawdust and a strange desire to run away and join the circus, a world that changes each time we visit, while she makes her infinite revolutions in the "artifice of eternity"*.
Inbal Pinto and Avshalom Pollak's Oyster, originally created in 1999, is a work of eternal wonder and endless enchantment. It's a world of nonsense, with its own internal logic, that we can only glimpse at intervals. In Oyster we find moments and places of access to scenes we cannot claim to comprehend, a world whose possibilities are limitless, embracing beauty, grace, laughter, cruelty and danger. It's a strange and wonderful trip, a tender freak show with unforgettable characters, enduring images and poignant moments, pierced throughout with joy.
*W.B. Yeats Sailing to Byzantium
Oyster by Inbal Pinto and Avshalom Pollak
Co-production of Haifa Municipal Theatre, Maison de la Danse, Lyon, France, Suzanne Dellal Centre – Curtain Up & International Exposure 1999
Thursday, May 29th at 21:00; Friday, May 30th at 14:00 & 21:00, Suzanne Dellal Centre, Tel Aviv. Tickets may be purchased online, or call: 03 – 5105656