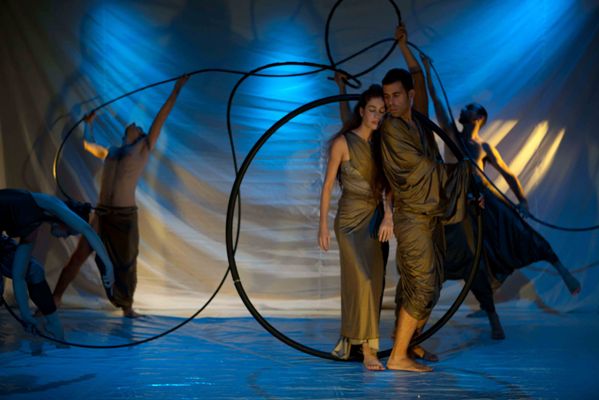 The Mystorin Theatre Group creates visual theatre inspired by the narratives of Jewish texts, seeking to communicate with the audience through a shared emotional, mystical experience. A sense of their imagery and movement is conveyed in this clip from YouTube:

Mystorin describes their new work, Dreams of Moses:
A new mystical performance of the Mystorin group , a poetic interpretation the story of the Exodus as a mythological story, revolving around the feminine images of water and birth – the birth of the hero and the birth of the nation.
The performance looks through the eyes of Moses' mother, when she dreams the future. Doing so, it supplies us with a feminine view of the Exodus, placing the woman and her inner world in the center. She will always see her son, the redeemer who leads the nation, as a baby in her arms.

With the use of plastic materials, such as silk cloths and flexible tubes, actors draw lines and brush-strokes in space, creating a poetic language in which pictures transform as a painting is hung in the air. Using the simplest means the actors create graphic images translucent and elegant almost as a Japanese ink drawing.

The work of movement is inspired by Asian traditional theater and by ancient Egyptian drawings, stresses the transformations between images which delineate a stream of consciousness, reminiscent of a hallucination, a dream or a fantasy. Out of this stream, images are born: the angels, the birth, Pharaoh's daughter and her servants, the palace, the Nile, the Pyramids, the Splitting of the Red Sea, the Burning Bush, and so forth. We re-interpret the known Exodus images, referring to the mother archetype as it appears in other traditions. Original music was written especially for the performance, combining ethnic and acoustic instruments.

Dreams of Moses will be performed at the Suzanne Dellal Centre, Yaron Yerushalmi Hall, on February 10 & 17, 2011, at 20:30. Tickets are 70 NIS, to order call: 03-5105656
Direction and design: Yulia Ginis
Accessories: Jenya Kapitsky
Make up: Rita Wolf
Light: Albert Yashinsky
Choreography consulting: Shely Palmon, Emanuella Amichai
Original music: Guy Sherf
Text consulting: Roee Canaan, Yaakov Sinichkin
Actors: Dana Forer, Rotem Cohen, Ive Ailin, Lior Avshalom, Raz Weiner, Tamara Kowalski