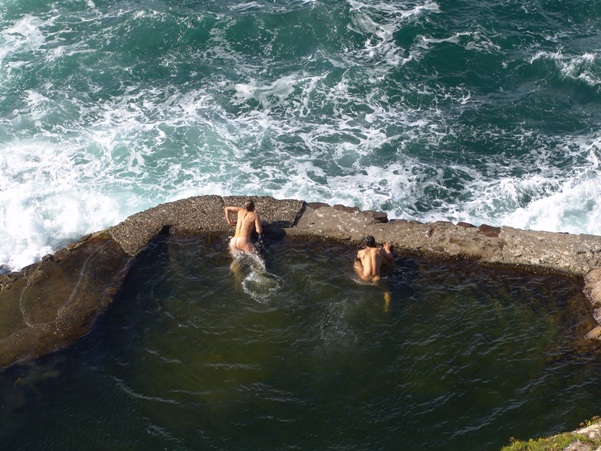 They say that a picture is worth a thousand words. And the same might be said for body gestures, the topic of a new exhibition at the Herzliya Museum in which 10 artists, local and international, are participating. The works, mostly video installations, show how a pose, a look, the placement of figures, can conjure up a world of meaning without the use of words. Movement, too, can be highly suggestive, as in the case of Pierre Coulibeuf's Magnetic Space, a video with a fantastical touch. Here, actors floating in stormy waters or entwining their bodies with plant and forest life illustrate Man's closeness to Nature.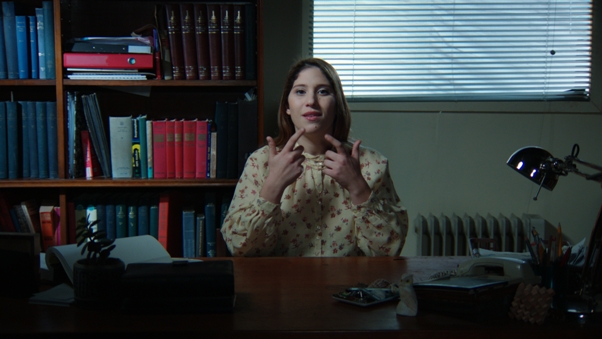 The most complex work, Tali Keren's The Interpreter sets out to examine the act of narration and to question the dependability of recorded history, if based on memories from the past. Its starting point was the soundtrack of Claude Lanzmann's film Shoah (1985) in which Holocaust survivors relate their terrible experiences. In Keren's version, she has drawn on selected testimonies, replacing the voices of the original witnesses with those of Israelis. The central on screen character is an interpreter, a woman re-translating these testimonies into sign language. We see her at work, sitting at a desk, standing behind a fence, or with the platform of a railway station as background. .
This work, which might have been called 'Lost in Translation', points to the fallibility of historical narration. But also, by finally muting the testimonies of the survivors, Keren seems to be suggesting that what these survivors saw and endured lies beyond the power of speech.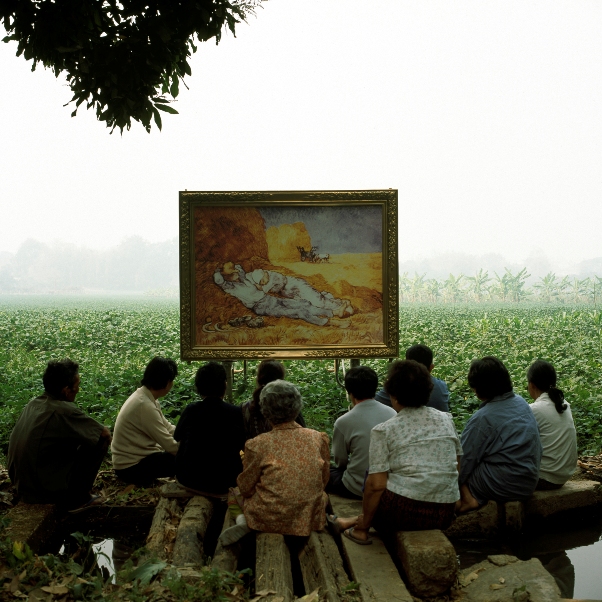 Interpretation is also the central theme of Two Planets, a photo series by Araya  Rasdjarmreansook, Professor of Fine Art at Chiang Mai University in Northern Thailand. For this series, she showed life-sized reproductions of famous European paintings to villagers living in rural Thailand, asking them to decipher their meaning.
Unaware that they were looking at iconic works of art with astronomical price-tags, the villagers gave their comments freely. For example, when viewing Edouard Manet's Dejeuner sur l'Herbe, where a nude woman sits on the grass with two men, one farmer suggested that she was naked because she was about to take a bath. Another person, looking at Van Gogh's painting Midday Rest showing two peasants lying in a corn field, commented that they were fast asleep, happy in the knowledge that they have harvested a lot of rice! 
Setting aside the humor in these and other responses, Araya's 'experiment' raises valid issues as regards interpretation and its dependency on a person's culture or opportunity to acquire knowledge.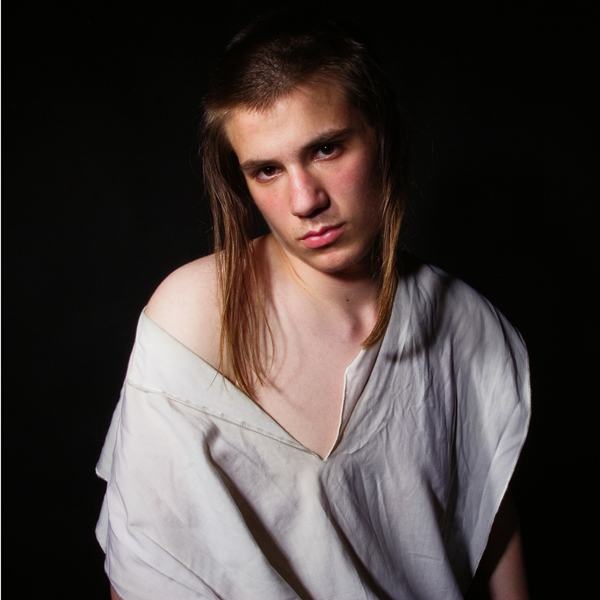 Lea Golda Holterman's Orthodox Eros series delves into quite a different culture: that of Orthodox Judaism, as represented by staged photographs of teenagers studying at yeshivot.  These are no ordinary portraits. The boys are shown in a daringly intimate way, sometimes only wearing loose shifts. Their poses recall figures from classical art or biblical paintings. According to Orthodox Jewish belief, the body is the temple of one's soul. And Holterman certainly succeeds through these images in capturing a certain aura of spirituality. But also – and one wonders whether the young men realized it at the time – she reveals a sensual, erotic dimension, both through their gazes, and in the way that they offer their bodies to the camera. 
The other portraits in this exhibition are excerpts from Obama's People , a set of 52  semi-formal color photographs by Nadav Kander. Commissioned by the New York Times in 2008 for their special inauguration issue. These pictures. featuring the stars of Barack Obama's inner circle, provide fascinating evidence as to how body language and dress not only reveal character, but also confidence or lack of it. While some of Kander's subjects look as if they were still slouching about a University campus, experienced politicians, like Hilary Clinton and Joe Biden, seemed to know exactly how to present themselves for this photo op: what to wear and how to position themselves to show off their best features.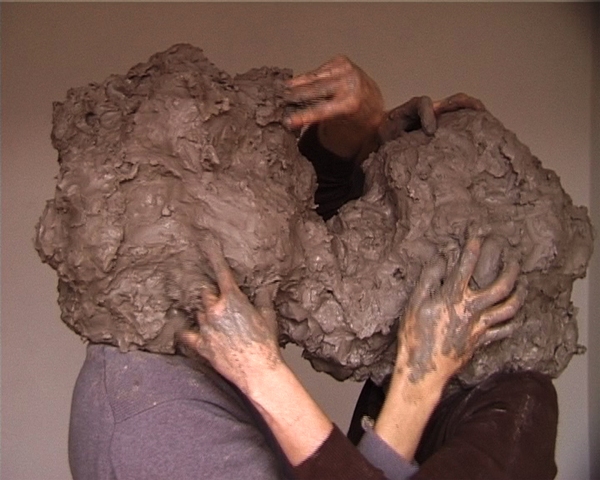 Emotion – in this case love -is marvelously expressed in The Kiss, one of two short videos exhibited by William Cobbing. In this work, two people face each other, standing close, their heads totally covered in soft clay. During the course of the film, their hands continuously mould the 'head' of their partner: a truly effective metaphor for physical and emotional closeness and the desire for continual adaptation in order to meet the needs of a loved one.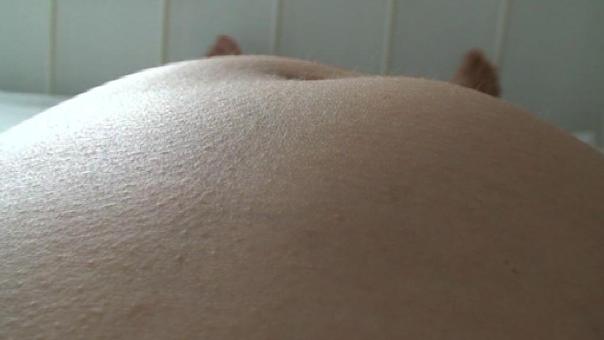 Emotion and perhaps a feeling of wonder at the miracle of birth, is imaginatively transmitted in Becoming, Shachaf Yaron's video in which nearly the whole screen is taken up with the huge  belly of a pregnant woman; this mountainous shape altering from time to time as the unborn baby shifts position. Snatches of new age music alternate with the labored breathing of the mother-to-be. As Ghila Limon and Dana Orland, the curators of this exhibition noted, we are witnessing the most primal of body gestures, testifying to the existence of a living creature.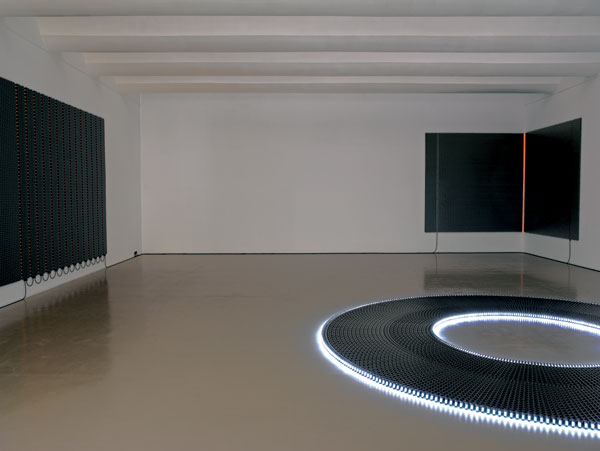 MAKING a sensational impression in the Museum's largest gallery is Campo 82133 N, an architectonic installation by Shay Frisch Peri. This work, constructed from thousands of black electric adaptors fitted together and attached to live currents, consists of three large geometric shapes: a wall-mounted rectangle and a double square; and a doughnut-shaped circular form sited on the floor. The latter piece, 380 cm. in diameter, has its outer and inner perimeter edged with white lights. Red lights pierce the darkness of the black wall works, either glowing from behind or arranged in thin vertical columns.
Peri, an Israeli artist and designer, living and working in Italy, is not the first artist to employ electricity to make art. In the 1960s, the era of Minimalism, a number of artists experimented with this medium, the most successful being Dan Flavin who defined gallery spaces with paintings and sculpture constructed from fluorescent tubing. While Peri's installation is also concerned with confronting space, it operates on a quieter, more sensitive level. Hints of light seem only to hum through his stratified black fields. And yet, one gets the sensation that the whole installation might, like a dormant volcano, erupt into greater activity at any moment.  Achille Bonito Oliva, the distinguished Italian art critic, who curated this installation, sums up Peri's work with a more formal description, as wedding "the spirituality of form to the modularity of reason."
All exhibitions till the end of May, 2011. Herzliya Museum for Contemporary Art, 4 Habanim Street, Herzliya. For opening times see the museum website.
ANGELA LEVINE