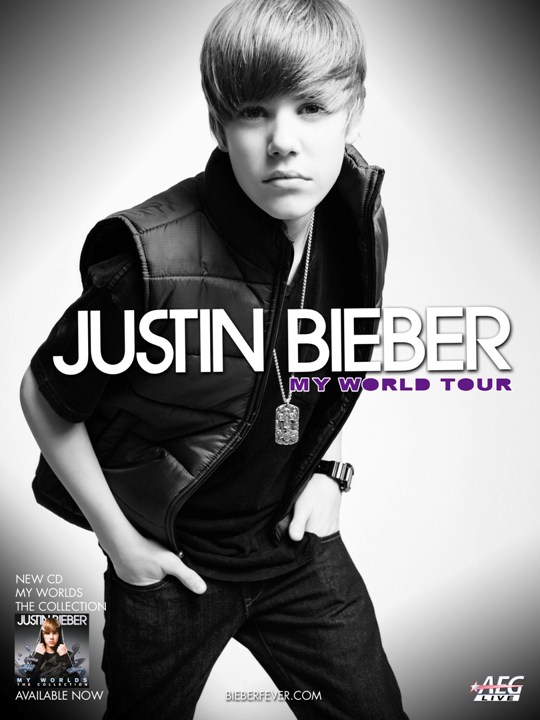 Midnight East thinks it's very cool that Justin Bieber is coming to Israel – gives us a chance join the party and use that #justinbieber hashtag on twitter.
Connecting to the global wave of Bieber mania, fans are eagerly anticipating the moment when the general public can buy tickets for Bieber's April 14th concert in Ganei Yehoshua. Get your cell phones ready, because the moment is almost here: tickets will go on sale on Sunday, February 26, 2011 at 15:00 at the Leean tickets offices and online at www.leean.co.il. The first 300 ticket purchasers will receive a signed poster of Justin Bieber and Justin Bieber T shirt – very cool.
Really cool are the family discounts – many of Justin's fans are young, too young to be on their own at a concert, but paying full price to chaperone a concert is just no fun. The producers are making the experience easier on the parents by offering a family package in which the accompanying adult pays 110 NIS rather than 330 NIS. The following family packages are available: 3 + adult at 1,100.00 NIS, 4 + adult at 1,430.00 NIS and 5 + adult at 1, 760.00 NIS. Needless to say, all you grown-up Justin groupies, you can't just buy a single adult discounted ticket, you must be accompanying a group of teens/kids.
The official Israeli Justin Bieber concert site will go online tomorrow, Friday, February 25, 2011. The site will have information on the concert including news & updates every few days, directions, security arrangements and other information. Any concert on this scale generates a rumor mill to match, and the site will be a source of reliable information on the concert. Ticket purchasers will also be able to send questions in to the producers, that will be answered each day at 17:00. The official site is: www.justinbiebershow.co.il, check it out tomorrow.
Serious Bieber fans can join the international Justin Bieber fan club – the first 200 to sign up (the cost of membership is in addition to ticket purchase) will get a bonus bag that includes a photo album, stickers, a bracelet, membership card and other goodies. Sign up is through the Leean site. Discount Bank clients can already purchase tickets through the Leean site and take advantage of the special discounts, with tickets on the lawn going for 240 NIS and in the golden circle for 450 NIS.